The DJI Air 2S features a 1-inch CMOS sensor, capable of capturing up to 20-megapixel images or 5.4K/30fps and 4K/60fps video, DJI's latest autonomous functions and a compact body weighing less than 600 g.
The Air 2S features a number of improvements including the above mentioned sensor, Spotlight 2.0 tracking capabilities, and upgraded APAS 4.0 obstacle avoidance and detection system.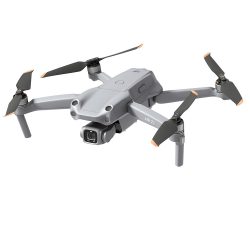 Size wise, the Air 2S is slightly smaller than the Mavic Air 2, but actually weighs about 30 g more, so like the Air 2, you will need to register it and hold a valid Drone Pilot's license before you are legally able to fly it in Canada.
Note: Altex Academy offers drone training resources/courses including prep for Transport Canada's "Written Exam for a pilot of small Remotely Piloted Aircraft Systems".
Imaging
The one-inch sensor (double the size of 1/2″ sensor found on the original Mavic Air 2) offers a larger pixel size of 2.4μm thus capturing more information and detail, resulting in higher quality photos and videos.
The camera is mounted on a 3-axis gimbal stabilized by RockSteady EIS and features a 22mm (35mm equiv.) fixed-aperture f/2.8 lens with an 88º FOV.
It can capture 20MP stills, including timed photos, Auto Exposure Bracketing (in 3 and 5 brackets) and panoramas.
As with all DJI Drone, the Air 2S features a number of "smart modes" for stills capture, including SmartPhoto, HDR and Scene Recognition.
SmartPhoto mode uses deep learning and analysis technology to detect which settings are the best to capture a particular scene, and automatically create the most appealing image. This includes HDR, Hyperlight, and Scene Recognition.
HDR mode merges several images together using Hyperlight to enhance imagery in low-light environments.
Scene Recognition identifies common settings such as snow, sky, or grass making automatic adjustments to create what DJI refers to as "the best possible image."
Video
Video can be captured at up to 5.4K/30p, 4K/60p or 1080p/120p at 150 Mbps with an H.264 or H.265 codec and there are three different pre-loaded colour profiles available: Normal (8 bit), D-Log (10 bit) or HLG (10 bit).
Subjects can be zoomed in on at up to:
4X at 4K/30p
6X at 2.7K/30p
4X at 2.7K/60p
6X at 1080p/60p
8X at 1080p/30p
The Air 2S also boasts 8GB of internal storage in addition to being able to store to a separate memory card.
Pre-Programmed Flight Modes
DJI says that the Air 2S "has the most programmed flight modes and image capture modes of any DJI drone of its size" including those found on the previous version as well as introducing a new MasterShots mode.
With the new MasterShots mode active, the Air 2S will autonomously plan a flight path, choose from three different image capture modes, including Proximity, Portrait or Landscape, and start recording classic aerial footage.
FocusTrack allows pilots to select a subject by drawing a square around it on their mobile device and then choose from Point of Interest 3.0, an autonomous flight path around the subject, ActiveTrack 4.0, a tool that seamlessly tracks the subject and keeps it in the frame; or Spotlight 2.0, where the drone movement is controlled by the pilot while it locks the subject into the frame.
QuickShots modes include Rocket, Circle, Dronie, Helix, Boomerang and Asteroid.
Hyperlapse: See the world sped up from the air and in motion with the Hyperlapse option in resolution up to 4K. Content captured in 4K resolution and lower can apply digital stabilization for an added layer of smoothness.
The Air 2S offers 31 minutes of maximum flight time and utilizes newly upgraded four-way directional obstacle sensors to help keep the drone from colliding with objects.
The obstacle sensors, (front, rear, bottom and top), incorporate binocular zooming technology that help them to recognize incoming objects from further away at faster speeds.
It also uses four high-grade antennas and the latest version of DJI's OcuSync transmission tech, O3, to deliver a stable feed at a maximum distance of up to 12km even in areas with a high number of signals.
---
Capture It All Featuring a 1-inch CMOS sensor, powerful autonomous functions, and a compact body weighing less than 600 g, DJI Air 2S is the ultimate drone for creators on the move. Take this all-in-one aerial powerhouse along anywhere to experience and record your world in stunning detail.