The new DJI Mini 2 is the palm sized successor to the entry-level Mavic Mini released a little over a year ago, and feature improvements designed to address the concerns that some users had with the original.
No License Required
As with the original Mavic Mini, the Mini 2 retains the same 249 gram weight (with battery), and doesn't require pilots to register the aircraft or hold a drone pilots license in order to fly.
Improved Features
The Mini 2 features some notable improvements over the original that will not only make it more reliable to fly, but allow it to capture more impressive footage.
One of the biggest improvements is the addition of DJI's OcuSync 2.0 transmission/video stream technology, instead of Wi-Fi, which more than doubles the maximum wireless range of the original's from 4km to 10km.
---
---
Recording capabilities have also been greatly improved over the original Mavic Mini with the Mini 2 capable of capturing footage in resolutions up to 4K/30p, 2.7K/30p, and 1080p/60p at 100 Mbps respectively.
It can also zoom in on subjects while recording with 2x (lossless zoom) at 4K and 2.7K resolutions and up to 4x (lossless up to 2x zoom) at 1080p resolution.
Stills capture remains the same at 12mp, but the Mini 2 will capture images in both JPEG and RAW formats.
The camera itself is the same as the Mavic Mini's featuring a 1/2.3″ CMOS sensor and a fixed-aperture f/2.8 lens with an 83º field of view and an ISO range of 100-3200.
---
---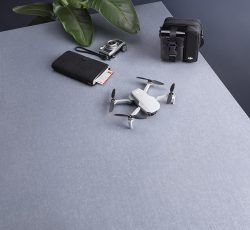 Flight time has also been slightly improved offer up to 31 minutes instead of the 30 minutes on the Mavic Mini.
The last big improvement comes in the form of most robust motors that provide faster acceleration and a top speed of 57.6 kph.
The beefier motors should also provide extra stability when flying in high wind situations with gusts of up to 38.6 kph.
Software Features
There are several different pre-programmed movement and image capture modes including, Dronie, Helix, Rocket, Circle and Boomerang.
There's also a panorama pre-set that lets you capture a wider perspective with select pano modes as well as image mode pre-sets that includes different photo modes for different scenarios.
These pre-sets are all available via the DJI Fly app downloaded to and accessed via a smart device.
Key Features
249g total weight
OcuSync 2.0 transmission
1/2.3″ CMOS image sensor
24mm equivalent lens (84º FOV)
f/2.8 aperture (fixed)
12MP photo resolution
JPEG + RAW images
4K/30p and 1080/60p video (100 Mbps bit rate)
Up to 4X (2X lossless) zoom
31-minute flight time
DJI Mini 2 is compact, ultralight, and perfect for traveling. With upgraded performance and impressive image quality, Mini 2 flies farther and captures life's extraordinary moments like never before.