DJI Matrice 600 Hexacopter
DJI's new Matrice 600 (or simply M600) hexacopter will be competitively priced and feature seamless integration with the just announced upgraded version of DJI's venerable Ronin-M 3-axis gimbal, the new Ronin-MX.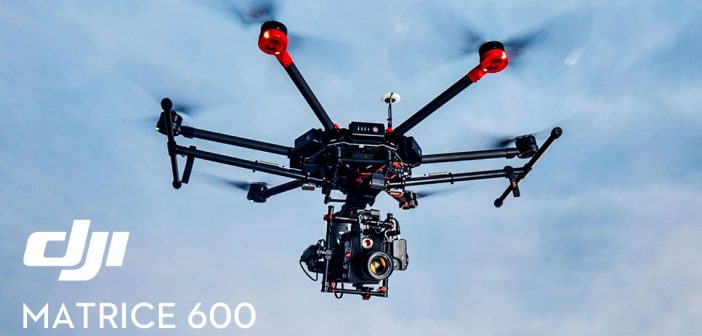 This 6 bladed flying platform is designed for professional aerial photography and industrial applications and will closely integrate with the A3 flight controller, Lightbridge 2 transmission system, Intelligent Batteries & Battery Management system.
Able to set-up in minutes due to its modular design, it can carry up to a 6 kg payload for an approximate flight time of 16 minutes (up to 35 minutes with a lighter load), and features a range of up to 5 km.
DJI Lightbridge 2 offers high frame rates and HD live streaming. USB, mini-HDMI and 3G-SDI ports support video output at up to 1080p/60fps or a broadcast standard output of 720p/59.94fps and 1080i/50fps.
---
DJI Ronin-MX
The overall design is similar to existing Ronins, with the most evident change being its new cage design which adds stability by locking both at the top and at the bottom of the camera.
DJI has also improved the guts of the Ronin-MX, by adding more powerful motors which will decrease noise while filming, but also allow for a payload of up to 4.5 kg. The motors also provide extra stability, by helping to counter the G-forces, changes in acceleration and strong winds inherent in shooting aerial footage.
A slip ring allows the Ronin-MX to rotate 360° continuously when mounted to aircraft or vehicles, and this is further enhanced by an increase in tilt axis range from 90° straight down and beyond to 135°.
---
[columns]
[column size="1/2″]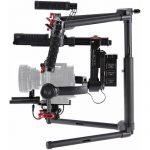 DJI Ronin MX
[button link="http://bit.ly/1U6ImYy" target="new" text_color="#ffffff" color="#007ac3″]BUY NOW[/button][/column]
[column size="1/2″]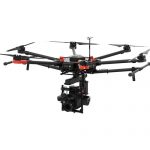 DJI Matrice 600
[button link="http://bit.ly/1NlrYlG" target="new" text_color="#ffffff" color="#007ac3″]BUY NOW[/button][/column]
[/columns]