In a bit of a departure from DJI's splashy launch events, news has been slowly trickling out about a new pro-level drone called the DJI Storm and an aerial cinematography service called DJI Studio.
First noticed by DroneDJ, the Storm was officially announced (albeit quietly) at Cine Gear Expo in Los Angeles a couple of weeks back and only now seems to be making the rounds on various photo/video news sites.
Because DJI hasn't really prompted (other than a YouTube video stealthily posted back in January) the Storm, or DJI Studio Service (there is no reference to either on DJI's North American website) we don't have a lot of information to go on.
So, that being said, here's the information that we've been able to gather from other sites reporting on it.
DJI Storm / DJI Studio Service
Designed for the professional cinematography industry, the DJI Storm is a three (non-retractable) legged, four armed, heavy lift octocopter with a payload capacity of 18.5 kg (40.8 lbs) that can handle the heavier cinema cameras and lenses from the likes of RED and Arri.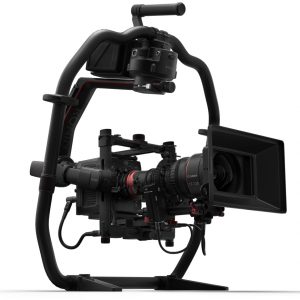 The Storm features an integrated Ronin-2 gimbal and also supports DJI's Master Wheels and Force Pro controllers and has 4 pairs of stacked rotors for a total of 8 blades.
Flight characteristics
The Storm has a maximum speed of 80 kph (49.7 mph) in Sport mode) or 60 kph (37.2 mph) in GPS mode and a flight time of up to 8 – 15 minutes depending on the mode and payload and can operate in temperatures ranging from -10ºC (14ºF) – +40ºC (104ºF).
The batteries can also be swapped out quickly to ensure a minimum amount of downtime while shooting.
Unfortunately, we couldn't find any information on operating range and maximum altitude.
Additional Information
Camera Compatibility (partial list): RED DSMC2 ARRI ALEXA Mini | SXT | LF Sony Venice
Lens Compatibility (partial list): Cooke ANA | S7 ARRI MA | SP | MP | Alura Zoom
Image transmission system: LightBridge 2 digital image transmission | maximum communication distance 2 km
Maximum payload: 18.5 kg
Hover time: up to 15 minutes (12 kg payload) | up to 25 minutes (no load)
Maximum horizontal flight speed: 60 km / h (GPS mode) | 80 km / h (Sport mode)
DJI Studio (Custom Aerial Cinematography Service)
Unlike DJI's other heavy lift platforms (the Matrice 600 for example), the Storm isn't available for purchase (at this time anyway).
Instead, it comes as part of the aforementioned DJI Studio Service which is described by DJI as "a customized flight platform for professional film and television aerial photography" and appears to include a full professional production crew and production truck to support flight operations and provide any additional production gear you might need.
From looking at the DJI Studio Service (China) website, the service appears to have been available and active in Asian markets (with smaller platforms) for at least a couple of years.
No word yet if DJI will launch the service in North America.