---

[dropcap style="square"]L[/dropcap]ooking like something out of a Terminator movie, the all black carbon fibre construction, six-bladed Yuneec Typhoon H weighs in at just 4 lbs, which makes it light enough to throw in a backpack and carry around for a day of flying without worrying about straining your back.
---
---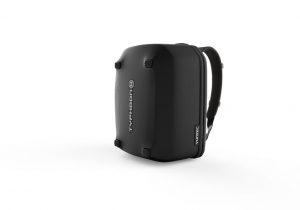 Setting up the Typhoon H is a snap, just unpack it from its case, unfold the arms, attach the quick release blades and you are pretty much ready to fly.
360° Shooting
The 3-axis anti-vibration CGO3+ gimbal camera features a high-quality glass 98° field of view, wide-angle lens, offers manual camera settings while in flight, and is capable of capturing ultra-stable 4K UHD video or 12.4 megapixel still images and (unlike other consumer level aerial platforms), can be rotated through an unlimited, 360° range of motion.
---
The Yuneec Typhoon H Hexacopter with GCO3+ 4K Camera is available in limited quantities at www.vistek.ca



---
The Typhoon H is able to achieve the full 360° range by incorporating retractable "landing gear" of the type normally found on larger more expensive professional grade UAV platforms.
Of course, without the legs in the way, you now have unrestricted camera views without having to physically rotate the platform itself, perfect for capturing those long sweeping panoramics that drones are known for.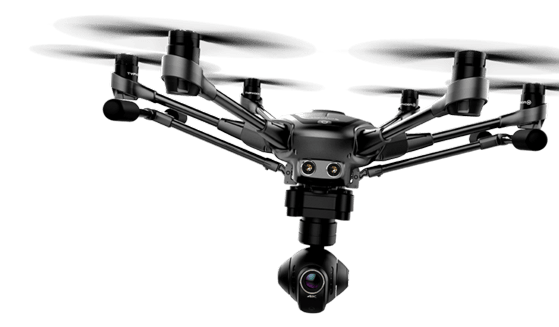 Design & Features
Thanks to its six rotor design (in actuality, it only needs five to fly), the Typhoon H has a built-in redundancy where if one rotor were to fail for some reason, it can self-diagnose the issue and then safely fly back to the home position for repairs.
The Typhoon H comes with built-in obstacle avoidance technology. However, unlike other systems (which rely on a visual avoidance system), the Typhoon H uses sonar, which means that it is capable of avoiding obstacles in low-light and even complete darkness situations.
Also, the Typhoon H is the first Drone that will be compatible with the upcoming Intel "Realsense" module that will allow for active real-time collision avoidance (expected to be available by fall 2016). Find out more about Intel "Realsense" here.
https://iq.intel.co.uk/you-can-fly-the-realsense-yuneec-typhoon-h-with-your-eyes-shut/
Another benefit of its six-bladed design is that it's fast… really fast!
Top speed in Follow-Me Mode: 70 kph
Top speed in Angle Mode: 48 kph
Max flight time: 25 minutes (using 18.8v LiPo Battery)
Max ceiling: 400 ft (due to FAA regulations)
1.6km max range
The Typhoon H also features six flight modes including:
Orbit Me: The Typhoon H will fly a circular path around you, keeping the camera trained on you the whole time.
Point of Interest: Select a subject and Typhoon H will orbit that subject autonomously.
Journey: Typhoon H will go up and out, as far as 150ft, and capture the perfect aerial selfie.
Curve Cable Cam: Easily program an invisible route for Typhoon H to fly along. Typhoon H will fly between pre-set coordinates while independently controlling camera position.
Follow Me/Watch Me: Follow Me ensures Typhoon H moves along with you. Watch Me tells Typhoon H to follow you while always pointing the camera at you wherever you go.
Dynamic Return to Home: Simply switch to Home Mode and Typhoon H will return and land within 26 feet (8 meters) of you.
All-in-one-controller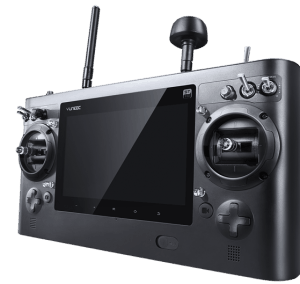 The Typhoon H is controlled via the Android based ST16 ground station which integrates all your flight controls and a 7″ touchscreen monitor into one unit.
The monitor will display telemetry data, streaming live video (HD 720p up to 1.6km) and let you access additional features and flight modes.
Want to have someone else control the camera and allow you to focus on flying? No problem! With team mode activated, you can have a second ground station connected to allow for dual pilot functionality.
---
The feature rich Yuneec Typhoon H has everything you could want and if you're looking for an aerial photography/videography drone that won't break the bank, you should really consider checking it out.
---