The Saramonic Blink 500 series is a system of Dual Channel, 2.4GHz wireless transmitters and receivers that work with most smart devices (iOS or Android), DSLRs, camcorders and mirrorless/compact cameras. They are also one of easiest and most simple to use wireless audio options currently available.
Saramonic Blink 500 System
While the transmitters are the same across the different models, there are three different receiver models to choose from, depending on the type of device you are using.
TRS/TRRS RX receiver (Blink 500 B1 & 500 B2) – compatible with cameras and (older) mobile devices that feature a 3.5mm audio input to connect an external audio capture device.
iOS (Lightning) RXDi MFi certified receiver (Blink 500 B3 & 500 B4) – compatible with Apple devices that feature a Lighting Port (all iPhones/iPads from 2012 onwards).
USB-C RXUC MFi certified receiver (Blink 500 B5 & 500 B6) – compatible with mobile (mostly Android) devices and computers that feature a USB-C port.

The 500 B1, 500 B3 and 500 B5 models include one transmitter, one receiver and one wired lavalier microphone that plugs into the transmitter.
The 500 B2, 500 B4 and 500 B6 models include two transmitters, one receiver and two wired lavalier microphones, one for each transmitter.
If you don't want to use (or forget to pack) the lav mic, each transmitter is equipped with a built in microphone and can be clipped onto your jacket or shirt. Of course, when using the lav mic, you can also clip it to your belt so that it is hidden away.
In the case of the 500 B1 and 500 B2 models, the transmitter attaches to the top of the camera using the hot shoe mount and then is plugged into the 3.5mm port using the included cable.
---
---
One of the major advantages of the Blink system is it's plug and play operation. Basically, all you have to do, is plug the receiver into your camera or mobile device and press the pair button on the transmitter.
Important: When using a mobile device with the Blink system, the device must be turned on and unlocked with a video or audio recording app open prior to pairing. If you don't have one of the mentioned applications open, the receiver won't draw power and thus, won't turn on.
Each transmitter features an internal battery that can be recharged via a USB-C cable and provides about 3-5 hours of operation life before needing to be recharged.
---
---
Performance wise, there are a few things to note.
The Blink system uses line-of-sight transmission, meaning the transmitter and receiver must be visible or facing each other to work properly. If one or the other goes "out of sight", i.e. leaves the room, there could be connectivity issues.
Also, because the system transmits over the 2.4GHz frequency (the same as some WiFi networks), it may be subject to traffic interference if the surrounding area has a lot of people connected to the same frequency.
These aren't reasons not to use the Blink system, just something to be aware of when setting up your recording area.
Effective range is also something to keep in mind, as it will vary depending on your space. If you are in an area with lots of obstacles, it's about 30 m (roughly 100 ft), however, if you are in a wide open area it increases to about 50 m (roughly 165 ft).
Another thing to be aware of is that the Blink series produces mixed audio output from the receiver. What this means is that in post production, you won't be able to separate audio tracks in to individual channels.
However, there is another option within the Blink Series that offers separate channel recording…
Saramonic Blink 500 Pro Series
The Blink 500 Pro Series offers a few "upgrades" over the regular 500 series.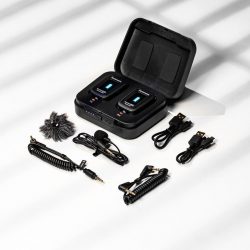 Like the regular series, it comes as a single transmitter/receiver combo (Blink 500 Pro B1), or as a two transmitter, one receiver combo (Blink 500 Pro B2).
The 500 Pro Series is designed to work with any camera, computer, recorder, mixer or smartphone and tablet with a headphone jack via the (included) TRS or TRRS (3.5mm) output cables.
It can also be used with iOS or Android devices without a headphone jack, but you will need to purchase a separate Lighting or USB-C Blink receiver in order to make it work.
Both the transmitter and receiver feature an bright OLED display that displays pertinent information such as battery life, signal strength and audio levels.
---
---
The Pro series also features a selectable Mono / Stereo output setting, which provides the ability record each mic to separate channels via camera and/or recorder mic inputs when using an additional TX transmitter.
This means that unlike the regular versions, you will be able to create individual audio channels in post production.
Other upgraded features include, longer battery life (up to 8 hours), better quality lavalier microphones and a longer range of up to 100 m (roughly 330 ft).
The Pro Series also comes with a unique charging case that uses a rechargeable 1200mAh internal battery to charge the units when not in use. It allows for one button pairing without having to remove the units from the case itself.
---
---