Audio giant RØDE Microphones has released a major firmware update for their RØDECaster Pro podcast production studio.
The new firmware introduces over 25 new features to the unit and the companion app that you'll need to install in order to use it.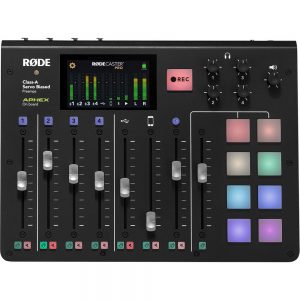 A few of the key features introduced in v.2.0 include:
Podcast Transfer Mode allowing users to transfer podcasts directly from the microSD to a computer
New Sound Pad Functionality including and new playback mode called "Pause, the ability to configure the unit directly without having to use companion app and the ability to store 8 banks of sound (64 in total)
New broadcast-ready features including pre-fade listen mode, "off air" caller communication and more…
The ability to save and load "Shows" which are snapshots of your RØDECASTER Pro settings and sounds giving you the opportunity to transfer them between units if needs be
The official video below provides more details as to what's included in the update.
If you wish to download the update, you can do so via the RØDE website here
The 4 high-quality microphone channels are able to power studio condenser microphones as well as conventional dynamic microphones. You can quickly connect microphones for you and your guests with automatic level setting and one-touch recording to a microSD card. You can literally be recording your first podcast within minutes of taking the RØDECaster Pro out of the box.
---