---
Specializing in smaller lightweight solutions for videographers who shoot primarily on smaller camcorders, DSLRs, Mirrorless, GoPro and Smartphones, Saramonic prides themselves on taking a slightly different approach with their audio-for-video solutions by offering unique features and benefits not commonly found on similar systems.
Audio-for-video isn't necessarily one of those sexy categories that you think about right away when planning your next video production, but choosing the right microphone, mixer or recorder for your video shoot, is arguably just as important as choosing the right lens or camera.
An example of this approach can be found with their UwMic9 UHF wireless system.
Knowing that sound, size and portability are all important factors, Saramonic also identified the need for a solution that offers users the capability to receive dual channels of transmission through a single device. Examples these types of situations might include DSLR videography at weddings or events, field recording and interviews.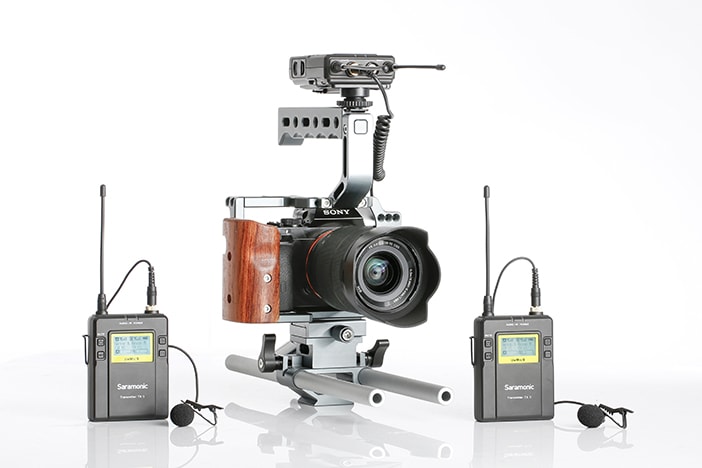 As mentioned above, the UwMic9 is an ideal solution for DSLR videographers by eliminating the need to mount two separate receivers or a more complex mounting system to hold them thus keeping equipment size and weight down to a minimum.
UwMic9 Key Features:
Reliable, broadcast-quality audio
2X Wireless transmitters with lavalier microphone
UHF Frequency Range: 514 MHz – 596 MHz; 96 selectable channels in 2 groups
Operating Range: Over 330-feet (100m) in open areas or 200-feet (60m) with obstacles
Easy-to-read LCD displays
Also available in single and dual lav kits or with Handheld mic and XLR plug-on transmitters.
---
The system includes a camera-mountable, wireless receiver, 2 wireless body-pack transmitters and 2 clip-on lavalier mics
---
If you don't need a dual channel solution, the SR-WM4C is a compact and lightweight 4-Channel Lavalier VHF Wireless Microphone System with a range of up to 60 metres that can be mounted on just about any DSLR.
Utilizing an omni-directional microphone, the SR-WM4C sends its signals via lightweight, slim, low-profile clip-on body pack transmitter back to the receiving unit.
The SR-WM4C is perfect for controlled environments such as in-studio interviews or business presentations where range is less of a factor but portability and sound quality is important.
SR-WM4C Key Features:
Four switchable channels to keep you free from interference
Detachable and flexible antenna can be rotated 360 degrees accordingly for best sound
The high-band VHF provides pure sound
Record audio up to 60 metres away
Real-time monitoring
---
The SR-WM4C is ideal for film making, conducting broadcast interviews and business presentations – or any other need that requires portability and great sound quality.
---
Moving along to wired solutions, the tiny Saramonic LavMic dual channels Audio Mixer with Lavalier Mic is a pretty handy all-in-one solution for recording hands-free audio to DSLR cameras, GoPro and even Smartphones.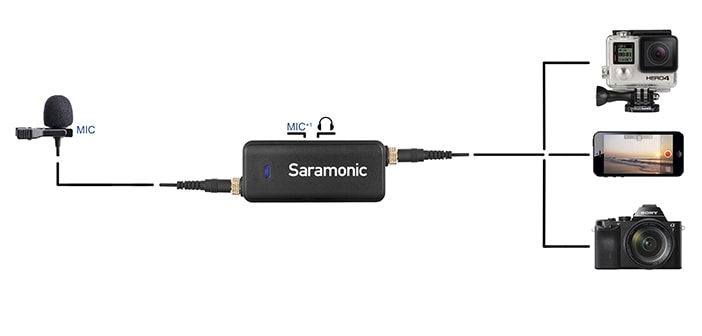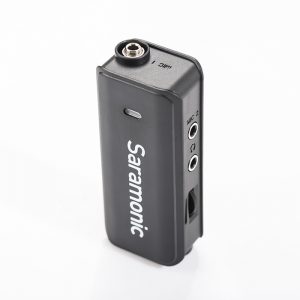 One of the features on the LavMic that will appeal to DSLR/mirrorless shooters is the integrated headphone jack (something not usually found on these types of cameras) allowing for real-time audio monitoring and its two 3.5mm mic inputs means users can change the output mode to either mono or stereo.
Best of all, it ships with the cables you'll need to hook up to your smartphone, GoPro or DSLR so you're ready to go right out of the box!
Saramonic LavMic dual channels Audio Mixer Key Features:
Professional Lavalier Microphone System with 2-Channel Audio Mixer
Recording Gain/Volume Control
Headphone Monitoring Jack
Mono/Stereo Output Switch
---
The Saramonic LavMic is an all-in-one solution for recording hands-free audio to your DSLR camera, GoPro or Smartphone.
---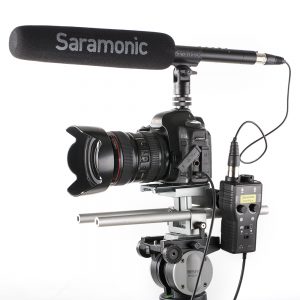 The Saramonic SmartRig+ is a versatile microphone/guitar interface that connects directly to your smartphone, DSLR or camcorder and is capable of handling 2 independent channels of audio from sources such as microphones, guitars or other instruments.
The SmartRig+ features 3 types of input including two XLR mic inputs, two 6.35mm (1/4″) guitar inputs and two 3.5mm (1/8″) jack inputs. Output is via a 3.5mm (1/8″) cable connecting to a smartphones, cameras and other devices.
It also provides 48V phantom power for microphones and includes a 3.5mm headphone output allowing for real-time audio monitoring.
---
The SmartRig+ makes your recording work easier by connecting professional microphones and guitars (or other instruments) to your smartphone, tablet, DSLR camera or video camera.
---