The Saramonic SR-MV2000 is a professional looking, compact USB studio microphone that is ideal for adding high-quality vocal sound to podcasts, live streams, voice-overs, virtual broadcasting and even online meetings via a computer, smartphone or tablet.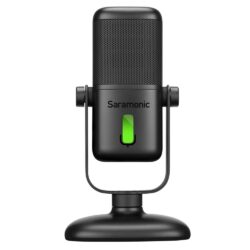 The SR-MV2000 utilizes a large diaphragm cardioid capsule, tailored for spoken word, to deliver dynamic, professional vocal sound with all the warmth and punch you'd want to make your voice stand out.
Designed to focus on a subject's voice, the SR-MV2000 minimizes external noise by using its natural off-axis rejection from the sides and rear of the mic to reduce unwanted noise and reflections.
Both functional and stylish in design, the SR-MV2000 features a removable magnetic tabletop stand designed to absorb bumps and impacts, and, with the stand removed, it can be mounted on a broadcast boom arm or mic stand, using the hidden 15.87mm (5/8″) screw mount.
---
---
The microphone body features an integrated 360-degree swing mount which allows it to be quickly adjusted to the optimum angle, or even upside-down when mounted on a stand or boom arm.
In addition to the 15.87mm (5/8″) screw mount, a 9.52mm (3/8") adapter is also included, allowing for even more mounting options.
---
---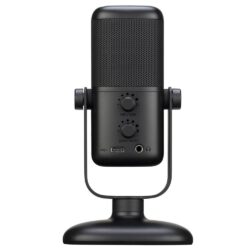 The SR-MV2000 features two tactile input controls, one for adjusting input level and the other for adjusting 3.5mm headphone output volume.
There is also a feature not found on similar mics from other brands, such as the RODE NT-USB Mini, the ability to mute the mic for privacy right on the microphone itself.
Pressing on the input control mutes the microphone while pressing on the headphone control switches from real-time monitoring of the recording application to latency-free mic monitoring.
The body of the mic features a multi-color LED meter that shows the input levels, in addition to headphone output levels.
Finally, the SR-MV2000 comes with both USB-A and USB-C output cables, providing plug-and-play functionality with computers that have USB or USB-C ports, as well as Android smartphones and tablets, and iPad Pro and iPad Air models with USB-C.
It can also be adapted for use with iPhones and iPads that have Lightning ports using Apple's Lightning to USB Camera Adapter (sold separately).
Saramonic SR-MV2000 Key Benefits
Versatile USB Studio Microphone that delivers dynamic, professional sound to Podcasts, Live Streams, Voice-Overs, Broadcasts and Virtual Meetings
Specially designed cardioid capsule sounds great, even in places with less than perfect acoustics and naturally rejects off-axis noise and reflections from the sides and rear of the mic
Perfect for Computers with USB or USB-C, or Android Mobile Devices, iPad Pro and Air with USB-C, use with Lightning to USB Adapter (sold separately) for iPhones and iPads with Lightning
Simple plug-and-play operation with input level control, a multi-color LED meter 3.5mm headphone output with both real-time software monitoring and zero-latency monitoring
Magnetic tabletop stand absorbs bumps and impacts that can ruin recording and can be removed to mount to broadcast boom arm or mic stands
---
Image Credits: Saramonic USA