The Sennheiser Evolution Wireless Digital (EW-D) is a new product family of digital UHF mics and receivers, providing (at the time of release) the highest dynamic range of any wireless system on the market.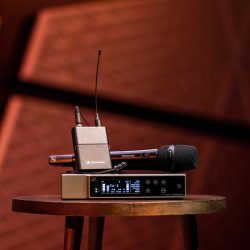 Options abound with multiple "set" options available depending on your situational needs.
Based on the equidistant tuning grid, (previously only found in their flagship Digital 6000 and Digital 9000 wireless systems), the EW-D allows for up to 90 channels of wireless audio with ultralow latency.
The EW-D system delivers crystal clear 24-bit digital audio and uses Intelligent Diversity Switching to ensure clean, interference free transmission up to a maximum range of 91 m (330 ft).
And because the EW-D operates in a wide 56 MHz UHF bandwidth, it has up to 2240 selectable frequencies from which to secure a clean channel.
The newly redesigned transmitter inputs offer an almost unheard of 134 dB dynamic range, virtually eliminating the need for any input sensitivity adjustments.
---
---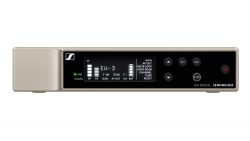 The system utilizes a Bluetooth low-energy connection (BLE), allowing for automated frequency scan, channel naming, mutes, and other controls on up to 16 mic channels.
The BLE can also be controlled remotely via an iOS or Android smartphone or tablet (using the Sennheiser Smart Assist app) with additional channels being controlled at the receiver.
Using this, users are able to pair the transmitter and receiver from as far as 36 m (120 ft) away.
The half-rack, installation-ready receiver features a durable metal chassis as well as a large, easily readable OLED screen and control buttons.
Both the handheld and bodypack transmitters will operate for up to 8 hours on AA batteries, or up to 12 hours when using the (sold separately) rechargeable battery packs.
There is also a portable, dual-charging station available to ensure the batteries are ready to go when you are.
The Evolution Wireless Digital system is available in a variety of sets that include a bodypack transmitter or a handheld mic transmitter.
The Handheld versions feature an interchangeable microphone capsule system that come with a 835 dynamic cardioid capsule or without a capsule at all.
The Bodypack sets are available as a base set without a microphone, with an ME 2-II omnidirectional lavalier, or a ME 4 cardioid lav, or a ME 3 headset mic, or a CI 1 instrument cable.
Finally, the Combo sets include a bodypack and a handheld transmitter. They are available in three UHF frequency ranges:
Key Features
Digital wireless eliminates noise, interference and static bursts
UHF transmission greatly enhances range, reliability and scalability
Mobile App streamlines setup and operation and eliminates complicated menu
Automated setup creates reliable connections with minimal time and effort
Up to 2,240 selectable frequencies
Lithium Ion battery pack delivers up to 12 hours of operation (up to 8 hours of operation with AA batteries)
56 MHz Bandwidth will allow for up to 90 channels
Preserves every detail of even the most dynamic performances with 134 dB transmitter dynamic range