Content creators know that clear, crisp audio is as important as the video itself and the Sennheiser MKE 200 adds a layer of professional sounding audio to take a production to the next level.
Here's why…
Audio is as important to the end result as the visuals, especially in today's age shortening attention spans.
Ask yourself this, and be honest with your answer.
How many times have you watched a video with crappy audio right through the the end?
The honest answer is probably never, no matter how engaging the visuals have been.
So why then, would you want to create something that's visually appealing, but sounds awful?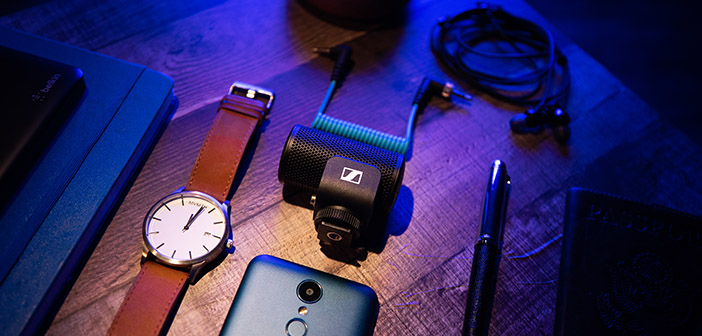 But my camera has a built-in microphone…
Yes, most cameras and mobile devices feature a built-in microphone, but quite frankly, they aren't that good which the manufacturer's know, because they don't expect you to use it.
To capture the best quality sound, you need something that is designed with that one job in mind.
An external microphone.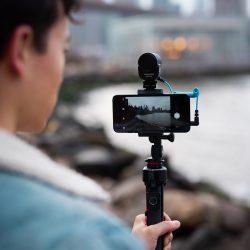 Introducing the Sennheiser MKE 200
The compact MKE 200 uses a directional, super-cardioid capsule to capture focused sound and detail while cutting out unwanted background noise.
A built-in wind screen dampers extraneous noise and the shock mount keeps sounds caused by camera vibrations to a minimum.
For an added layer of protection when recording outdoors, the MKE 200 also includes a furry windshield to help reduce wind noise.
The MKE 200 easily connects to a camera or handheld gimbal via a hot/cold shoe mount and then to the camera's audio input (or headphone jack for mobile devices) via the included 3.5 mm (1/8″) TRS and TRRS cables.
In short, the Sennheiser MKE 200 is a fast and painless way to upgrade your existing kit to capture the professional sounding audio your next production deserves.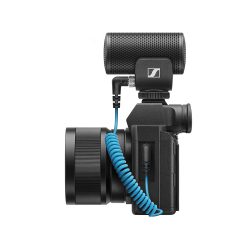 Key Features
Directional microphone for isolated and enhanced in-camera audio
Compact design with sleek and stylish finish
Integrated wind protection and internal suspension mount to minimize
handling noise
Interchangeable 3.5mm (1/8″) TRS and TRRS connectivity for use with
DSLR and mirrorless cameras or mobile devices
Standard cold shoe mount for universal use
Battery free operation
Compact, super-cardioid on-camera microphone with built-in wind protection and shock absorption for enhanced in-camera audio.

The Sennheiser MKE 200 is a shotgun microphone ideal for on-camera and boom applications that features maximum rejection of side noise due to pronounced directivity. Low-cut filter minimizes disturbances from wind while included shock mount suppresses handling noise.