Sennheiser has announced a new entry level plug & play wireless system called the XS Wireless Digital (XSW-D).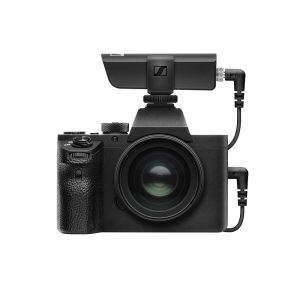 Designed with "ease of use in mind", the XS Wireless Digital system is essentially a cable replacement that consists of lightweight, compact plug-on transmitters and receivers featuring either XLR (6.3mm, 1/4″) or mini jack (3.5mm, 1/8″) connections that transmit in the 2.4 GHz range to create a wireless peer-to-peer connection.
Each device will feature a single-button interface and status indicator to handle both power and linking functions and will be powered by a USB re-chargeable lithium-ion battery that will provide up to 5 hours of operation.
The XSW-D system utilizes Sennheiser's automatic frequency and interference management technology meaning you'll be able to operate up to 5 separate systems simultaneously.
The XSW-D system can also be used in situations where more traditional Musical Industry (MI) or Audio for Video (A4V) solutions might be used. These might include such things as, band practices, club events, vlogging set-ups, interviews and small scale video shoots.
In keeping with the ease of use mindset, the XSW-D system will be available in several different pre-packaged sets depending on the application you want use the system for.
XS Wireless Digital MI sets
[columns]
[column size="1/2″]
XSW-D XLR Female Transmitter
XSW-D XLR Male Receiver
USB-A to USB-C charging cable
[/column]
[column size="1/2″]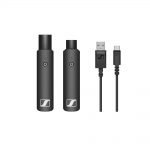 [/column]
[/columns]
[columns]
[column size="1/2″]
XS1 Cardioid Dynamic Mic
XSW-D XLR Female Transmitter
XSW-D XLR Male Receiver
Mic Clip
USB charging cable USB-A to USB-C charging cable
[/column]
[column size="1/2″]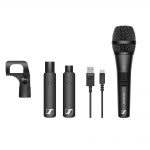 [/column]
[/columns]
[columns]
[column size="1/2″]
XSW-D 3.5mm (1/8") Transmitter
XSW-D XLR Male Receiver
Belt Clip
USB-A to USB-C charging cable
[/column]
[column size="1/2″]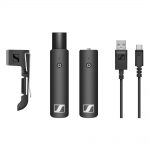 [/column]
[/columns]
[columns]
[column size="1/2″]
ME2-II clip-on lavalier mic
XSW-D 3.5mm (1/8") Transmitter
XSW-D XLR Male Receiver
Belt Clip
USB-A to USB-C charging cable
[/column]
[column size="1/2″]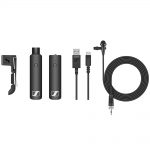 [/column]
[/columns]
[columns]
[column size="1/2″]
XSW-D 6.3mm (1/4") Transmitter
XSW-D 6.3mm (1/4") Receiver
Belt Clip
Extension Cable 6.3mm (1/4")
USB-A to USB-C charging cable
[/column]
[column size="1/2″]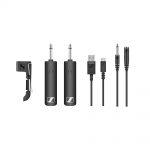 [/column]
[/columns]
[columns]
[column size="1/2″]
Pedalboard Set: (Available Q2 2019)
XSW-D 6.3mm (1/4") Transmitter
XSW-D Pedalboard Receiver
Belt Clip
Extension cable 6.3mm (1/4")
USB-A to USB-C charging cable
Receiver Power Supply
[/column]
[column size="1/2″]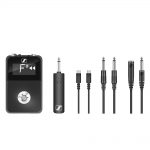 [/column]
[/columns]
XS Wireless Digital A4V Sets
[columns]
[column size="1/2″]
XSW-D 3.5mm (1/8") Transmitter
XSW-D 3.5mm (1/8") Receiver
Belt Clip
Cold Shoe Mount
3.5mm (1/8") Coiled Cable
USB-A to USB-C charging cable
[/column]
[column size="1/2″]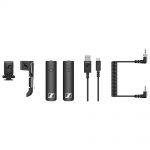 [/column]
[/columns]
[columns]
[column size="1/2″]
ME2-II clip-on Lavalier Mic
XSW-D 3.5mm (1/8") Transmitter
XSW-D 3.5mm (1/8") Receiver
Belt clip
Cold shoe mount
3.5mm (1/8") coiled cable
USB-A to USB-C charging cable
[/column]
[column size="1/2″]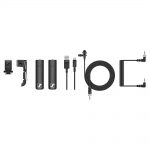 [/column]
[/columns]
[columns]
[column size="1/2″]
XSW-D XLR Female Transmitter
XSW-D 3.5mm (1/8") Receiver
Cold shoe mount
3.5mm (1/8") coiled cable
USB-A to USB-C charging cable
[/column]
[column size="1/2″]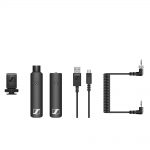 [/column]
[/columns]
[columns]
[column size="1/2″]
ME2-II clip on Lavalier Mic
XSW-D 3.5mm (1/8") Transmitter
XSW-D XLR Female Transmitter
XSW-D 3.5mm (1/8") Receiver
Belt clip
Cold shoe mount
3.5mm (1/8") coiled cable
USB-A to USB-C charging cable
[/column]
[column size="1/2″]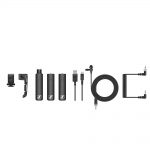 [/column]
[/columns]
---