The new Zoom H8 handy recorder can simultaneously record up to 12 tracks, features interchangeable capsules and an app-driven touchscreen.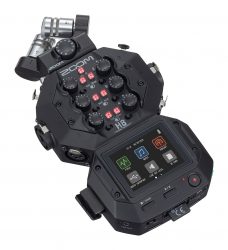 The colour touchscreen interface provides access to the three different App-driven options for either podcasting, music or field work.
The podcast app uses dedicated sound pads on the touchscreen to trigger the 13 included sound effects or music beds. If you don't like the included sound effect, you can upload your own via and SD card.
The music app allows you to control audio levels, faders, metering and more right from the touchscreen. You can also mix, overdub, and enhance your recordings with EQ and compression from within the app.
The field app makes it easy to record on the go. Ideal for capturing location sound, sound design, conferences and more. It also provides access to large meters for each separate track, allows you to adjust input type, lo-cut, compress, limiter, noise gate and other key settings.
There are 4 XLR inputs with dedicated pad switches and gain control and 2 additional XL/TRS combo jacks with Hi-Z switches which allow you to capture line level signals, microphones or directly record electric guitars and basses.

You can also monitor tracks using the built-in 1/8″ headphone output or directly from your camera via the dedicated stereo line output.
The H8's updated Capsule System 2.0 (coming fall 2020) will provide even greater flexibility allowing you to connect new, high-end, mic and input attachments. It's also backwards compatible allowing you to use existing H6 capsules.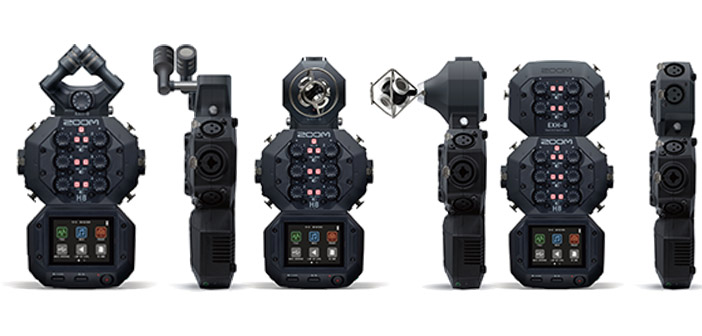 Key Features
Customized applications for field recording, music and podcasting
3 distinct interfaces for field recording, music and podcasting
Interchangeable input capsules
12-track simultaneous recording
Four mic inputs and two XLR/TRS combo connectors
Gain control knobs and -20dB pads for each input
Supplied XYH-6 X/Y capsule provides secondary input via a stereo ⅛" Mic/Line In mini phone jack
Phantom power for four main XLR inputs: +12/+24/+48V
Large color LCD touchscreen display
Records directly to SD, SDHC and SDXC cards up to 512GB
Up to 24-bit /96kHz audio in BWF-compliant WAV or a variety of MP3 formats
Auto-record, Pre-record and Backup-record functions mean that you'll never miss that perfect take
Built-in effects, including low-cut filtering, compression, and limiting
Load effects via Guitar Lab software
Multichannel and stereo USB audio interface for PC/Mac/iPad
Accepts standard AA alkaline or NiMH rechargeable batteries
Over 20 hours of operation with 4 AA alkaline batteries
Whether you're capturing audio on location, recording and tracking music, or producing a podcast, with 3 distinct application-driven interface options, the H8 instantly adapts to the feature set required for your job.