This review of the Canon 7D Mark II originally appeared on Glenn Bartley's website, Glenn Bartley Nature Photography and has been reproduced with permission of the photographer.
Introduction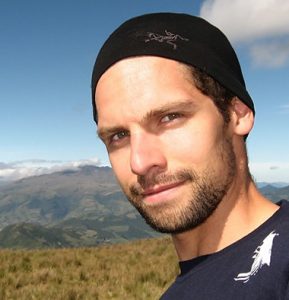 I am a very practical photographer when it comes to making equipment choices. I make decisions based on what "tools" will allow me to capture better images of the subjects that I covet most – birds. Furthermore, I would consider myself primarily a field photographer that rarely sits in blinds or shoots in controlled scenarios where subject distance is under the control of the photographer. For these reasons effective focal length is the primary concern for me when choosing a camera body. The APS-C camera bodies have always been my choice when it comes to photographing birds – even given their limitations in controlling noise. With good control over exposure and solid post processing technique I will take an APS-C body (such as the 7D) over a full frame body (such as the 1DX) any day of the week.
The Canon 7D has been a fantastic camera for me over the past 5 years and I have travelled throughout the New World Tropics photographing birds in a wide variety of scenarios. With this said, I will also be the first to admit that there are some major downfalls and limitations when it comes to the original 7D. Even upon its release way back in 2009 I remember being extremely underwhelmed at the improvements in noise over the EOS 50D (my previous camera). The noise was certainly easier to deal with in post processing but was, for the most part, still there. Noise, dynamic range and overall image quality has without a doubt been the Achilles heel of the APS-C camera.
Given the lengthy time-frame between the release of the original 7D and the 7D Mark II one would have to assume that significant improvements in image quality should indeed be possible. Technology has come a long way in those five years. If you throw in improvements to autofocus algorithms, faster frame rate and a healthy set of user interface and hardware improvements what you end up with is a lot of nature photographers like me daydreaming at the idea of getting their hands on this new model. The real question is – will it deliver?
Last week I was in Costa Rica photographing birds and, knowing the specifications of the new 7D Mark II, found myself extremely eager to get my hands on one of the new cameras in several shooting scenarios. Photographing birds in the dimly lit rain-forest's necessitates the use of higher ISO speeds. With my old 7D I found myself reluctant to push the ISO past 800 and yet with much hesitation was forced to shoot at ISO 1600. Even at ISO 1600 shutter speeds hovered around 1/25 of a second. All I could think about was "if only I had the new 7D Mark II"!
Another scenario that had me really anticipating the new camera was when shooting at a dimly lit feeder setup. Several of my clients were using 1DX bodies and I could hear their cameras lock on to the subjects while my 7D hunted for focus. Not only that, but I was also forced to use the centre focus point as this was the only focus point that seemed to accurately lock on in the dark shooting environment. I missed a lot of shots of fast moving birds because of this.  Once again my thoughts echoed – "if only I had the new 7D mark II"!
I returned home on Saturday to find my new camera waiting for me and was anxious to find out if the new Canon 7D Mark II is indeed the camera that bird photographers like me have been waiting for. In this initial review I will discuss my preliminary findings.
---
Canon 7D Mark II – Features At A Glance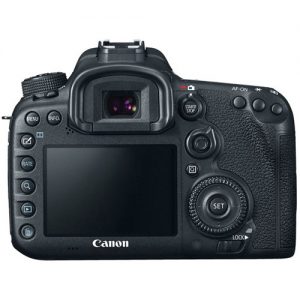 A quick summary of the new Canon 7D Mark II features:
20.2MP APS-C CMOS Sensor
Dual DIGIC 6 Image Processors
3.0″ 1.04m-Dot Clear View II LCD Monitor
Full HD 1080p/60 Video & Movie Servo AF
Dual Pixel CMOS AF with Live View
65-Point All Cross-Type AF System
Native ISO 16000, Extended to ISO 51200
Continuous 10 fps Shooting
Magnesium Alloy Body Construction
Built-In GPS Receiver & Digital Compass
New intelligent and customizable viewfinder
Improved custom controls for autofocus
Built in intervalometer and bulb timer
---
Image Quality
Ultimately the most important feature of the new camera is its ability to produce clean files at higher ISO values than its predecessor. Practical photographers will realize that there are limitations to what can be achieved in an APS-C sensor and will not be expecting the image quality to rival the EOS-1D X. My hope has always been that the new model would achieve at least a 1 stop improvement. 2 stops would have me absolutely thrilled!
In the first few days that the 7D Mark II has been out the image comparisons that I have seen are largely of subjects shot in bright shooting environments that would not even necessarily necessitate the use of a high ISO. Those of us forced in to the upper realms of the ISO scale know that noise really becomes a problem when shooting in low light and especially in the underexposed portions of an image. For this reason I set out to test the capabilities of the new camera in a more appropriate shooting environment. I did three controlled test shoots comparing the 7D and 7D Mark II. I also took a variety of bird images in poor light at a variety of ISO speeds. These images can be seen and downloaded in the sample images section of this review.
Normally I process my RAW image files in Adobe Camera Raw. Unfortunately the new camera is not yet supported by this software so I was forced to use Canon's DPP. To compare the files I applied no noise reduction and a small amount of unsharp mask (Strength of 2).
After looking at the test images as processed in DPP I would say that noise on the 7D Mark II is approximately 2/3 of a stop better than the original 7D. There is absolutely an improvement in image quality although I was certainly hoping for a greater improvement in ISO performance. I am hoping that the ACR update will allow for slightly better image processing and perhaps the true gain in ISO performance will be closer to a full stop.
**Note that these are my opinions and the RAW files from this test are available for download if you would like to form your own conclusions (see link below).
---
Autofocus
When it comes to the autofocus capabilities there are essentially two aspects. The speed and ability to track a subject (largely subjective and difficult to measure) and the actual functional capabilities of the camera such as frame rate, number of AF points, etc.
To begin with, the Mark II offers a vast increase in the number of selectable cross-type autofocus points (from 19 to 65). These points are distributed throughout the image sensor over a wider area than any previous EOS camera. This is definitely a wonderful upgrade and allows for precise focus and composition. In my brief preliminary testing I also felt that the autofocus was faster (especially away from the centre point) than the previous model. I will report more specifically on autofocus performance in my long term review (coming in December).
Another tangible upgrade is the increased frame rate of the camera which has gone from 8 to 10 frames per second. This too is a welcome upgrade as wildlife photographers are always looking for more frames that could potentially capture the perfect moment. Furthermore, the cameras RAW buffer has been increased from 25 to 31 RAW frames allowing all of these images to quickly and effectively be recorded to the card.
---
---
The 7D Mark II has also enabled centre point autofocus at apertures up to f/8. This is a first for a Canon APS-C camera and means that those of us using super-telephoto lenses now have a whole lot magnification at our disposal. The maximum possible magnification is now a whopping 1920mm ( 600mm f/4L + 2x converter multiplied by 1.6x crop factor).
How noticeable is the difference between using the 600mm f/4L with a 1.4x and with a 2x? If we consider that 1200mm is 43% more magnification than 840mm. This however translates into 105% more pixels on the subject (due to the fact that we are talking about area). Or if you want to get mathematical:
840mm2 = 705,600 (600mm + 1.4x)
1200mm2 = 1,440,000 (600mm + 2x)
1,440,000 / 705,600 =  2.05
Personally I don't imagine that I will use the full 1920mm available very often. But it will be extremely nice to have the option when the need does arise!
[columns]
[column size="1/2″]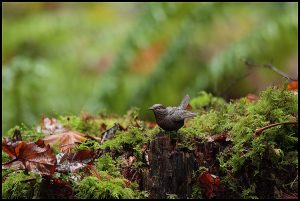 [/column]
[column size="1/2″]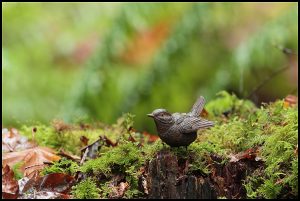 [/column]
[column size="1/1″]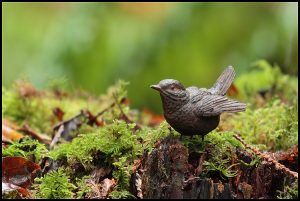 [/column]
[/columns]
---
Custom Controls and Autofocus Settings
One final tangible upgrade to the 7D Mark II is the ability to customize autofocus settings to several buttons based on how you shoot. Many bird and wildlife photographers for example have long been assigning "back button focus". Doing so allows the user to allocate the AF-ON button to control the autofocus and the shutter button as the release mechanism. This setting has the advantage of allowing the user to focus, recompose the shot, and then trip the shutter at the pivotal moment without having to re-acquire focus. The 7D mark II takes such settings a whole lot further. Now the AF-ON and AE Lock buttons on the back of the camera can be assigned specific autofocus capabilities. You can literally configure any autofocus setting to one of these buttons and have two completely different scenarios based upon how and what you shoot.
Below is a quick look at how I have configured my two autofocus buttons:
[columns]
[column size="1/2″]AF-ON: Used for birds in flight or moving subjects where I want to be able track the subject. In this scenario I have the focus points set to the AF point expansion (4 pts). I have also enabled a custom AF scenario that is designed to hold tightly to objects once focus has been acquired (-2,0,0).[/column]
[column size="1/2″]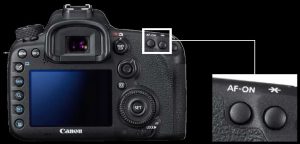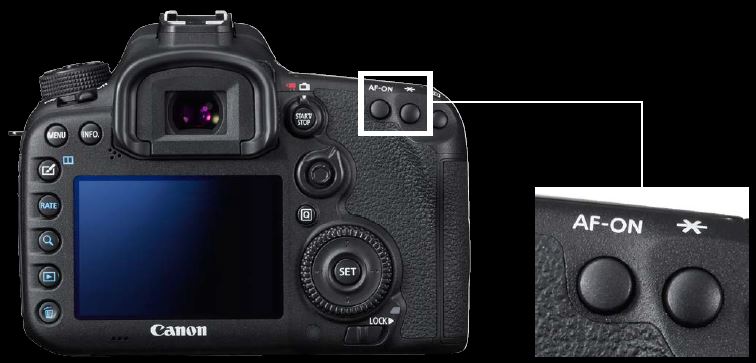 [/column]
[column size="1/2″]AE-LOCK: Used for subjects that are not moving. One shot focusing and single-point spot focusing. This setup is great for static subjects such as perched birds.[/column]
[column size="1/2″]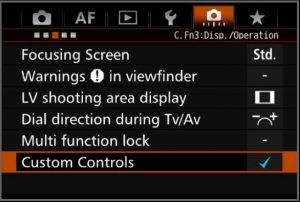 [/column]
[/columns]
---
Other New Features
In addition to the features of the new sensor and new autofocus capabilities the 7D Mark II introduces several other improvements. The camera is said to have better weather sealing, has a higher resolution LCD screen, and the shutter is now rated to 200,000 actuations instead of 150,000 in its predecessor. The new model also incorporates built in GPS functionality and now offers two memory card slots (one compact flash and one SD). Another great feature of the new camera is that the optional battery grip now features a second joystick controller to make moving autofocus points easier when shooting vertically. Finally, a very cool and highly customizable "intelligent" viewfinder is now offered that allows for virtually all of the major camera settings to be immediately available in the viewfinder.
Intelligent Viewfinder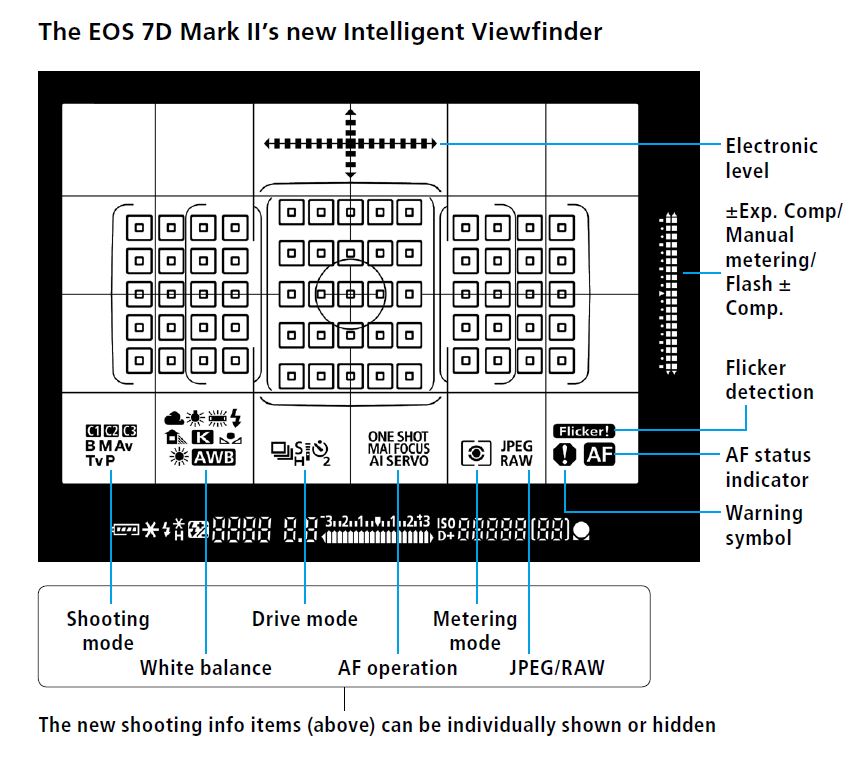 ---
Video
The most exciting new video feature of the 7D Mark II is that the new dual pixel technology allows aspiring cinematographers to focus on moving subjects. The digital SLR video revolution has proved that the image quality that these cameras can produce is indeed impressive. Up until now though movies of birds and other wildlife had to be fairly static as manually focusing on a moving subject with a super telephoto lens is essentially impossible.
I for one really enjoy shooting movie clips of the birds that I photograph and am excited to start filming and producing more dynamic movies of birds. I think that as the video functionality of digital SLR cameras, and the proliferation of sites like YouTube, continues to advance we will see a lot more people shooting videos as part of their portfolio.
---
---
Who it's For…
The price point of this camera and its impressive feature set make it a very attractive camera for a wide range of photographers. This camera is going to find its way in to the bag of many sports and wildlife shooters. For those of us bird photographers that demand maximum focal length for the subjects that we shoot this camera is an absolute no brainer!
It is hard for me to believe that even photographers currently using a EOS-1D X will not see the tremendous advantages that this camera offers. Consider for example that a 7D Mark II and a EF 400mm f/5.6L USM lens would cost $3,269.00, weigh 4.75 lbs / 2.2 kg and give an effective focal length of 640mm. To get the same magnification on the full frame 1D X would require the EF 600mm f/4L IS II USM Lens. This combo would weigh 12 lbs / 5.5 kg and cost $19,198.00.
---
Who it's Not For…
The 7D Mark II is a remarkable camera. Nevertheless it is not the best possible camera for everyone. Wedding photographers, landscape photographers and even wildlife photographers who shoot mostly in controlled settings (e.g. from a photo blind) may still be better served by one of Canon's full frame offerings such as the EOS 6D, 5D Mark III or 1D X. Do consider though that you could have a 5D III and a 7D II that both use the same batteries and still cost less than a single 1D X. This combination of camera bodies would meet the needs of almost any nature photographer in the world.
---
Conclusion
The Canon 7D Mark II brings a lot to the table. Between the fantastic autofocus system, impressive build quality, video features and the improvements in image quality it is an incredible value.
Compared to Nikon's closest offering the D7100 the Canon 7D Mark II offers:
RAW buffer of 31 vs 9
10 FPS vs 6 FPS
Built in GPS
65 vs 51 AF points
Fewer MP at 20.2 instead of 24.1
More advanced video features
I think it is safe to say that unless Nikon fires back with a well-equipped D400 the Canon 7D Mark II is the new king of APS-C cameras.
As I stated in the introduction I am a very practical photographer. The primary question for me is whether this new camera will allow me to capture better images than I could before. I believe that the answer to this question is a resounding "yes"! I can hardly wait to take this camera down to Cuba in a few weeks to really give it a proper field test. I will report back in mid-December with a follow up to this review.
---
Pros
Slightly improved ISO capabilities in an APS-C camera (2/3 to 1 stop better than the 7D).
1.6 crop factor allows for maximum effective focal length. Additionally, autofocus at f/8 now allows use of a 2x teleconverter with super-telephoto lenses.
65 autofocus points that are all cross type.
Fantastic autofocus and frame rate (10 fps).
Battery grip with vertical joystick. This will be great for moving the focus point around all of those 65 points while shooting vertically.
Dual card slots, locking mode dial and built in GPS. Definitely nice hardware upgrades.
New live view/video AF capabilities. Can now track moving subjects while shooting videos. This should be fun!
New intelligent viewfinder. So much info available and completely customizable.
Ability to customize AF settings to several buttons based on how you shoot.
Better weather sealing, shutter durability and LCD screen.
Price. This is A LOT of camera for under $2,000!!
Cons
ISO performance and dynamic range can definitely still be improved (based on the Sony sensors).
No built in WI-Fi (may be a concern for some).
Would have preferred dual compact flash card slots instead of one CF and one SD.
Would love to see built in radio transmission to external flash.
---
VIDEO – AUTOFOCUS SETTINGS
VIDEO REVIEW
---
Long Term Field Review (3 weeks in Cuba)
On a recent 3 week trip to Cuba I really had a chance to test out and get a better feel for the 7D Mark II. Overall I was very pleased with how the camera performed.
Here are a few observations:
[columns]
[column size="1/2″]Battery Grip: I LOVE the new grip. Having the joystick directly accessible to my thumb is fantastic when shifting the AF point around. To be honest though it will take some time for me to get used to it because I am so used to having to reach across to the old one. Overall a wonderful hardware upgrade![/column]
[column size="1/2″]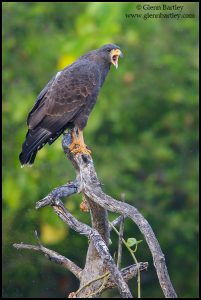 [/column]
[/columns]
[columns]
[column size="1/1″]Use with 2x Teleconverter: This is a new luxury to have with a non-1 series Canon camera. It is about time!!  I'm not sure how often I will reach for the 2x converter. It is a ridiculous amount of focal length to be pointing around. When you have distant subjects and good bright light though I found the combo to work very well. In Cuba I was shooting Flamingos at quite a distance and was impressed at the results.[/column]
[column size="1/2″]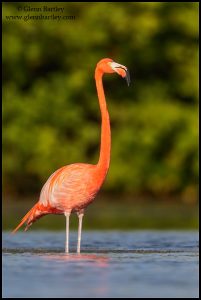 [/column]
[column size="1/2″]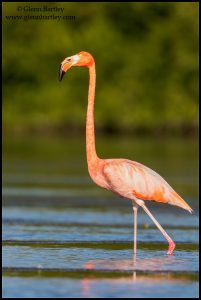 [/column]
[column size="1/2″]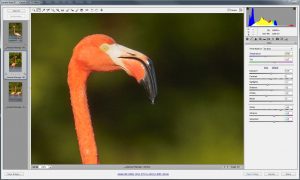 [/column]
[column size="1/2″]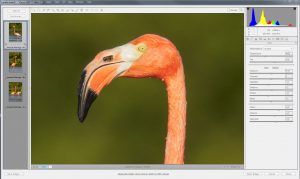 [/column]
[/columns]
---
ISO Performance: I am sticking with my earlier remarks that the new camera is about ½ to 2/3 of a stop better. However, I do think that the higher the ISO the more noticeable the difference. So for example perhaps ISO 3200 is 2/3 better and ISO 6400 is a full stop better.
Here are a few high ISO shots to inspect…
[columns]
[column size="1/2″]ISO 1600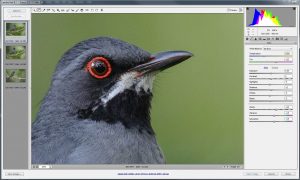 [/column]
[column size="1/2″]ISO 3200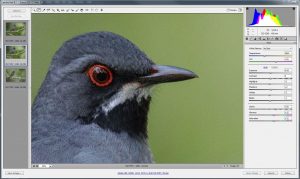 [/column]
[column size="1/1″]ISO 6400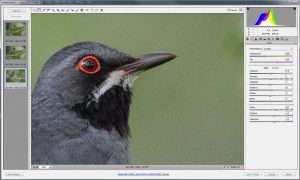 [/column]
[/columns]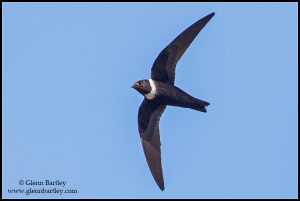 Autofocus Performance: I did not do a lot of flight shooting in Cuba so I cannot say that I really gave the camera a fair test. I did play around shooting swifts one day and the camera did quite well. Swifts are insanely hard to shoot so getting anything decent is an accomplishment.
I can also remember an egret blasting off from a tree with a busy background and firing away a burst of 6-8 images. When I looked at them on the screen later they were all in focus. I'm pretty sure that they would not have been with the 7D. Stay tuned for further AF testing and remarks…
---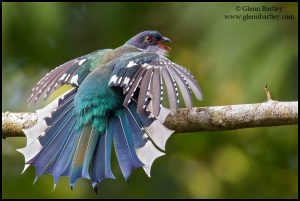 Overall: For my first shoot with the new camera I really enjoyed it. The camera never let me down and was fun to use in the field. Probably the biggest change for me is the cameras new ability to really customize the autofocus controls. By enabling two types of back button focus (one shot for one button and servo for another) I am now a back button convert!
When action happens and a bird blasts off I can switch in an instant to servo focus. Also by being pre-focused you can be ready for the unexpected and not have to re-focus. Without back button focus I would not have captured the shot below of the Cuban Trogon (one of my favourites from the trip).
When shooting dedicated birds in flight I still MUCH prefer to switch back to normal shutter button focusing. By adding the custom controls to my quick menu this is a very quick switch. From now on this will be how I shoot. Back button focus will be my day to day shooting mode. If a bird blasts off for a quick flight opportunity I can use the allocated button. When I know I will be doing a lot of flight shooting I will switch back to normal shutter button functionality.
One other aspect of the camera that I had a bit more time to explore was video of moving subjects. Overall it is a great addition to be able to follow moving birds. I do wish though that the focus area could be made smaller so that it could more accurately be positioned on the subject. It seems that if the object is too small in the frame it is difficult to accurately position the focus point. Again more testing and experimentation is needed.
The Canon 7D Mark II is going to be a great camera for me I think. The hardware upgrades, snappy autofocus and improved image quality have allowed photographers like me to take their images to the next level. In some ways the improvements are small. But at the end of the day the camera is fun to use and very capable. What more can we really ask for??
---
This review originally appears on Glenn Bartley's website, Glenn Bartley Nature Photography and has been reproduced with permission of the photographer.
About the photographer: Glenn Bartley is a world renowned professional nature photographer from Victoria, British Columbia, Canada. He focuses almost all of his efforts on capturing intimate images of birds in their natural habitat. Glenn is especially well known for his portraits of rare and difficult to photograph birds from the Neotropical Region and his portfolio of hummingbird images.
---