Vistek Product Manager Gary Goldberg shares his first impressions of the FujiFilm X-T2 camera.
---
I know you all want to know everything about the new Fuji X-T2, but first, I'd like to share a little bit of back story about…
My love affair with the FujiFilm X-T1…
FujiFilm's X-T1 was a camera that I had kept my eye on with the intention of one day adding it to my gear bag.
Then, just before Photokina a couple of years back, Fujifilm announced the X-T1 Silver Graphite edition.
As soon as I laid my eyes on the camera with its great retro vibe & small compact body design, (reminiscent of my very first camera the classic Canon AE-1) I knew I had to have one.
---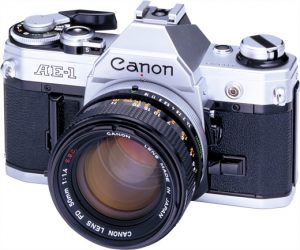 ---
Arriving at Photokina, I knew I finally had a chance to check it out and as soon as I held it in my hands I placed my order. Now, I have to admit that being a Product Manager for Vistek can have it's privileges, as not long after placing my order, I received one of the very first X-T1 Silver Graphite Editions to arrive in Canada (and yes, I paid for it just like everyone else).
The camera had shipped with the 18-55 Kit lens, (which in my opinion is a very good lens) and quickly became an extension of my body, travelling with me everywhere.
It didn't take long for me to fall in love with its small compact form factor, and the fact that all of the dials are in just the right place, shutter speed dial, aperture ring on the lens, making it feel like a camera should! The flip up LCD screen allowed me to once again look down to compose images and reminded me of my love for the older style medium format cameras where you had to do the same. This feature alone makes it an excellent choice for street photographers and if you've never tried composing your shots this way, it will give you a unique perspective on the world.
---
I cheated on my X-T1 and now I can't resist my new camera love, the FujiFilm X-T2…
[dropcap style="square"]A[/dropcap]bout 4 weeks ago FujiFilm approached me and asked me if I'd like to test the upcoming rumoured X-T2, and I was like, are you kidding me? Where do I sign up?
---
See the FujiFilm X-T2 at ProFusion Expo this October.
Get You Free Tickets today!
---
---
[the_grid name="Fuji X-T2 Images by Gary Goldberg"]
Images shot on the Fuji X-T2 by Gary Goldberg
---
If you're like me, the new FujiFilm X-T2 is the upgraded camera you've been waiting for.
FujiFilm has really listened to photographers that shoot with their cameras and have made some great improvements on an already great camera platform and now I'll talk about a few of my favourite ones.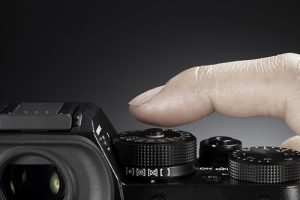 Lockable Dials
I think the #1 thing that bugged me about the X-T1, was that my shutter speed and ISO dials would often change their settings after putting it away in my camera bag.
Well, we now have locking dials! Click on the lock button and the dials unlock for shooting, then when you're done, click it again to lock them before putting away in your camera bag. Easy Peasy! I also found that all the remaining control dials felt a bit tighter as well.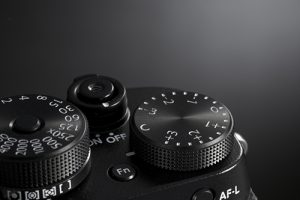 I do have to say this function comes with a small cost as the dials on the X-T2 are a bit bigger, but not enough to make you think twice about it.
Overall, I think the X-T2 is just slightly larger than the X-T1, and I haven't confirmed this yet, but I'm guessing mm here, so not anything significant.
Focus Points
I'm also someone that always likes to choose my focus points and probably the only time I don't choose my focus points is at family gatherings when I shoot group shots.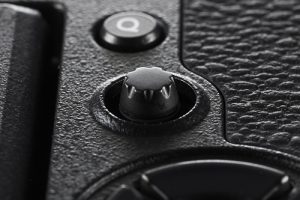 The little "focus lever" selector that was introduced on the X-Pro2 has been brought over to the X-T2 and let me tell you, it's amazing!
You move it around in multiple directions when selecting a focus point, and push it into reset to the centre position. It's also used to select items in the menu.
Oh! Did I mention that Fuji has now increased the number of focus points to 325? Which means it now matches the X-Pro2.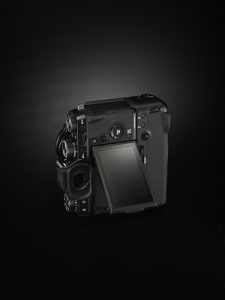 Tilt Screen & Front/Back Command Dials
One feature the X-Pro2 doesn't have is a "Tilting" LCD screen, this feature has also been improved, and you now have portrait mode tilting or 3 Way tilt, a very welcome addition.
The front and rear command dials not only rotate as they did previously but now feature a push function as well.
At the time of this writing, I can only tell you what the rear one does when pushing it, and that is to zoom in on your live preview to check focus. Unfortunately, the front one was nonfunctional with the preview firmware.
Memory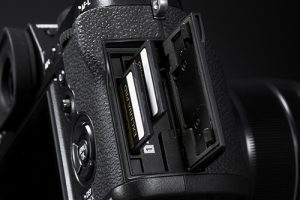 The X-T2 now features a dual card SD Memory card slot with a much-improved memory card slot door. This gives you multitudes of options for setting up what you can do with each. Maybe you want to shoot JPG on one card and RAW on the other, or images on one card and 4K video on the other!
Oh did I just say 4K Video? Yes, I did!
The new X-T2 has a new 24.3 MP APS-C X-Trans CMOS 3 Processor that not only has more MP but has a lot more horsepower and can process 4K video files.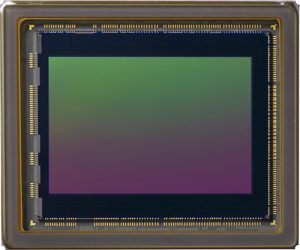 I'm told that the optional battery grip will add much functionality to its video capabilities, however, I didn't have a chance to test this feature or shoot any 4K video. I will say that the camera is much faster focusing than the previous model, and quickly finds your target.
Improved Battery Life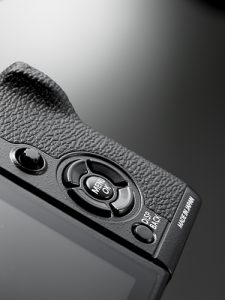 Okay, let's talk battery life! The X-T1 was a battery hog, and I always carried a spare. I have to say that I found the new battery designed just for the X-T2 lasted much longer. I'm told there is also less heat coming off of this battery than the previous model as well, which is important when shooting 4K Video.
Oh and there is always one more thing, this is ergonomics, Fuji has made the protruding thumb grip on the right side of the camera larger, not by much, but enough to make it feel really great in your hands. It really feels solid like you're not going to lose this, also it makes you feel comfortable to handhold shots up to 1/15 of a second.
---
Okay, so what else?
Well, I didn't get to personally test this feature, but FujiFilm's long anticipated professional level flash system has also been announced.
I'm told that with the EF-X500, not only will we finally have a professional TTL flash, but we will also have HSS or some variation of, both features that have long been requested among Portrait and Wedding photographers.
Is there anything missing?
Well if there is, I'm sure Fuji will update it with a feature update as they have with past models.
One thing that maybe could've been included was a touch screen LCD panel and maybe that will be coming on a future model, but for now, I'm really happy with the joystick controller as it makes navigating focus points and menu systems and absolute pleasure.
Finally…
If you're curious as to whether I will be buying one, the answer is a resounding absolutely! In fact, the X-System will probably end up being my only system sometime in the near future!
Check back for an update to this post with photos from the X-T2
Check out our first impressions video on YouTube below.