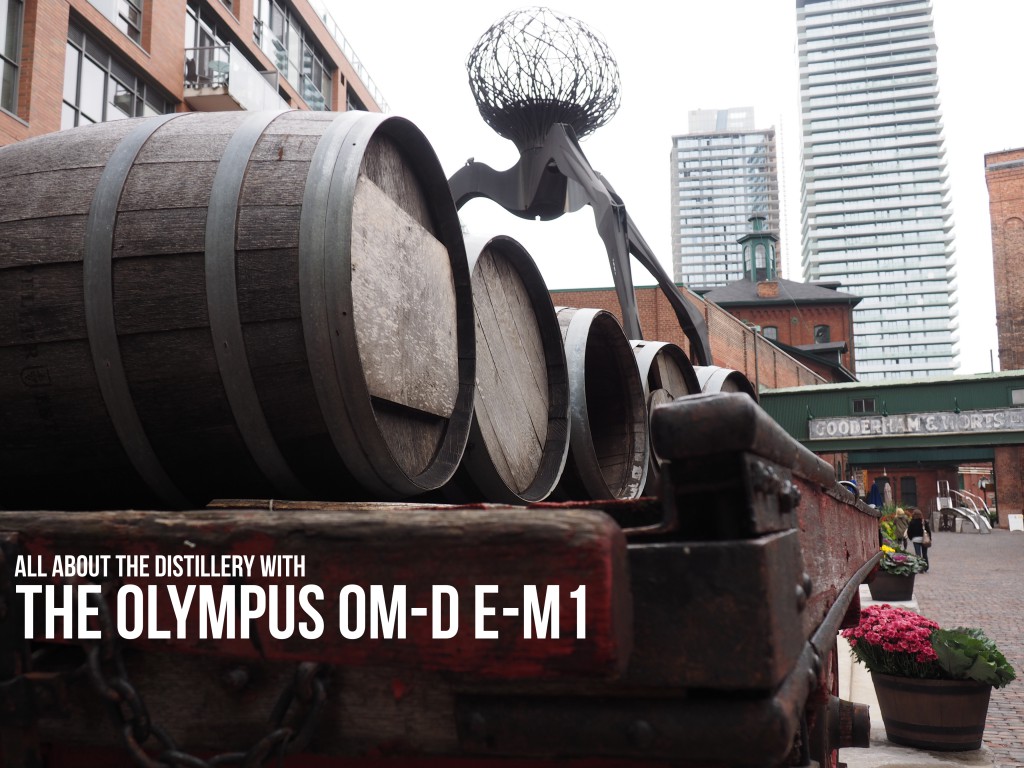 A few weeks back, our friends at Olympus Canada came for a visit, bringing their hottest new mirrorless camera – The OM-D E-M1 to demo. Even though we got a chance to review its features, we were left wanting more. Just our luck, Olympus came back and let us explore the E-M1 for a whole afternoon, so we took full advantage by packing up the camera and heading down to one of Toronto's most scenic attractions – the Distillery district.
We covered the host of impressive features in our previous post, so we'll just get right to it. Before we got the glorious outdoor shots, we wanted to see what the E-M1 could do in lower light settings. That's when we found El Catrin, a moody, colourful, gorgeous restaurant (one of many in the Distillery). As soon as we walked in, we were caught up in the textures, lighting and colours. Your typical, point-and-shoot camera was going to miss the fine details, but not our E-M1. Using the Intelligent Auto feature, we were able to capture the mood and feel of El Catrin while producing sharp, crisp shots.
One thing we immediately noticed was how ridiculously easy to hold this camera was. Olympus has put a great deal of thought into creating a camera that you can ostensibly operate with one hand. The grip was attuned to our hands, and the camera's firmware made it very, very easy to adjust to our specs with the flick of a button or turn of a dial. Speaking of which, Olympus has created a lock button on the E-M1's function dial, making it safe for you to shoot to your heart's content without worrying about sudden, accidental function switches.
Once we were done in El Catrin, we ventured out into the Distillery's overcast alleyways. We chose this locale because the beauty of the place remains regardless of the weather. Here we had grey skies, which accentuated the textures, colours and classic feel of the place. For the next round of pictures, we put the E-M1 on manual exposure, to see  what it could do at varying exposures.
It's around this point where it'd be a good time to talk up Olympus's efforts in creating a camera that stands up to the elements. It's wonderful to have a pro-level camera on a warm, sunny day. You don't have the elements to contend with, so you can take as much time as you need to set up shots, angles etc. Fortunately, for everyone who DOESN'T live in San Diego, there are the occasional bouts of rain and snow that can ruin any day of shooting in a matter of seconds. Luckily, the E-M1 is shock-proof, splash-proof and freeze-proof, which means shooting is not limited by the weather.
This came especially in handy that day, as the rain came down HARD about an hour in. We didn't let that stop us, though. We shot confidently, knowing the E-M1 could take it. To us, it was an extra perk in a camera that's already full of them.
f/4.5 | 1/80sec | 200 iso
After some great shots in manual mode, we decided to have a look at some of the E-M1's filters and art settings, which Olympus has put a heavy focus on. Similar to smartphone apps like Pic Stitch, Olympus has made Photostory a part of many of their products, including the E-M1. Photostory allows you to piece photos together in a variety of unique compositions, allowing you to tell a short (but meaningful) story. Here, we placed just a few of our shots together to give a better feel of what the Distillery has to offer, visually.
Finally, we've created this animated gif, to show you the many art filters offered by Olympus. Again, your smartphone may offer apps like Instagram and Hipstamatic, but these are meant to give a more professional look to the drab pictures often taken on smartphones. Olympus has offered a variety of filters that artfully enhance its already stunnning photos. They include:
Pop Art
Soft Focus
Pale & Light Color
Light Tone
Grainy Film
Pin Hole
Diorama
Cross Proscess
Gentle Sepia
Dramatic Tone
Key Line
WaterColor
Not sure which filter you want to use? No worries. Use Art Filter Bracketing to render 1 shot in every available filter. That way, you can move on to your next shot and pick and choose later.