In our second instalment, video producer Dale Sood shares a behind-the-scenes look at the making of our upcoming video documentary for the Vistek YouTube channel highlighting cycling photographer Bojan Uzicanin.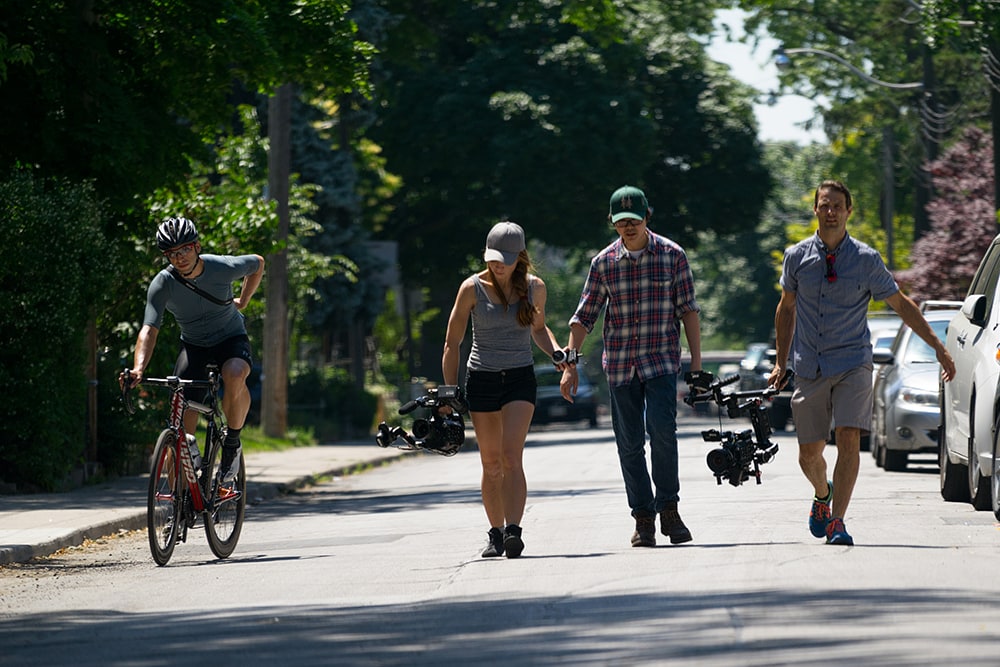 ---
---
[toggle title="The gear for the day's video shoot:" load="hide"]
Cameras:
Lenses:
Other Accessories:
[/toggle]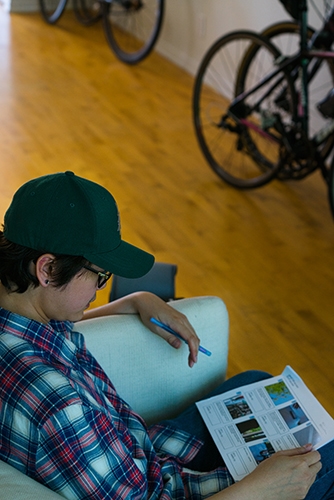 [dropcap style="square"]O[/dropcap]ur day began early with the crew meeting at Bojan's apartment in Toronto's west-end.
Having scouted our locations the previous week, our day's shoot was planned out down to not only our locations but to where the natural light would be coming from. Our goal for this part of the documentary was to capture a typical "day in the life" of Bojan as both a photographer and as a cyclist.
Bojan's photography really focuses on cycling lifestyle, so we are trying to capture what that lifestyle looks and feels like. It was the beautifully sunny day we had hoped for, and I built a pretty thorough shot list/storyboard that we could reliably follow throughout the day.
---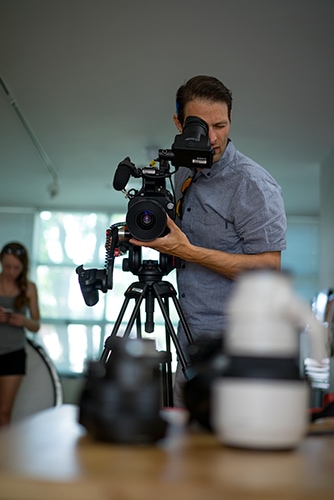 We began with showing Bojan getting ready for the day. Here we used our two FS7s inside with our CP.2s. A few shots were cut-ins of details around the apartment and so I needed a fairly shallow DOF. We used the Zeiss cine primes for this as they open up to around T 2 and I can get a sharp image around T 2.8.
We had mostly the same crew as the first shoot; 1AC Chelsea Springgay, and Camera Op William Lam. However, this time, we were joined by Jeff Becker who was our set photographer (who's photos you are looking at) and Jeff drove the van as well generally helped us out with odds and ends during the day.
We had 12 hours to shoot at our five locations on the day: Bojan's Apartment, Contra Cafe, and the three Road scenes.
After wrapping out of Bojan's apartment, we shot the first of our road scenes with Bojan.
---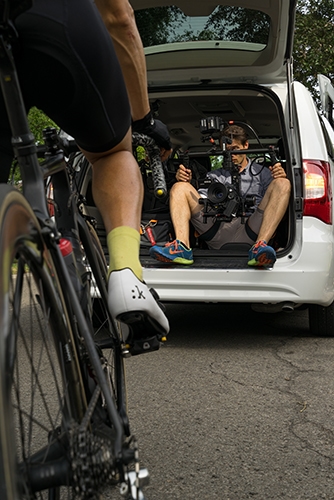 The road scenes were shot either handheld out of the passenger side window or from the rear of our van with a Sony FS5 mounted on a DJI Ronin.
We used rock climbing slings, carabiners, and harness to secure me safely in the back while I operated the Ronin and Chelsea pulled focus from the back seat with her SmallHD AC7 Monitor.
One thing that we soon came to realize was that the Ronin and the FS5 were going to need some special rigging in order to make the set-up work for our purposes.
Now, under normal circumstances, the FS5 works great mounted on the Ronin, but once you add heavy cinema glass and a follow focus motor, the whole rig can become quite front heavy.
Believe it or not, this is actually a very common issue in filmmaking, and lucky for us, riggers have come up with a great way of countering the issue by using a series of counterweights. With this in mind, I took about 2" worth of Glidecam weights, taped them together and then velcroed them to the back of the camera. The end result of my on location MacGyvering was a perfect counterbalance that still allowed the camera enough clearance to move around freely.
Big props to Alessandro Di Leo from Ready Rig for teaching me this trick.
In the afternoon we moved to Contra Café on Shaw St in Toronto. The owners are avid cyclists and it's known in the city as a very cyclist friendly café. But most impressively it is a beautiful space and very popular with the locals. The whole crew at Contra were amazing with us and allowed us the time and space to shoot in their café for an hour and we liked the place so much we stayed for a delicious lunch!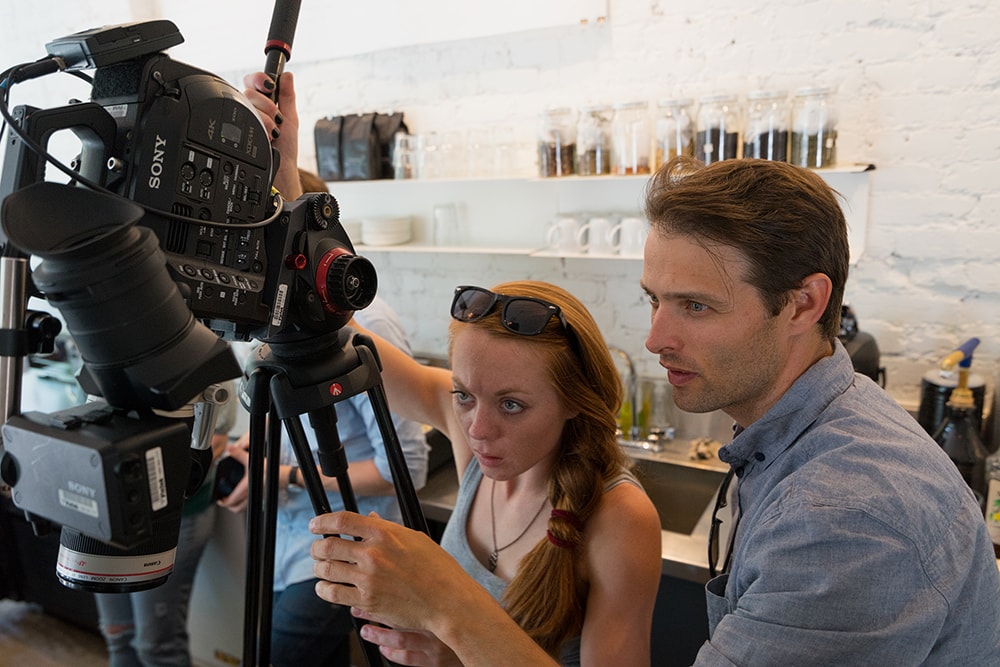 The bulk of the rest of the afternoon was spent following Bojan and his friends Albert and Marc-Antoine as they rode out to our final shooting location for the day. Our goal was to capture the riders as they would appear when they go out for their usual long rides in order to portray the camaraderie and athleticism that is a big part of group cycling.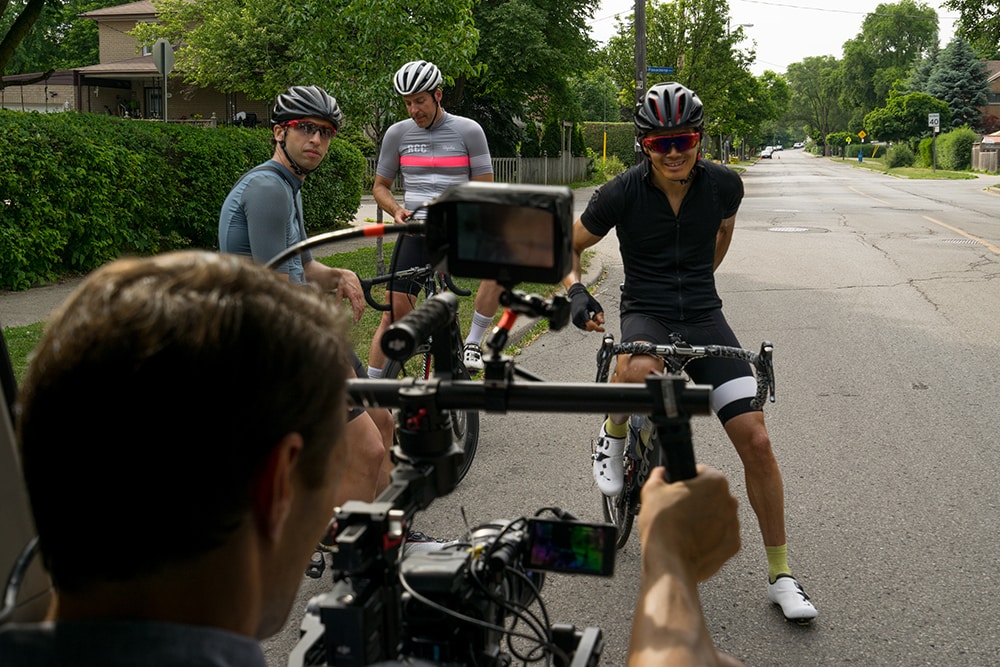 Following them along their route, we arrived at our final shooting location (that Bojan and I had scouted the week before in the north end of Toronto by the airport), just in time for some beautiful backlit sun.
The roadway that we chose as the final filming location is very popular riding location among the road cycling community. We spent our final couple hours here filming Bojan as he shot Albert and Marc-Antoine riding along the road, giving us an opportunity to film how Bojan approaches his photography and shot set-up as well as providing us with some great insight as to what it takes to capture the stellar images he typically gets.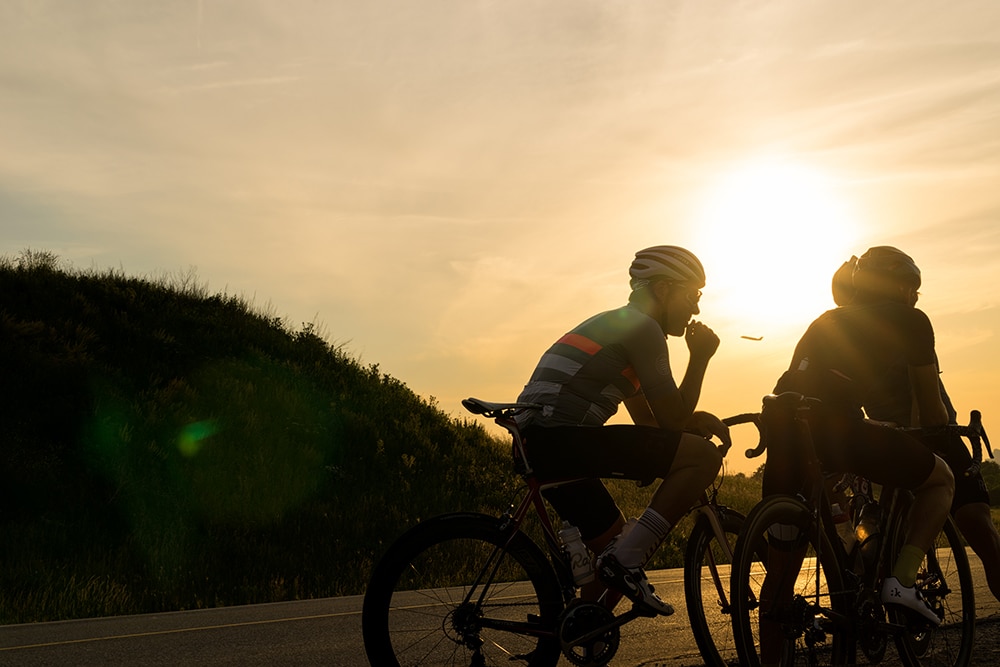 ---
I would like to take this opportunity to offer a huge thank you, not only to my amazing crew, but also to Bojan, Albert, and Marc-Antoine for allowing us to film them riding and for helping to make our shoot run as smoothly as possible.
Stay tuned for the completed doc at the end of the summer and a full behind the scenes video where we'll be breaking down our whole production process.
---