CAPIC (Canadian Association of Professional Image Creators) is putting out an open to all professional Photographers, Illustrators and Image Creators.
This is your chance to be a part of a unique exhibition where image creators are paired up by random draw, to create portraits of each other.
Confirming Participation:
If you wish to participate, please email your contact information which should include your: name, phone number and main artistic discipline (ie. photographer or illustrator etc.) along with the subject line "Double Vision 2016 Participation" to dv@capictoronto.com.
Important:

In order to be included in the pairing draw, please email your confirmation by the end of day, Friday, December 11, 2015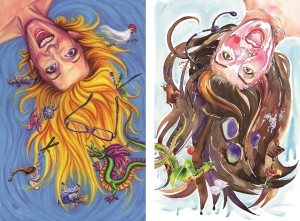 Images will be hung Monday, March 7th for opening night Tuesday, March 8th, 6:30 – 9:30 pm at the Papermill Art Gallery, Todmorden Mills Heritage Site and will remain up until March 21st.
Changes to the contest: 
One juror from each of the areas of advertising, graphic design, editorial publishing, children's publishing and gallery curator will decide the first, second and third place winners. Jury member bios are below. Entrants and invited guests will be encouraged to join in the festivities and cast a ballot for their favourite pair of portraits, resulting in an additional prize that will be announced before the end of the evening.
Artist statements are optional.
Our Jury Members:
Charlene Codner, Chief Creative Officer/Owner Fish out of Water Design
Lance Martin, ECD/ Partner at Union
Jason Schneider – Senior Graphic Designer at Canadian Controlled Media Communications
Carrie Shibinsky, Executive Director, Owner at ARTBOMB
Michael Solomon, Art Director at Groundwood Books