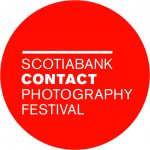 Phew! Week one of Contact Festival is almost over, and boy what a week it's been! Between the Festival Launch Party, Portfolio Reviews, announcement of the 2015 Scotiabank Photography Award recipient, and of course, Blake Morrow's The Beth Project going viral on the interwebs, there's been a lot to cover. So without further ado, let's get started…
Week one in review…
The Beth Project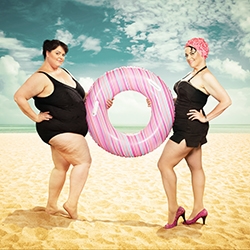 Even photographer Blake Morrow couldn't see the world wide attention that currently surrounds The Beth Project coming…
The Beth Project it would seem, is taking the world by storm! It's currently trending at #1 on Buzzfeed.com top posts this week, and has been featured on websites around the world, including Goodhousekeeping.com, Petapixel, Cosmopolitan.com, Women's Health Magazine, CNN.com and that's just to name a few!
Don't worry, if you haven't had a chance to drop by Vistek Toronto to view the gallery, there's still plenty of time.
The Beth Project – Artist: Blake Morrow – Vistek Toronto Gallery (May 1 – 31)
Related Post: Photographer Blake Morrow unveils The Beth Project
---
Festival Launch Party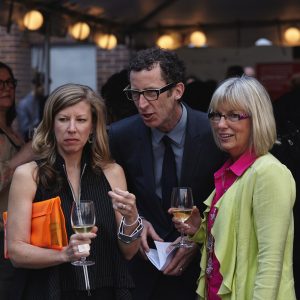 Contact 2015 officially launched on May 1 with a splashy event at the Museum of Contemporary Canadian Art. As always, Festival Executive Director Darcy Killeen (pictured right) was front and centre personally greeting everyone as they arrived. It's this kind of personal touch that highlights why Contact is the world's premier photography festival.
With over 3500 people in attendance, it was an eclectic crowd as one would expect. Photographers, Bay Street types, art lovers and even diplomats all intermingling, and all brought together by their common love of photography.
After the speeches were made, the party started in earnest, topped off with a live performance by special musical guest Bahamas. Unfortunately, we weren't able to stay until the end, but we did hear through the grapevine that the party was rocking so hard, that a city by-law officer had to move in and shut it down around 1:00 a.m. so as not to annoy the neighbours! Probably a wise move, as we suspect that if allowed, people would have partied the whole night through!
---
Portfolio Reviews Exhibition Award
This year's Contact portfolio reviews took place over the weekend at the historic Gladstone Hotel with 65 artists from around the world submitting their work for review. Over two days, the 12 judges met with each photographer to carefully review their work, offer advice pertaining to their work and also how to develop their careers.
After two days of reviews, the photographers were able to share their work at an open forum giving them an informal opportunity to meet once again with the reviews, and also their peers.
Of course, the main event of the evening was the announcement of this years Exhibition Award winner Josée Pedneault.
As the Exhibition Award winner, Josée, a Montreal based Visual Artist and co-founder and president of the board of directors of Les Territoires, (a non-profit organization that aims to give opportunity to emerging artists and curators), will receive a $2500 credit for Toronto Image Works, as well as a professional 17″ Epson printer valued at over $1000 from Vistek.
More shots from the event:
---
2015 Scotiabank Photography Award
The winner of the 2015 Scotiabank Photography Award was announced at last night's gala reception at the Ryerson Image Centre.
TORONTO, ON –(Marketwired – May 06, 2015) – Scotiabank named Angela Grauerholz as the winner of the fifth annual Scotiabank Photography Award. The winner was announced Wednesday evening at a Gala Reception at the Ryerson Image Centre in Toronto.
The prestigious Scotiabank Photography Award includes a $50,000 cash prize, a solo Primary Exhibition at the Ryerson Image Centre during the 2016 Scotiabank CONTACT Photography Festival, and a book of the winner's work to be published and distributed worldwide by renowned art book publisher Gerhard Steidl.
The Scotiabank Photography Award is Canada's largest annual peer-nominated and peer-reviewed celebration of excellence in Canadian contemporary photography. This award was designed to raise the international profile of established Canadian photographic artists.
For the full press release click here
---
And now our picks for week two…
Select Primary Exhibitions: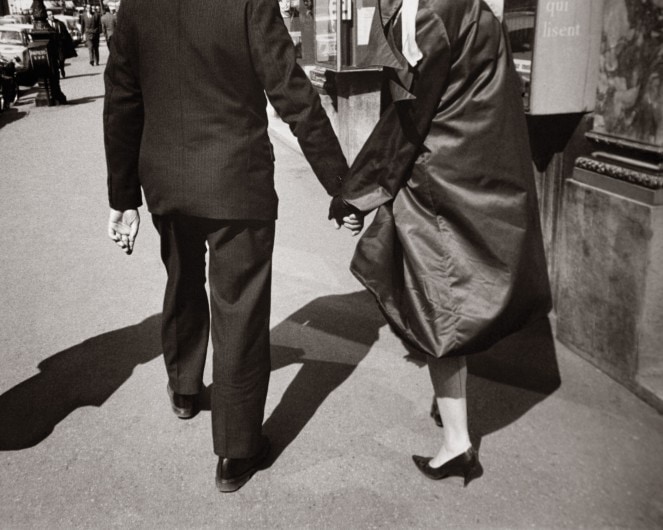 La Mirada en el Otro, Conexiones / Confrontaciones – Artist: Various – Edward Day Gallery (May 1 – 31)
Cultural Exposé: Extending across three generations, the artists in La Mirada en el Otro, Conexiones / Confrontaciones (The Gaze in the Other, Connections / Confrontations) reflect Spain's photographic history and changing creative identity. Each is a recipient of the Ministry of Culture's esteemed Spanish National Photography Prize, established by the Ministry of Culture of Spain in 1994. This exhibition illuminates the evolution of Spanish photography, captured through the lenses of some of the nation's most respected practitioners. Their works offer an anthology of sorts, elucidating the richness, potency, and imagination behind the country's history of photographic expression.
---
Found Not Taken – Artist: Edison Chagas – Scrap Metal Gallery (May 1 – May 31)
The Explorer: For his series Found Not Taken (2008 – 2014), Chagas photographed objects found on the streets of the places where he has lived, including Newport, Wales, and London in the UK, in addition to his native city of Luanda. This exhibition includes photographic selections from all of these cities. Chagas repositions found objects, "recycling" them into new relationships with their immediate environments, and then photographs them. In this, his work has a performative aspect; hidden within the minimal, almost abstract aesthetic of the resulting still images that render simple form and surface texture in sensuous detail. His subtle yet playful compositions heighten the connections between object and context, opening up narrative possibilities about how a city can be read and experienced through consumerism. By attentively arranging discarded objects, Chagas explores the various dichotomies that exist in a city as it grows and transforms.
---
Select Public & Open Installations: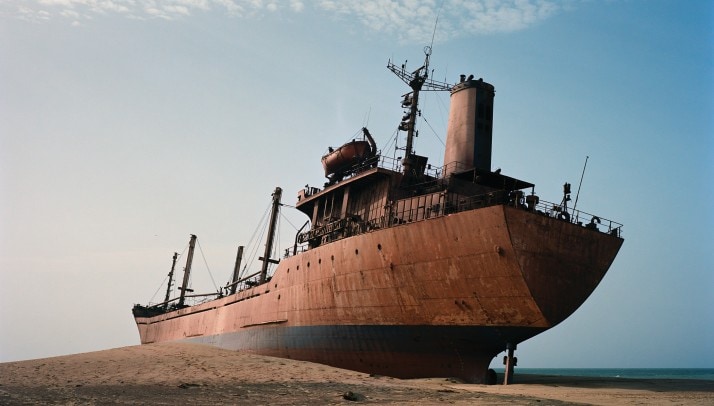 The Death of a Journey V – Artist: Zineb Sedira – The Power Plant Contemporary Art Gallery (May 1 – September 7)
The Mural: As an extension of Sedira's work in The Unfinished Conversation: Encoding/Decoding at The Power Plant until May 18, the mural echoes the exhibition's curatorial intention to build "a visual vehicle that will ferry the audience across the choppy waters of memory, images, and politics to an undeterminable, obscure, and un-chartable destination, where people often meet with a fatal end." Nouadhibou is a place marked by immigration, where people travel from across Sub-Saharan Africa in hope of boarding a boat to the Canary Islands. Others arrive at this coast from Europe, often after being rejected by society or the sea. The Death of a Journey V (2008) draws attention to the politics of migration against the backdrop of Toronto's serene lakefront—a privileged place of tourism and recreation—and opens a dialogue about the geographical and environmental issues that collide at the water's edge.
---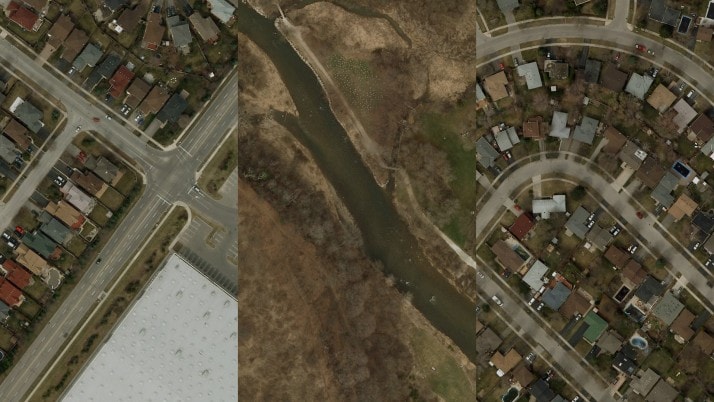 Contracting Toronto: Expanding Cities – Artists: Alejandro Cartagena, Owen Fernley & Julia Krolik – Warden Subway Station (May 1 – 31)
Take a subway ride: Through the photographs of Mexican artist Alejandro Cartagena and videos by Kingston, Ontario, art duo Julia Krolik & Owen Fernley, Toronto's subway corridors are transformed with images addressing suburban transportation, development, and sustainability. Cartagena's images are shown on posters throughout Warden station, the penultimate stop on the eastern edge of the system. Intersection (2015) is a series of videos by Krolik & Fernley, shown non-stop on five TTC LCD screens throughout Warden station and every five minutes at most other stations. Aerial views of suburban homes, roads, and parking lots are revealed with map-like precision, through the use of government orthophotos (permission granted by the Ministry of Natural Resources).
---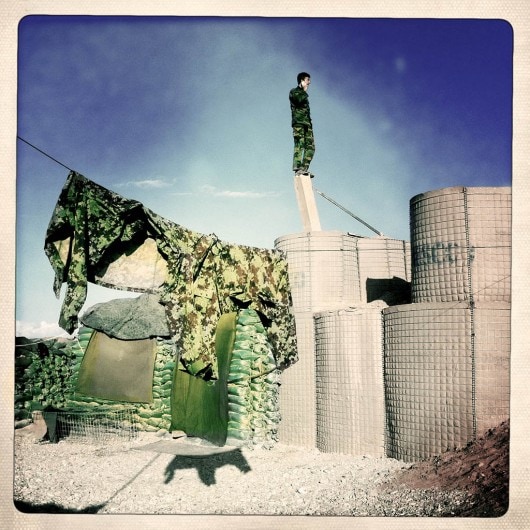 Looking for Marshall McLuhan in Afganistan – Artist: Rita Leistner – Dylan Ellis Gallery (April 15 – May 13)
The Searcher: Photographs made on an iPhone during a military embed in Afghanistan are the jumping-off point in this journey of process and discovery about communication, photography, technology, and war. High-tech meets low-tech in the battlefields of Afghanistan and in the printing method itself: digital captures from a smartphone are printed with the time-honoured 19th-century technique made famous by Edward Steichen. Photographer Rita Leistner joins with master printer Bob Carnie to create painterly and highly archival three-colour gum bichromate on platinum prints mounted on aluminum.
---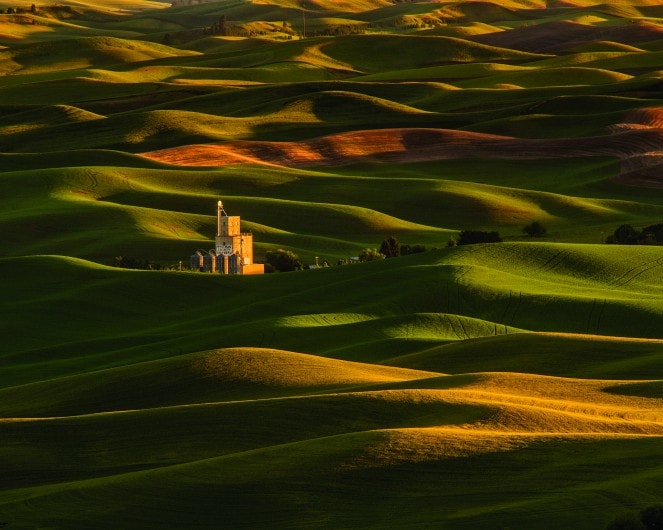 The Mind's Eye, Photographers Living With Vision Loss – Artist: Various – CNIB Centre (May 8 – May 22)
The Visionaries: How would you take a photograph if you couldn't see? What would your process be as a photographer, if you couldn't rely on your sight? Every ten minutes, a Canadian is told they are losing their vision. Since 1918, CNIB has been helping Canadians with vision loss challenge stigmas around blindness. This exhibition showcases a passion for photography, which does not fade even when sight does.
---
Select Workshops: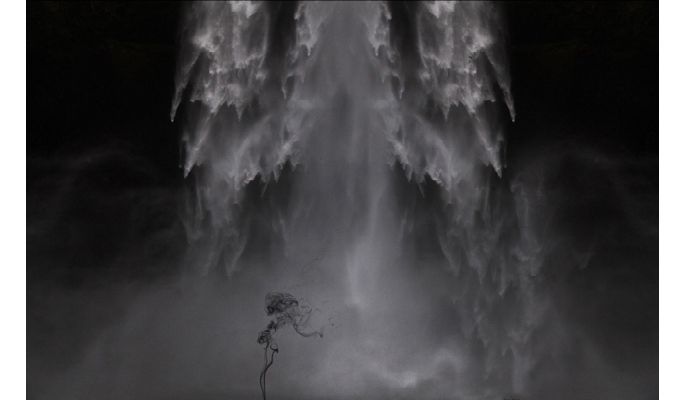 Master Fine Art Digital Printing – Instructor: John Paul Caponigro – Vistek Toronto (May 19 – 21)
3 Day Workshop – Tue May 19 10 – 2 p.m. | May 20 9 – 5 p.m. | May 21 9 – 5 p.m.
Take advantage of this unique opportunity to work with a world-renowned photo artist. Gain a better understanding of the digital imaging process. Learn to master a recommended workflow, and a variety of techniques and tools to help improve your digital files and prints. See what the latest printers and media can do for you and your images. In this "Hands On" workshop, attendees will get to work with Epson Professional Printers ranging from the 7900-to the new P600, and leave with few of their best images printed using Johns tools and techniques. Master Class Fee: $995
Attendees will be provided with a gourmet lunch during the full day sessions
---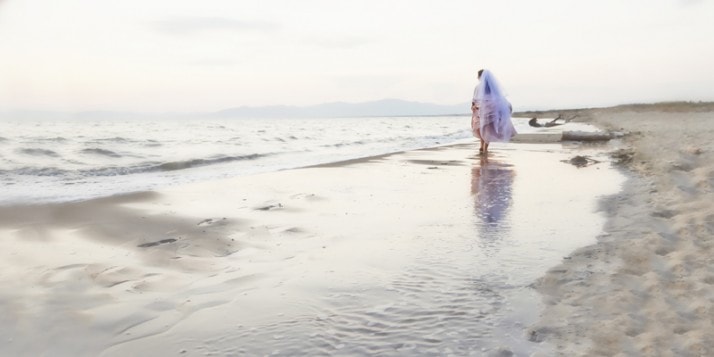 Lighting on Location – Speaker: Sam Sciarrino – St. Paul's Bloor Street (May 13, 6:30 p.m.)
Emotion and sensitivity can be explored more deeply with Nikon Ambassador Sam Sciarrino's soft touch glamour style. Various lighting and composition fundamentals also play an important role in the final image. In this seminar, Sam will demonstrate how to work with lighting in outdoor and indoor locations. This lecture will also feature a live demonstration.
---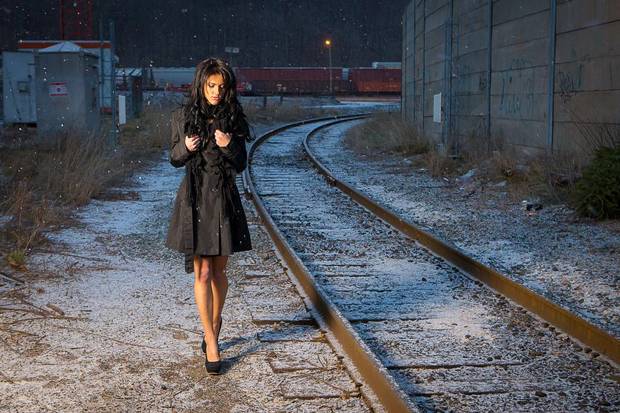 Mastering Your Flash – Instructor: Michael Willems – Vistek Toronto (May 16, 10:00 a.m. – 1:00 p.m.)
In this hands-on workshop, Michael Willems (speedlilghter.ca) takes the mystery out of using flash by addressing how, why and when flash can be effective. He demonstrates the creative possibilities this wonderful and under-utilized light source presents. As well, he will talk about how to use today's wireless systems, using flash outdoors and metering with a flash. Workshop Fee: $99.00