As a photographer, you have the power to influence the way others see the world. This influence might come from the way you use light, the subjects you shoot, the locations you explore, or your decision to shoot in colour or black-and-white.
These are your tools, and what you choose or choose not to utilize can not only portray your view of the world, it can ultimately have a lasting effect on the way others see it too.
So please, show us what FX you…
Contest Details:
Monday, December 21, 2015 – Friday, January 8, 2016
Photos will be judged by our panel of in house experts on the following:
Subject Matter
Image Quality
Creativeness (could include filters/post-processing/shot from an unusual angle, etc…)
Storytelling (is there a story being told through the photo)
---
Please offer your congratulations to Calgary photographer Anita Erdmann for her winning submission entitled "Under A Starry Night".
---
The Prize: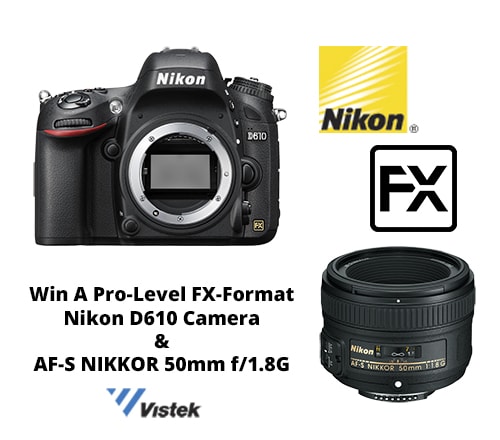 One (1) Nikon D610 w/ One (1) AF-S 50mm f/1.8 G Nikkor Lens (approx CDN total retail value $2000.00)
Experience the passion of Nikon FX full-frame photography.
"The power of a pro-level Nikon FX-format camera—dazzling full-frame images, broadcast-quality 1080p video at your fingertips, superior low-light performance, faster frame rate up to 6 frames-per-second (fps), tack sharp autofocus with 39 focus points, built-in flash with Commander Mode, wireless photo sharing and much more—is attainable in a compact, lightweight full-frame HD-SLR body. A new continuous quiet mode lets you capture a sequence of shots without the noise associated with the raising and lowering of the D-SLR's mirror. Optimized for full-frame shooting, streamlined for compactness and value, the D610 will fuel your photographic passion like never before."
Who can enter:
Anyone 18 years of age or over and a resident of Canada*

*Contest not open to residents of Quebec or employees of Vistek, Nikon or any of their subsidiaries. See full contest rules and regulations below for more details.
How to enter:
It's easy! Once you've decided on your shot, upload to our contest gallery using the button below. To give a little context, please why the subject matter in your photo FX you in the description field when you upload.
[button link="https://prophotoblog.ca/show-us-what-fx-you-photo-contest-entry-page/" size="large" target="new" text_color="#ffffff" color="#1B79B7″]Click Here To Enter[/button]
---
---
Questions or comments? Feel free to leave them in the comments fields below.