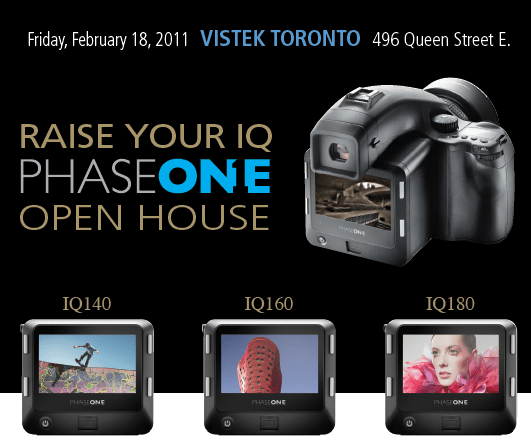 Don't miss this exciting opportunity to experience the latest in Digital Back technology from Phase One. This is your chance to check out the new Phase One IQ180 Digital Back – and try it out for yourself!
On Friday, Feb. 18, Vistek will hold three 1-hour seminars (at 10am, 1pm& 4pm) to showcase the revolutionary new Phase One IQ180!
Be on hand to see this incredible new digital back and witness its amazing new features:
The highest resolution screen (1.15MP) available today
Touch screen capabilities with multi-touch features
On-screen instant focus verification
Universal connectivity
The HIGHEST resolution (80 megapixels) of any digital back in the world!
Bring your CF memory card with you, as you'll have a chance to get hands-on with the IQ180, then view your sample photo with a free trial download of Capture One Pro 6.1!
You'll also a get brief tour of Capture One Pro 6.1's new features & highlights – including the exciting Capture Pilot feature that allows you to use your iPad, iPhone and iPod Touch to wirelessly view, zoom & pan high res. images – direct from your shoot!
Register online (10am, 1pm or 4pm) or in-store for your chance to check out this unprecedented new product!
Where: Vistek Toronto (496 Queen Street E.)
When: Friday, Feb. 18 | 10am, 1pm & 4pm
Cost: FREE