Part two of Vistek's on-going Phase One Advantage Series takes place Wednesday, August 10 from 4 to 6pm. And you do NOT want to miss this one.
Join Gary Goldberg – Vistek's Pro Products Manager – as he introduces the latest Phase One IQ140 digital back to the Canadian photo community.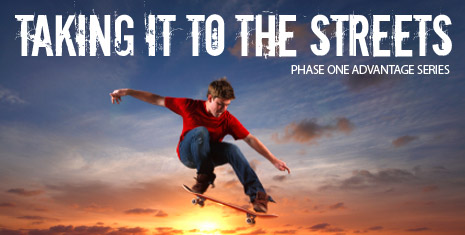 For this Phase One hands-on event, we've lined up a professional skateboarder. And we'll answer age-old (okay… not THAT old) question of  how a Phase One 645DF camera equipped with an IQ 140, 160 or 180 digital back stacks up against a professional DSLR.
You'll get a chance to handle the Phase One camera system. And once you see how the Leaf shutter captures the action at higher shutter speeds, and balances fill flash in sunlight, chances are pretty good that you won't want to put it down. At the very least, you'll gain a new respect for what medium format can do for your images – as well as your image.
Admission is FREE but attendance is limited to 25  so book early!
Please note: As this is an outside event – all attendees will be asked to sign a liability waiver in order to participate.