---
Kasha Slavner is an award winning documentary filmmaker and photographer who's passion for social justice and activism is the inspiration behind her powerful imagery.
We recently sat down with Kasha to ask a few questions and learn a little more about this talented image maker in preparation for her gallery showings at Vistek Toronto and Vistek Mississauga this May.
How did you get your start in Photography?
I got my start in photography at a very early age, although I didn't recognize it as a real passion that I should pursue until I was 14. Some of my fondest memories from my childhood include being the self-appointed summer camp photographer. I would run around with a disposable camera and capture moments that made me happiest, an interestingly shaped cloud, or my friends laughing and playing together. At 14, I saved up for months so I could buy my first entry-level DSLR. Since then, my camera has been the most important tool in my life to express my activism and advocacy.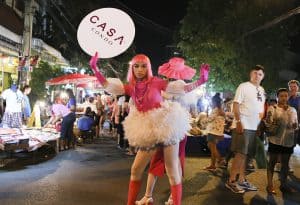 How would you describe your style? How has it evolved during your career?
When I was younger, my focus was on nature photography mostly. When I took my first trip abroad to Cuba, my style began to evolve into a photojournalistic/ street photography style, which remains the style I love and am most inspired by.
What was your first big break and what did it lead to?
My first big break is when some photos of mine and a promotional video about my work were commissioned by National Geographic Learning in North America. A couple of years later, they requested to also license the work for the Chinese market.
Who are some of your favourite artists and how do they influence your work?
A photographer I look up to is Lọlá Ákínmádé Åkerström, a National Geographic photographer, and one of my first mentors. My other favourite photographer is Steve McCurry. I admire both of them as artists for their portraiture and travel photography. I appreciate and respect the way they capture humanity in all its diversity.
What has been your favourite project to work on?
One of my favourite projects was being commissioned for and developing my newest exhibit, Picture 16, for the 100th anniversary of Vimy Ridge. We travelled with EF Tours to Arras, France, to show the exhibit to 3,000 teachers and students. The 16-piece exhibition is inspired by the United Nations Sustainable Development Goal #16, Peace, justice and strong institutions.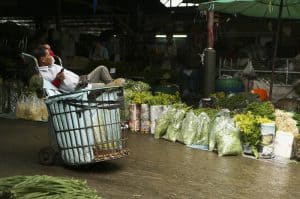 Where do you find your inspiration?
I find inspiration everywhere, mostly from my surroundings, especially when travelling. I learn a lot from the photographers I look up to and analyzing what I like about their works. I also find inspiration on social media by following accounts that resonate with my style as a photographer.
Have you ever experienced a creative rut? If so, how did you overcome it?
I get into creative ruts when I'm home in Toronto, during the winter, when my work focuses less on the creative process, and more on educational outreach. Whenever spring comes or I travel, there's something that switches in my brain, maybe its the change in routine that changes my perspective. I feel inspiration and confidence, I am more willing to put myself out there, speak to new people, and bring my camera everywhere.
---
Celebrate Photography Month Photo Galleries
All of Kasha Slavner's "On the Sunny Side of the Street" Gallery images will be available for public viewing at both Vistek Toronto and Vistek Mississauga during regular business hours from May 1 – 31, 2019
Vistek Toronto – 496 Queen Street East (Downtown at Queen and Sumach Streets)
Vistek Mississauga – 5840 Mavis Road (Heartland Town Centre)
---
What is the most valuable lesson you have learned throughout your career?
The most valuable thing I've learned is to believe in myself. I give 100% to everything I do, but I am working on remembering that there's plenty of time to further develop my craft and technical skill and grow as an artist, I still have much to learn.
What is the biggest mistake you've made on an assignment and how did you overcome it?
Forgetting things, an extra SD, or my flash, or a battery! It's the worst mistake I could make, so now, every night before a shoot, I make a checklist and pack my bag ahead of time. I always double check in the morning, too.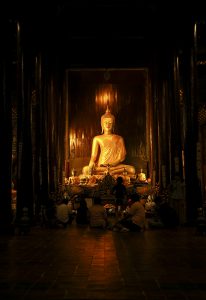 What advice if any, would you give to photographers starting out in their career?
I have two somewhat contradictory pieces of advice.
The first, is to shoot lots. It's something I've heard many times throughout my career and am honestly still working on doing better.
The second, is to be sensitive about when you're pulling out your camera, or how many photos you're taking. This is more situational. Since I do travel, photojournalism and street photography, I've learned there's a time and place for taking photos, I try to avoid being invasive or exploitative of people by taking pictures without some form of consent. I try to have some form of interaction with a person before I take their photos and try to make sure they get a copy, where possible.
Other than your camera, do you have a piece of gear you can't do without?
I'd say a portrait lens, 50 mm, f.1/8, also when travelling I used a 24-104 F.4, as it is quite versatile.
Where else can people see your work? (Social Media, Photography Sites, Real World etc)
Instagram is where I showcase most of my photography, but I also hold regular exhibitions of my work in Toronto, and New York.
---
About Kasha Slavner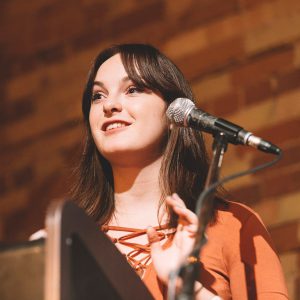 Kasha Sequoia Slavner is a Gen-Z filmmaker/photographer/entrepreneur/author & social justice advocate.
At age 17, Kasha was selected as the first recipient of the Kim Phuc Youth Award for Peace, she's a 7x UN Youth Delegate, Ontario Regional Advisor for the Canadian Council of Young Feminists & founder of The Global Sunrise Project – a positive impact media hub.
Kasha is a global youth leader with Nile Rodger's We Are Family, Yunus & Youth, Global Changemakers & WE. Her documentary, The Sunrise Storyteller, has screened at 58+ festivals internationally & won 28 awards, including the Ron Kovic Peace Prize and Eva Haller Women Transforming Media Award.
Facebook: Global Sunrise Project
Twitter: @GlobalSunRisers
Instagram: @globalsunrisers