What is your background/education?
I have a PhD in Psychology. Been involved with the arts and science and seemed always balance these two in me… but arts always win. From childhood I always was quite imaginative and have been into all things beautiful and artistic with a special interest to composition and colours.  25 years ago I was working in theatre and it led me to the most important point – I met the love of my life, my husband Yuri, a musician, a very creative person… And this eventually led both of us to studying eastern cultures, philosophy & psychology and brought us to the origami art and then I came to photography.
I'm a self-taught photographer and should thank my origami for being involved into this fascinating world of photography. About 7 years ago I started to take photography more seriously, exploring the photo-art in different aspects and becoming totally delighted with the world of digital photography; it's quite flexible for artistic expression, like a digital paintbrush! I am happy to add that I'm a winner of Toronto Photo Contest 2010, which was a fantastic experience for me.
I love healthy style of life, yoga and I'm mostly vegetarian.
You're not a typical photographer, in fact, you're a professional origami artist, how did you come about incorporating the two?
Yuri and I are internationally recognized professional origami artists and well-known in Origami world for our Oriland – fantastic origami world, we create out of paper and which consists of several Kingdoms with castles, ships, little people, fantasy creatures, flowers etc. These Oriland Kingdoms have been exhibited in different countries across the globe, including Canada, of course. We also have written more than 30 books on our origami designs and have done some Internet projects on origami, including our award winning Oriland.com. So, all our prolific origami life always demands visuals of our paper creations, be it an image for a web-site, photo-diagrams or a book cover. Photography, drawing, painting were always a part my life to a certain degree, but our origami evoked a photographer in me and now my love for photography helps to create attractive visuals for our Oriland world as well.
Your images have a certain playfulness about them, we know when looking at them the buildings and landscapes featured are life size but you make them feel like toys by employing some really interesting photography techniques combined with photoshop. Can you tell us a little about those?
Yes, my Toy-ronto series is meant to be a playful, whimsical presentation of Toronto. And I do employ some digital magic to achieve this toy-like feel.
Most often I use a tilt-shift effect, which makes life-size objects look like miniatures. This simulation of a miniature scene can be done with a special lens or with post-processing – I prefer the latter as it gives me great flexibility and allows to have multiple variations on the same image.
Another technique I use is a planetarization – I do achieve it using Polar Coordinates filter in Photoshop to create a "little planet" out of a panorama.
I also do like using textures with my "little planets" giving them a bit of a look of a painting that partially comes alive.
Also, often I do a photomontage, adding other components to an image that make it look toy-like and a bit surreal. It can be my hands or some of our origami pieces depending on an idea / scenario of the image.
I really do enjoy mixing different techniques to create my miniature sets of Toy-ronto.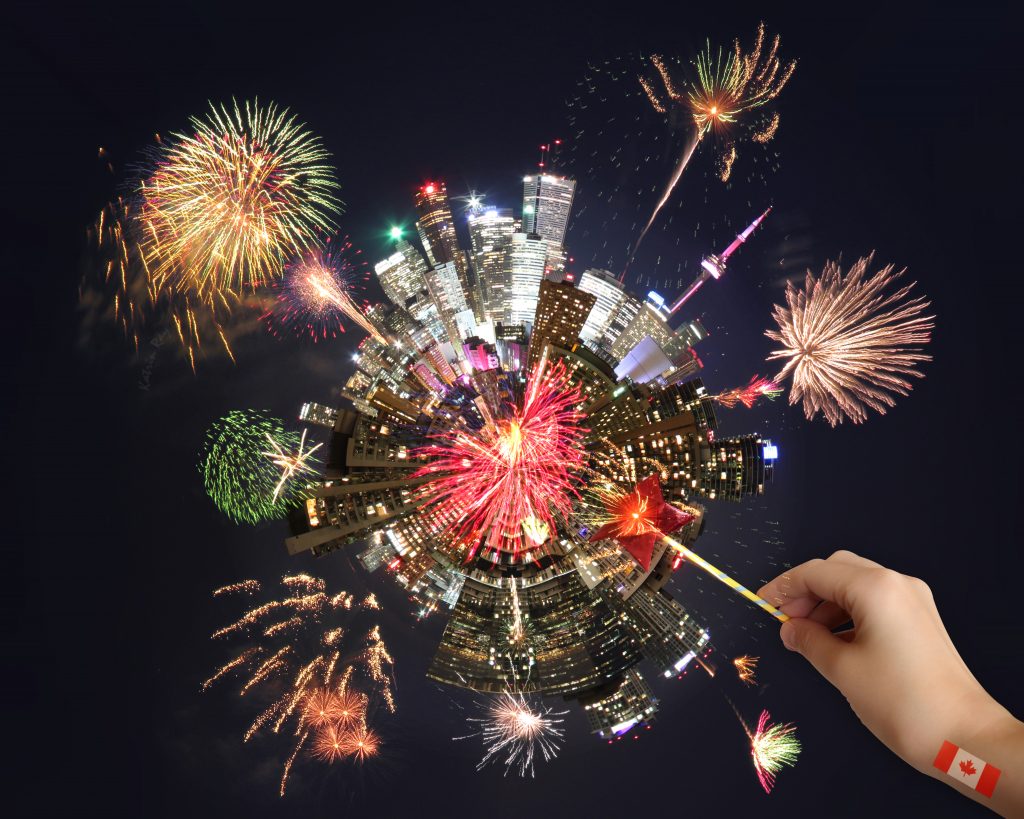 What are some of your biggest challenges? How do you overcome them?
My biggest challenge is to find time to realize all the ideas I have! I wouldn't mind to have a time-stretching device! 🙂
It is also a challenge to survive as an independent artist only doing what you love. And the only way to overcome it is to continue to do what I love!
Tell us a little about some of your favourite photo gear.
My most favourite gear is my Canon EOS Rebel T1i. I'm not quite a gear collector type. To me it is more important what you can create with the tools you have at hand.
What is your favourite photo accessory, other than your camera?
Tripod – I love to capture the beauty of blue hour, so I do lots of long exposure photography where a tripod comes in handy.
If you had to choose just a single camera and lens would it be and why?
Say, I would choose something like Canon EOS 70D with 18-135mm IS lens. Why? Because it's rather convenient for me to have it all in one – a possibility for taking landscape photos as well as close-ups. It's liberating for creativity.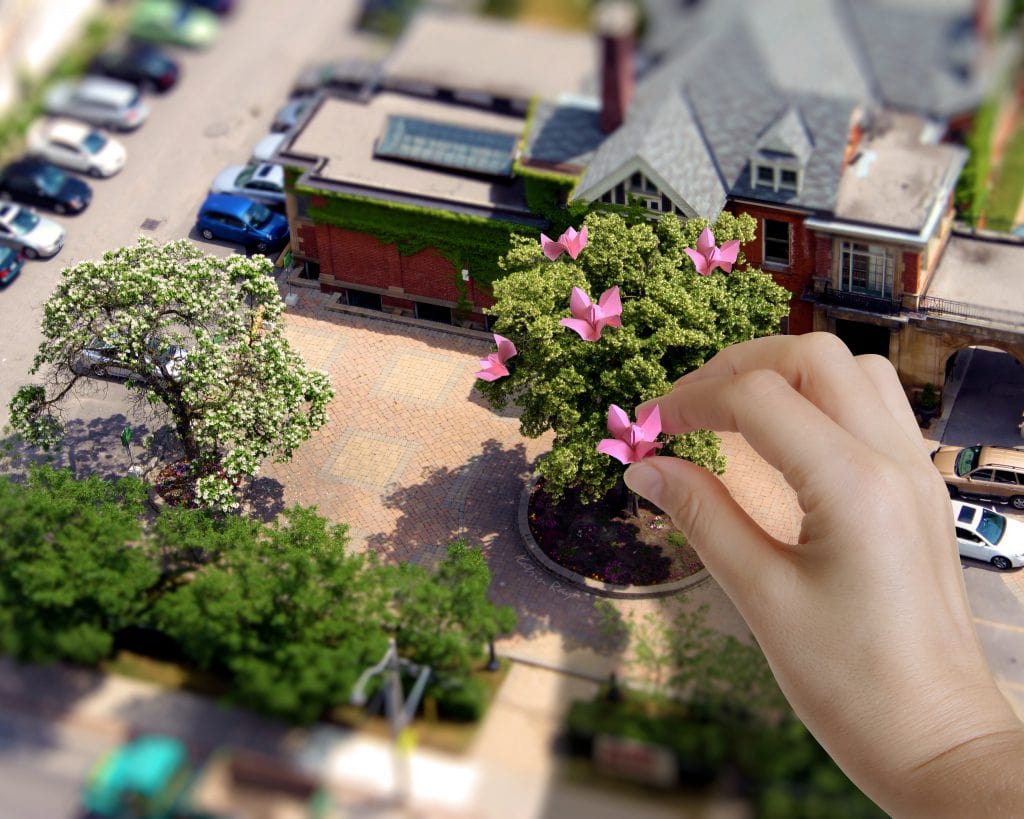 You seem to take a lot of inspiration from living in the city of Toronto. Is there anything in specific about Toronto that serves as inspiration? What else inspires you?
Toronto inspires me with its mix of cultures, great architecture, free spirit & green spaces. Our Toronto is super!
Also the inspiration for my Toy-ronto series cames from our origami: for our exhibitions we create paper architecture models in about 1:50 scale of real size and then set them into dioramas. So my Toy-ronto series is just like our Oriland displays: I'm setting up miniature houses and miniature surroundings for them (creating an illusion out of it, of course). By the way, the idea of applying my Oriland experience struck me when I saw Jarvis Mansion District in Toronto from a rooftop of a high-rise. These charming historical buildings looked like miniature models already and the idea of presenting Toronto as a miniature town came naturally to me. Since then my imagination is producing ideas and scenarios of photos for my Toy-ronto and it is quite fun to realize them in this series.
What else inspires me? Music! My husband is not only designing & building paper castles (he have built me so many paper castles no one princess would ever dream!), but he is also a composer and sound designer, who under his artistic name Julian Ray released eight music albums! Blending New Age, Ambient, Cosmic, Jazz styles he creates beautiful music with his distinctive signature style – melodic, intellectual, multi-layered, soaring… I adore his music and it inspires much of my Sun Magic & Blue Hour photography. By the way, I also created all the artworks for his albums.
You recently did an amazing exhibition TOY-RONTO Kingdom at the CNE which was a whimsical mini version of Toronto made entirely of origami featuring notable Toronto landmarks, including CN Tower, Old City Hall Castle, New City Hall, the harbourfront as well as Ferris Wheel and the Princes' Gates of the CNE itself. Tell us a bit about that.
It's funny how origami brought me to photography and then photography brought me back to origami… "There and back again" case I think 🙂
First, I looked at Toronto from our Oriland / origami point of view and it prompted to create this photo-series of Toy-ronto… And then the Toy-ronto photos brought Yuri and me to creating the origami version of Toy-ronto! The circle is complete.
Originally, since 2010 actually, Toy-ronto existed only as my photo-series, which, of course, incorporates many of our origami designs. But it changed at the start of this year as Toronto City Hall commissioned us to create an origami version of Toronto to exhibit it at City Hall during Doors Open.
So the first public display of our Toy-ronto Origami Land at City Hall featured our origami toy-versions of Old City Hall, New City Hall, Beaches, Lake with Sailing Ship and a 1.7-meter CN Tower in an 8-metre-long diorama with a fleet of origami hot air balloons above. Also, along with the origami display, 200 images of my Toy-ronto series were projected on the Rotunda walls of City Hall during the Doors Open event.
And then here it comes the Canadian National Exhibition – whoo-hoo! Especially for the CNE we expanded our TOY-RONTO Kingdom with the origami toy-versions of Ferris Wheel and the Princes' Gates with the Winged Victory atop. It was a great challenge to design an origami version of the Gates and we are quite happy with the result. Our TOY-RONTO Kingdom was a big hit at the CNE and all in all it was a great National exposure!
I understand you did this all without cutting, gluing or cutting anything, how long did it take to create?
Yuri and I created TOY-RONTO from more than 10 000 pieces of paper without gluing or cutting. We used paper rectangles of various sizes but there was no paper bigger than a Letter format in size. On the exhibition some people asked, for example, "How this 1.7-meter CN Tower is able to stand? there is something inside?" No! Just paper! There are only intricate paper locks that connect all pieces together and no glue!
Creation of Toy-ronto involved a few stages – research on buildings, sketching, experimenting, prototyping, designing, and folding. So, It took us eight months to create all the pieces of our TOY-RONTO as it was exhibited at the CNE.
Where is it now?
Now TOY-RONTO is carefully packed into boxes until next exhibitions. We most probably will be adding new pieces to our TOY-RONTO Kingdom in future – there is a lot of inspiration for that – ROM, Casa Loma, AGO, just to name a few.
Ah yes, a part of TOY-RONTO, namely, origami hot air balloons will be "flying" with us from Toronto to Albuquerque, NM where we were invited as special guest-artists. We will show our origami Albuquerque Kingdom exhibition at PCOC (Pacific Coast OrigamiUSA Conference) and International Balloon Fiesta.
Can you share with us anything that you're working on right now?
In photography, right now I have a few series in work:
– Astro Projection – a series of photos, where I play with long exposure, manual zooming and ICM (intentional camera movement) to create an abstract vision of cityscapes straight out of camera.
– Inspired Asanas – a series of artworks reflecting my creative vision of our yoga sessions
– Miniature Oribana – a series of artworks depicting our origami creations, miniature floral compositions, we call ORIBANA (ORIgami + IkeBANA).
Also there are 2 books on origami we are writing now.
And I am working on a cover artwork for my husband's upcoming music album.
It's a busy creative life and I love it!
Where else can people see your work?
Photos:
http://www.katrinray.com
http://www.flickr.com/photos/katrins
Origami creations:
http://www.oriland.com
https://www.facebook.com/oriland.fb
http://www.flickr.com/photos/oriland/sets
Music artworks:
http://www.julianraymusic.com