Next up in Vistek's national Gallery is a series of photos entitled What Lies Beneath — a collection of underwater shots shot by photographer Margaret Hines. You'll find her story interesting because, for one thing, without any formal training, she literally dove into underwater photography. And with the help of her husband, she turned their backyard pool into a studio.
Meet Margaret Hines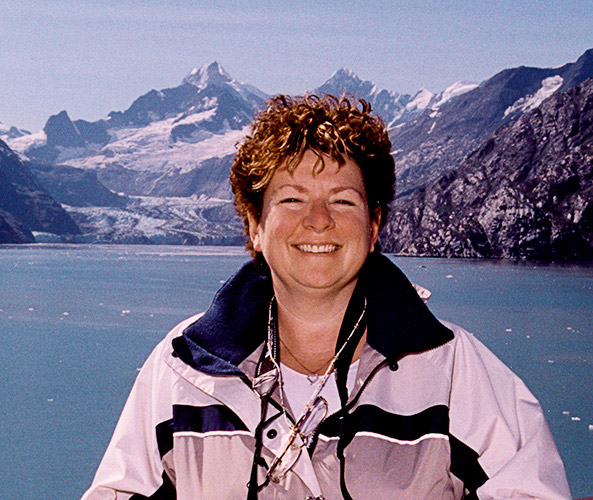 What is your background & education?
Accounting & Finance.
Completely self-taught with underwater photography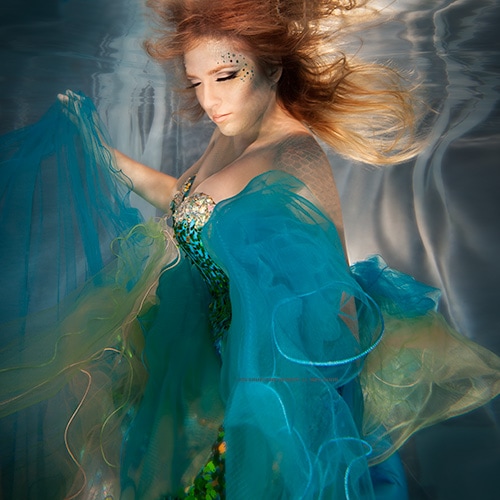 How did you get your start as a photographer?  Did you have a special mentor?
I have always had a camera starting out with my first Kodak Instamatic camera when I was a young teenager.  I really became hooked the day I bought my first Canon Rebel DSLR for my first holiday to Alaska.
Being a member of a professional association such as the Professional Photographers of Canada (PPOC) has definitely helped me to hone my craft through competition and networking with other photographers.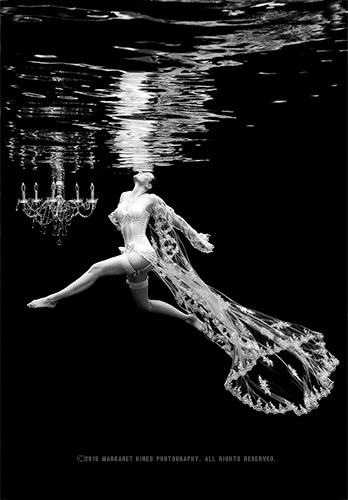 What inspires your photography?
I do all my own printing here in-studio with an Epson 7900, ImagePrint RIP software and Moab Slickrock Metallic Pearl Paper for my underwater prints.  It is extremely satisfying to see and hold the culmination of all the planning, shooting and editing that goes into crafting a fine art underwater print.  I fell in love with Slickrock Metallic Pearl Paper in 2013 while taking a fine art printing workshop with John Paul Caponigro at Vistek's Queen Street location and use it exclusively for all my fine art underwater images.
I have used Image Print RIP software with Epson printers since 2006.  ImagePrint has a printer profile library that is chock full of hundreds of printer profiles for every printer/paper combination you can possibly want.  It is really easy software to use.
I am inspired by many things from movies, books, music and other photographers.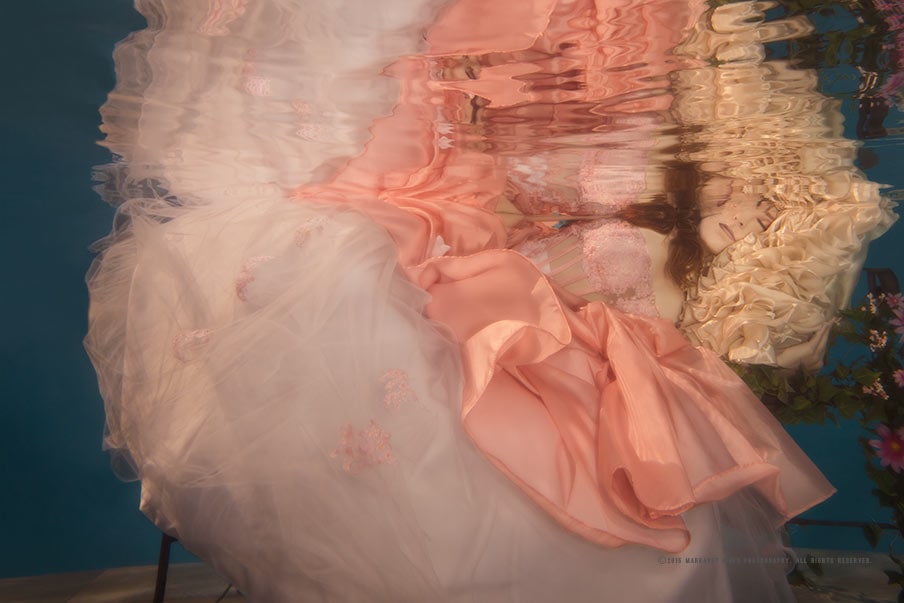 Who are your favourite photographers?
I would have to say that my all-time favorites are Howard Schatz,  Zena Holloway, and John Paul Caponigro.
What has been your most memorable experience?
I think the experience that has resonated with me the most was when I was two thirds of the way through a shoot with a client who was in her mid-forties and she confessed to me that being in the pool with me was the first time since she was 11 years old that she had had her head underwater due to nearly drowning while on a family holiday in Florida.  She said that my husband Rod (who is my assistant/safety diver) and I had made her feel extremely safe and that it was a real turning point for her and she was really excited by the whole experience.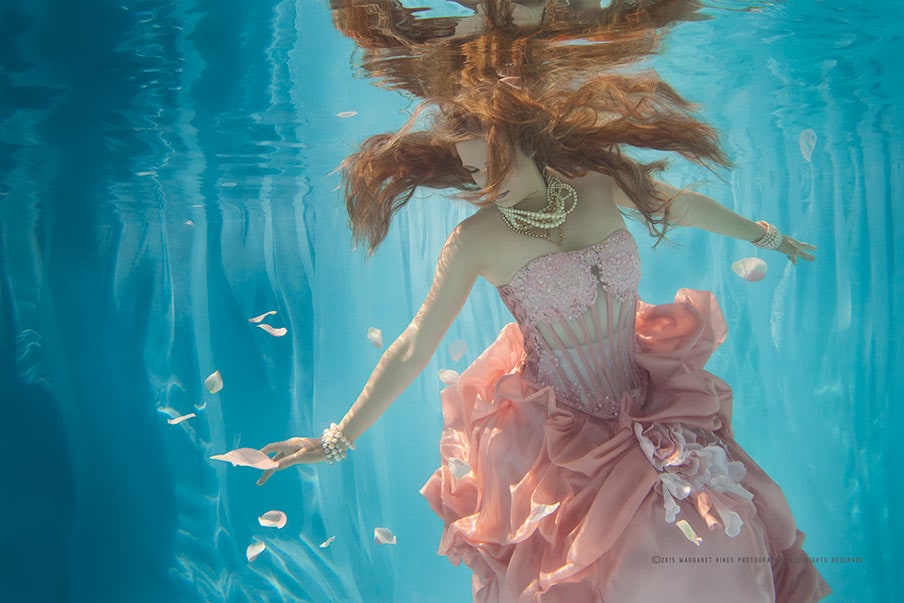 The other memorable experience I had was on the other end of the scale when I flooded my underwater housing and destroyed my camera, lens, and all my underwater gear.  Which was completely my own fault since I was distracted and failed to do my pre-dive check to make sure all the housing locks were secure.  A valuable and very expensive lesson learned.
What is your greatest career accomplishment to date?
I've just received notification from Professional Photographers of Canada that I successfully completed the requirements for my Craftsman of Photographic Arts (CPA) which has taken me 4 years to finish.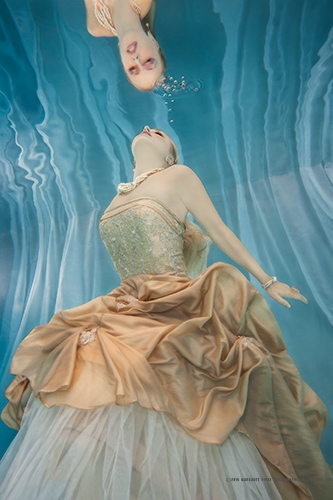 What are some of your biggest challenges?  How do you overcome them?
There are very special technical challenges with shooting underwater….light disperses very quickly, all colours of the spectrum are lost within one foot of the surface of the water except for blue/green.  Everything is moving underwater, the model, hair, fabric, the camera, etc.  And of course the models/clients really work hard because they are weighted down by wet clothing, holding their breath and trying to look good while doing it.
You have to have a lot of patience and shoot a huge number of images to capture that one image where everything comes together and you create an image that is magical.
This may seem a bit counterintuitive but it is often times when the model has been in the water for an hour or more and is a bit tired that I capture the best images.  It has a lot to do with becoming acclimatized to the demands of holding one's breathe and posing.  It helps that we stop very frequently throughout the shoot and review images on the back of the camera so that the model can see how she looks and we can adjust her posing as we go.  We also eat pretty frequently during a shoot as well since we need to keep everyone's energy up.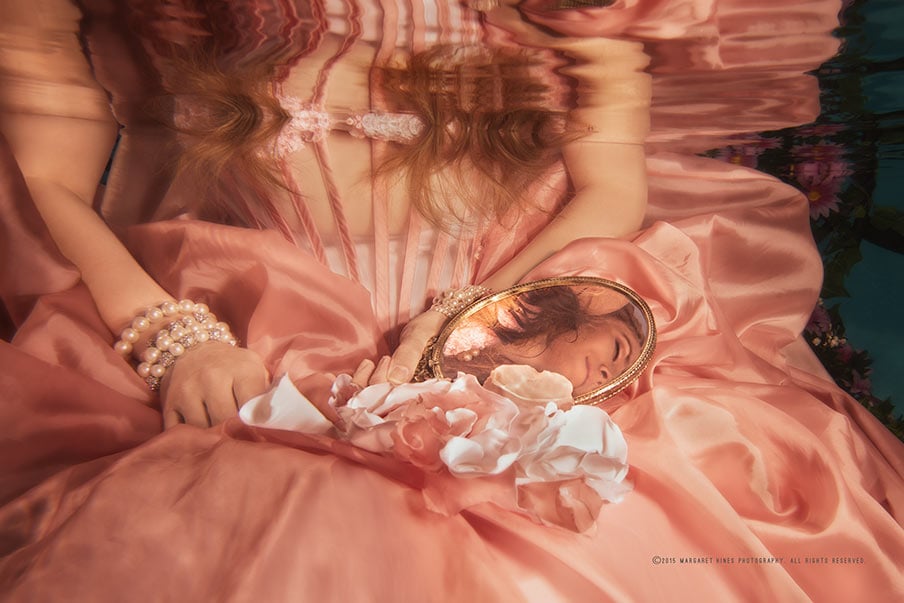 For example, this collection of images for "What Lies Beneath", I shot approximately 10,000 images over 5 days of shooting and I have culled it down to the best 6 images.
We have a 20 x 40 ft. in-ground pool that we heat to 90 F and it takes a lot of work to keep the pool clean and the chemicals properly balanced to make sure the water clarity is the best possible.  Backscatter is my nemesis……..bugs, hair, fluffies floating in the water are all picked up by the camera.  There is no quick way to edit out the backscatter, I literally spend days on each image to remove backscatter and polish the image before sending it to the printer.
Another limitation of shooting underwater is that our pool has a vinyl liner and as such requires extra care when we lay the ceramic tile floors, bring in furniture and other props that you wouldn't ordinarily expect to see in a pool.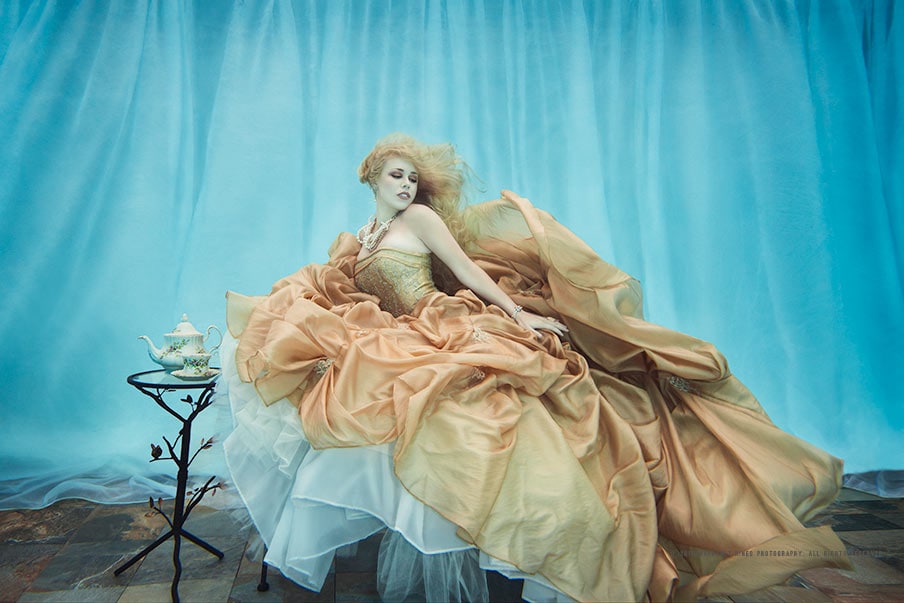 Is there anything you would have done differently in your own career?
I would have wished to start my photography career at an earlier age.
Do you have any advice for photographers starting out?
Constantly challenge yourself technically, develop your own style.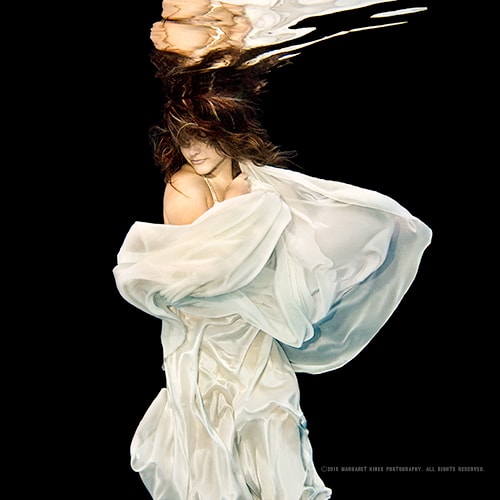 Tell us some of your favorite photo gear.
My Canon 5D MKII, Ikelite underwater housing and substrobes, Canon 17-40mm L series lens.  Epson 7900 printer.
What is your favorite photo accessory, other than your camera?
Given that I am an underwater photographer that would be my mask, fins and Brownie's Third Lung (for breathing).
If you had to choose just a single camera & lens what would it be & why?
Since each underwater housing is camera model specific (every time you upgrade your camera you have to upgrade with a new underwater housing) I'm quite happy with the Canon 5D MKII that I am currently using for both stills and video.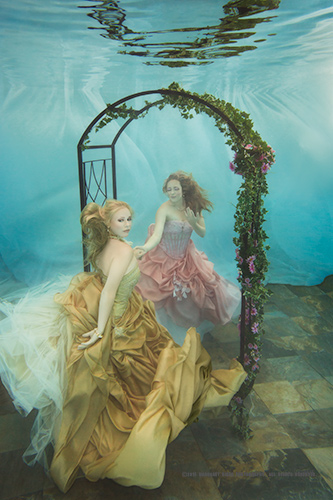 Can you share with us anything that you are working on right now?
Eagerly waiting for pool opening in April and doing some creative night shoots.
Where can people see your work?