Steven Friedman's initial career path didn't lead into a forest. Far from it. It involved working at a pre-eminent Canadian think tank as a Economics consultant.
His Economic days were over the moment he picked up his first SLR on a hiking outing in Gatineau Park outside his home town of Ottawa. After that, his passion turned from churning numbers and stats to photographing fine art landscapes.
Oddly enough, Steven still applies the patience and long-term thinking of an economist to his work as a landscape photographer.
For example, Steven travels to remote locations around the world, often hiking for long stretches at a time to find the right location. Then he patiently waits. He once waited 8 days in one location for the rain to stop, the wind to still, the fog to lift, and, most importantly, for just the right light.

Then, at that moment he captures the perfect image, giving the viewer the sense that they are standing in the forest, looking through the lens alongside him. You can almost feel the crispness of the air, the stillness of the leaves, and the vibrancy of the colours.
Steven's photographs, along with appearing in his self-titled book "Steven Friedman Landscapes", have won significant international awards. Currently he is working on a fine art book which draws on his passion for panoramic tree photographs, the format for which he feels he naturally views the world.
Meet Steven Friedman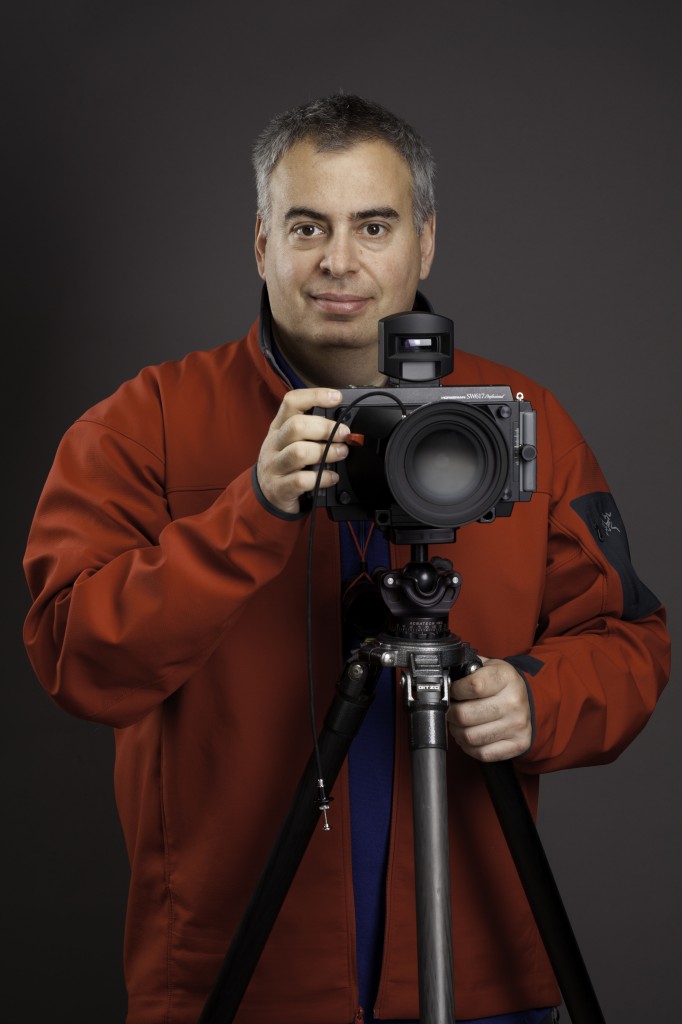 What is your background/education?
I started my career life as an Economist working in Ottawa for the Conference Board of Canada. I am completely self taught with my photography.
How did you get your start as a photographer, did you have a special mentor?
I was hiking in late autumn in the Gatineau National Park and found a Minolta X7A camera left on a stone wall at a viewpoint. Knowing someone must be missing it, I called the ranger station to let them know the make and model of the camera. I had always been curious about photography, so asked the ranger if instead of turning the camera in to their lost and found, I could hang on to the camera, and provide him with my contact information in case the owner came looking for it. No one ever did. The camera sat for a while until a trip down to the four corners area of the United States. I only took a few rolls of film on that trip, mostly documenting the hiking that my wife and I were doing. I remember going to Wal-Mart to have the film developed. It was like Christmas when I got my film back. It was so exciting to see the images. To this day, I still get excited when I get my slides back from the lab. It brings you back to the moment when you captured the images. I had no special mentor, mostly inspired by the landscape, which my wife and I hiked.
What inspires your photography?
In my early years, I spent most of my time capturing images that other photographers captured. Shooting the iconic images. I got to a point where there was no satisfaction in shooting imagery that other photographers took. I believe my analytical background as an economist specializing in econometric forecasting, made it easy for me to study other photographers work and understand what worked and what didn't. I would read Outdoor Photographer, which was great for early inspiration. I collected photography books from photographers such as Galen Rowell and Christopher Burkett. Today, there are so many resources on the net for photographers.
Who are your favourite photographers?
Early on, I was inspired by Galen Rowell's work. The way he captured his images when he was adventure traveling, peaked my interest in hiking into remote areas to photograph. Galen had a great ability to emphasize the story behind his images. I also like the earlier work of Christopher Burkett, and Eliot Porter, which is more about the intimate landscape of the forest. The minimalist imagery from Michael Kenna also inspires me.

What has been your most memorable photography experience?
I have the opportunity to travel extensively, often to remote and inaccessible regions of the world. Being out in this wilderness where few people have ever been is a real privilege. But, sometimes I get more than I bargained for. My wife and I had a run-in with a large Puma while shooting trees in Patagonia, Chile. After a long stare down to size me up (and raise the hair on my neck), he finally gave up and wandered away through the savannah.
Another situation happened while hiking in to photograph a burned forest in the Canadian Rockies. We ran across a huge grizzly bear on the trail. Luckily, he either heard or smelled us and knew we were coming. His ears perked up and he continued eating, watching as we first slowly and then quickly retreated. The smaller creatures can be a bit problematic too. Being covered with over 100 leeches at once in Tasmania was quite an experience.

What has your greatest career accomplishment been to-date?
One of big accomplishments is getting my large scale photographs to be accepted into fine art galleries.
What are some of your biggest challenges? How do you overcome them?
Photography is just now starting to be accepted as fine art in Canada. Educating buyers and sellers of my work has been the key.

Is there anything you would have done differently in your own career?
I wish I would have started out sooner in developing a portfolio of work. As well, I wish I would have switched to the larger format cameras sooner in my career. The switch to the larger format cameras has allowed my work to stand out and allow me to have a niche for larger format prints.
Do you have any advice for photographers starting out?
My advice for photographers is try and avoid the iconic locations and imagery and create unique intimate landscape images that resonate with the viewer.

Tell us a little about some of your favourite photo gear.
Most of my images are from my panoramic Horseman 617 film camera. It is a manual camera; you have to set the exposure and focus on a ground glass with a cape over you, focusing on an upside-down image. It is very relaxing, and when I find the right shot, also thrilling to work with.
The hardest thing is to find a composition, which removes the chaos from the scene, bringing the desired design, pattern and colour to my images. I enjoy the challenge of shooting a large panoramic camera in the forest, producing images that are clean and meaningful. In a chaotic forest, this can be very difficult.

The nice thing about the panoramic film camera is that I can shoot the Schneider lenses at f32 and maintain depth of field, creating a feeling for the viewer of being able to walk through the forest with me. I also like to photograph using hyper- focal focus, which allows both the front trunks of the trees and those deep into the forest to be sharp. Combined, these techniques give a 3D feeling to the images.
Before leaving on a shoot I have ideas of the images I want to capture. The camera's viewfinder is essential in locating where I want to stand for my composition. I spend days, sometimes a week, in one area waiting for the light, the colour to turn and most importantly stillness from the wind. The wind is a killer for long exposures in the forest. Some exposures reach two minutes; most are in the 8 to 30 second range.
My non panoramic camera is a Hasselblad H4D 50 camera with an assortment of Hasselblad lenses.

What is your favourite photo accessory, other than your camera?
A Leica Disto D2 that I use to calculate hyper focal distance.
If you had to choose just a single camera and lens would it be and why?
My favourite camera is the Horseman 617 panoramic film camera and the 180 mm Schneider lens. This lens allows me to isolate my subject and eliminate much of the chaos in nature. I hike with the 180mm viewfinder in my pocket, using it like photographers would use a framing card. I have fallen a few times while wandering around the forest looking through the viewfinder; I get lost in the landscape, tripping mostly over fallen trees.

Can you share with us anything that you're working on right now?
Currently, I am working on a large format panoramic book. We are expecting to show 80 plates in the book and print it at 9" x 19" in size.
Where else can people see your work?
My work can be seen on my website,  facebook page and my prints at the following fine art galleries:
Steffich Fine Art – Salt Spring Island BC
Harrison Galleries – Vancouver BC
Mountain Galleries at the Fairmont – Whistler BC and Jasper AB
Gallery 421 – Kelowna, BC
The Avens Gallery – Canmore Alberta
The Lando Gallery – Edmonton Alberta
Steven's work can also be seen at Vistek locations during 2015 – check here for the full schedule

CREDITS: All photographs are copyrighted by Steven Friedman and have been used with permission.  Do not copy, modify or re-post this article or images without express permission from prophotoblog.ca (Vistek) and the artist.