Putting the ELB 500 TTL to the Test w/Justin Van Leeuwen – Vistek Ottawa
April 12, 2018 @ 5:00 pm

-

6:30 pm

Free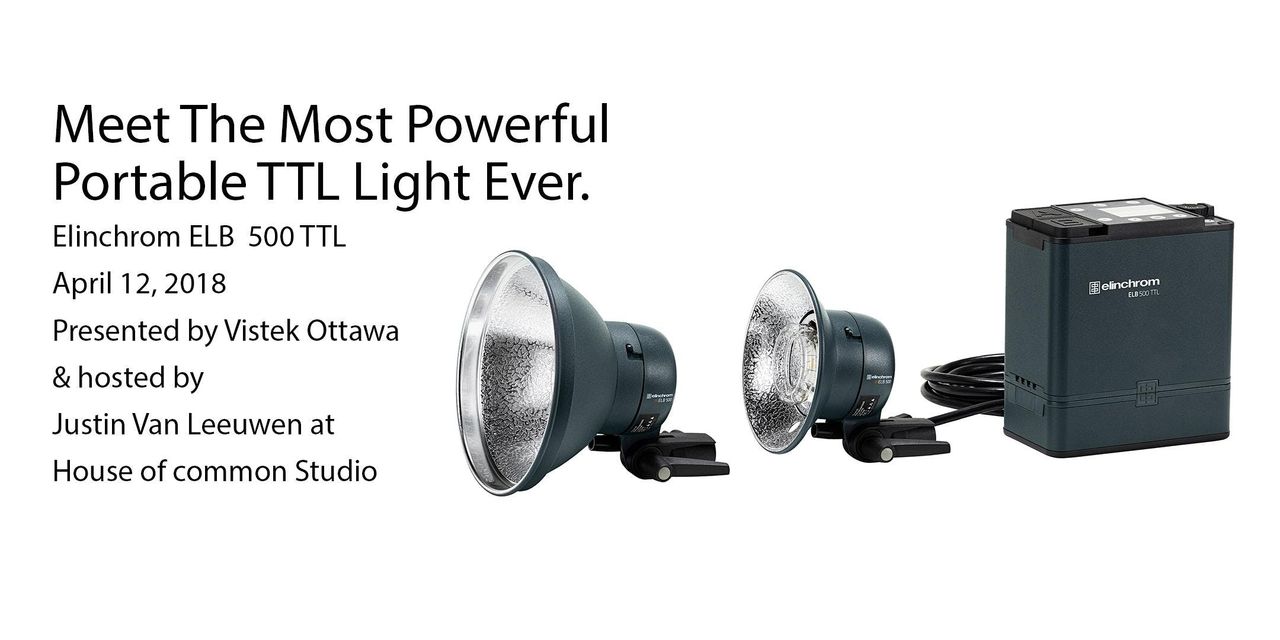 Note: This event is being hosted at House of common Studio, located at 11 Fairmont Avenue, Unit B and not at Vistek Ottawa.
By now, you've probably heard about the new Elinchrom ELB 500 TTL, a portable strobe system that's ten times more powerful than a regular on-camera flash, and is being called "the most powerful portable TTL light ever"!
On April 12th, Vistek Ottawa and Elinchrom Ambassador Justin Van Leeuwen want to give you the opportunity to see for yourself what the ELB 500 TTL is capable of during our event hosted at Justin's Ottawa studio space.
Justin is a master at lighting subjects with strobes. He's built a reputation and developed a signature style using strobes to shoot people and places full of colour and contrast. So it'll be exciting to see how Justin, using the ELB 500 TTL, will demonstrate how it's absolutely magnificent at freezing action as well as creating dreamy backgrounds.
If you're into lighting (and what photographer isn't?), our Elinchrom ELB 500 TTL Demo & Workshop is an event you don't want to miss.
 
 
When: Thursday, April 12, 2018 from 5:00 p.m. – 6:30 p.m. Where: House of common Studio, 11 Fairmont Avenue, Unit B
This is your chance to learn about:
Using TTL flash for quick, accurate lighting
Creative Manual flash
Different Elinchrom softboxes & light-shaping tools
Shooting outdoors with high-speed sync
Flash speeds for "action"
Presented by