It's pretty safe to say that the Atomos Ninja V 5″ recorder has been receiving the lion's share of attention and firmware updates these days. But rest assured, Atomos hasn't forgotten their other products, and the latest firmware update has been released for the SUMO 19 monitor/recorder.
Find out what's new and improved below.
From the AtomOS ver. 9.3 release notes
Important Note: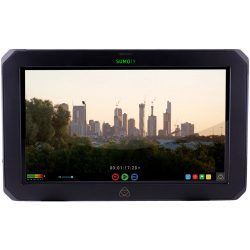 With the installation of this new update ALL users will be required to activate ProRes RAW, as a codec (as they would have done for DNx activation).
Following the Firmware update, if in ProRes RAW mode the SUMO will default back to ProRes HQ. When a RAW source is plugged in, or a user selects ProRes Raw Codec, a UI popup will ask for activation code to continue.
Even if the user has already been shooting with ProRes RAW, they must activate it in this update by visiting Atomos website atomos.com/activation and follow the online instructions to generate a code.
New features:
Addition of new Social media focused frame guide with action and graphic safe areas.
1:1 (Square aspect ratio) (Instagram and Facebook).
4:5 (Portrait, vertical aspect ratio) (Instagram).
1.91:1 (Landscape, horizontal aspect ratio) (Facebook, Instagram and Twitter).
9:16 (Portrait, vertical aspect ratio) (Instagram Stories/Instagram TV and Snapchat).
Addition of 9 Grid overlay
Providing the ability to utilise the rule of thirds theory for image composition.
Legalize input signal levels
Ability to specify input Luminance range, for increased compatibility with devices outputting legal range YUV signals in Rec.709.
An option in the AtomHDR menu allows for the function to be to be set to 'Legalize ON/OFF'.
Addition of Anamorphic de-squeeze modes:
With the increase in the use of Anamorphic lenses in productions we've added:
1.8 x providing the ability to de-squeeze on full frame sensors. For example, the Panasonic S1H when used with Cooke Anamorphic/I lenses, in both standard and Special Flair versions.
1.25x providing the ability to de-squeeze lenses such as Ultra Panavision 70 and Panavision Ultra Panatar lenses.
---
The first production monitor that also records 4K 12bit Raw, 10bit ProRes/DNxHR, plus 1080p60 live switching and recording. Unlock the true potential of your RAW cinema camera with the Sumo19. Preserve your sensor's pristine pixels in ProRes RAW at up to 5.7kp30, 4kp120 DCI/UHD and 2kp240 DCI/HD. CDNG supports up to 4kp30 DCI. Sumo19 is compatible with Sony FS series, Canon C300MKII/C500 or Panasonic EVA-1/Varicam LT. Record up to 4kp30 in CDNG.
---
False colour
IRE % labeling added to false colour scale.
Rolling File naming
Ability to maintain a continuous rolling file naming structure following formatting of a drive.
An option provided to turn this function on and off.
17:9 DCI Letter box support
Support for SDI inputs with a 4096×2160 or 2048 x 1080, HDMI 4096×2160 with resolution are displayed in a 17:9 aspect ratio.
Interlaced Display mode
Use this display mode for the Sumo19 for when using interlaced inputs.

The option is accessed via the Blue Menu button > Display Options > and selecting the ITNL button.
The feature is off by default. When connecting a interlaced signal a message will be displayed to highlight the option. The option is is turn on when the icon is displayed in white.
NOTE: This function for the display of interlaced inputs to reduce the possibility of LCD burn in. This option is for display only and has no effect on recording. This has no effect on Progressive inputs.