New Blackmagic Design firmware updates are now available for the ATEM Mini and Mini Pro Switcher/Streaming Interface and Video Assist 5″ 12G HDR Monitor/Recorder.
Both updates are relatively minor, but as always, you should update to the latest versions for stability, bug fixes and to ensure you have the latest features.
Find out what's new and improved below.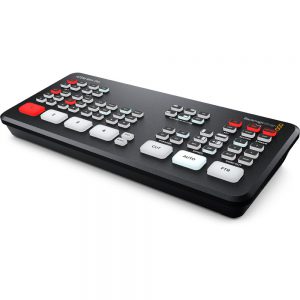 Blackmagic ATEM Firmware ver. 8.2.3
This software update adds the ability for the user to select up to 8 frames of audio delay on analog microphone inputs of ATEM Mini and ATEM Mini Pro, as well as the ability to scale the DVE to more than 100% in size. ATEM Switcher 8.2.3 also includes general performance and stability updates for all ATEM Mini switchers.
What's new in ATEM ver. 8.2.3
Adds adjustable audio delay on the analog inputs on ATEM Mini models.
Allows the DVE to scale more than 100% in size on ATEM Mini and ATEM Mini Pro.
General performance and stability updates.
The high demand ATEM Mini makes it easy to create professional multi camera productions for live streaming to YouTube or innovative business presentations using Skype. If you want to stream online, get yours today!
---
Blackmagic Video Assist 12G Firmware ver. 3.1.2
This software update supports a manufacturing update for Blackmagic Video Assist 5" 12G HDR.
What's new in Blackmagic Video Assist 12G ver. 3.1.2
Minor update for manufacturing
The new Blackmagic Video Assist 12G HDR adds professional monitoring and recording to any SDI or HDMI camera in all HD, Ultra HD, 2K and 4K DCI formats. The whole new design includes innovations such as brighter screens for HDR work, tally indicator, 4 built in scopes, enhanced focus assist features, 3D LUTs and native Blackmagic RAW recording from supported cameras.