The latest firmware update for Blackmagic Video Assist monitors adds webcam support over USB‑C connection from the Video Assist 3G and Video Assist 12G HDR models to a Mac or PC.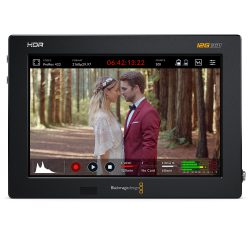 This update gives content creators the ability to connect to computers and live stream video in full HD resolution 1080p quality.
It works by "tricking" the streaming software or platform into thinking that the Video Assist monitor is actually a webcam.
This little "sleight of hand" allows Video Assist monitors to work with live streaming software like Open Broadcaster Software (OBS), as well as popular live streaming platforms such as YouTube Live, Facebook Live, Skype, Zoom, Twitch and more.
The update also adds audio monitoring channel selection to Blackmagic Video Assist 3G models and XLR audio mapping to the Blackmagic Video Assist 7″ 3G.
---
Blackmagic Video Assist Features
Supports live production, digital signage and archive use.
Modern design with fast to use touchscreen controls.
LCD features can be customized by the user.
SD/USH-II card support for commonly available media.
Upgrades cameras to better monitoring and better record codecs.
Standard open file formats compatible with popular software.
Records direct to external USB-C media disks.
USB output operates as a webcam and supports all video software.
Built in scopes include waveform, vector, parade and histogram.
3D LUTs can be applied for both monitoring and recording.
Professional multi channel digital and analog audio.
---
What's New – Blackmagic Video Assist Firmware ver. 3.3
New features for Video Assist 12G HDRs and Video Assist 3Gs
Added support for USB webcam output
New features for Video Assist 5" 3G and Video Assist 7" 3G
Added audio monitoring channel selection
New features for the Video Assist 7" 3G
Added XLR audio mapping to different channels
Added XLR external timecode
---
The new Blackmagic Video Assist 12G HDR adds professional monitoring and recording to any SDI or HDMI camera in all HD, Ultra HD, 2K and 4K DCI formats. The whole new design includes innovations such as brighter screens for HDR work, tally indicator, 4 built in scopes, enhanced focus assist features, 3D LUTs and native Blackmagic RAW recording from supported cameras.
---
Cover Image Credit: Blackmagic Design Press Release