Blackmagic Design has released the latest Video Assist firmware update (ver. 3.4) adding support for individual clip scrubbing and improved colour calibration for their Video Assist 3G and 12G HDR models.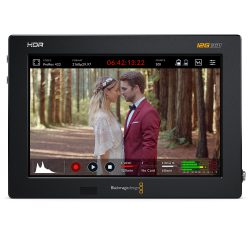 The update also adds support for Blackmagic RAW (BRAW) recording from both the Nikon Z6 II and Nikon Z7 II cameras when using Video Assist 12G HDR models, as well as 2K DCI video support for Video Assist 3G models.
What's new and improved in BMD Video Assist firmware Ver. 3.4
Before you download, it's important to note that Blackmagic RAW support also requires installation of Blackmagic RAW 2.1 Beta 3 and DaVinci Resolve 17.1 updates
---
The new Blackmagic Video Assist 12G HDR adds professional monitoring and recording to any SDI or HDMI camera in all HD, Ultra HD, 2K and 4K DCI formats. The whole new design includes innovations such as brighter screens for HDR work, tally indicator, 4 built in scopes, enhanced focus assist features, 3D LUTs and native Blackmagic RAW recording from supported cameras. With 12G-SDI and HDMI 2.0 on both 5″ and 7″ models, you get support for recording from virtually any device in all formats up to 2160p60. The brighter touch screen ensures a perfect view of your recording for HDR digital film and when shooting outdoors in sunlight. The new design also features upgraded batteries and supports two standard Sony L‑Series batteries. This means Blackmagic Video Assist 12G is incredibly versatile and is the perfect solution for the next generation of digital cinema shoots, live production mastering and, broadcast testing and measurement.