JVC has announced a firmware update that will improve the live streaming capabilities of their GY-HM250 series live streaming production cameras and GY-HC500 series of Connected Cameras.
GY-HM250 Series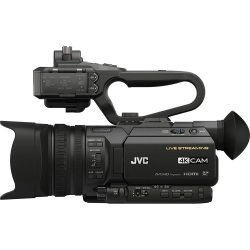 The firmware update ver. 0200-0030 adds or improves the following:
Addition of YouTube Live. Correct date/time setting is required to stream to YouTube
Improved AF performance
Improved Full Auto settings
Improved Auto color matrix for images under LED lighting
Added shortcut on Software keyboard
The update is applicable for the following cameras and can be downloaded directly from JVC here.
Live Streaming with Score Overlay JVC's GY-HM250SP is an innovative, affordable sports production camera that produces professional quality coverage of sporting events, complete with score overlay and game clock without requiring an external switcher or CG. Despite being loaded with advanced professional features for extensive customization, the camera's Full Auto Mode, along with 1-button streaming makes it easy for an untrained operator to use.
The upgraded GY-HM250HW is a unique, innovative and affordable professional quality camera that enables a single-operator to stream and record your church events with professional quality titling. It's designed so that one person-even a volunteer with little or no experience-can stream your services through YouTube or Facebook and simultaneously make professional quality recordings.
This full-featured professional camcorder delivers stunning 4K Ultra HD video, the ability to stream full HD live to the web, and the ability to add custom, integrated graphics to your recordings or live streams without an external CG or production switcher. It features a 12x optical zoom lens with new tele-macro focus mode, a 4K CMOS sensor that records directly to SDHC/SDXC memory cards, and adds Zero Config for one-click configuration when joining the same LAN as other cameras.
GY-HC500 Series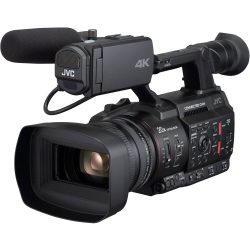 The firmware update ver. V0202-0210 adds or improves the following:
Facebook Live & YouTube Live simple connection
New streaming aspect ratio 9:16 and 1:1
720p Web Proxy REC resolution
Stream ID and FEC at SRT protocol
VITC in streaming Time code system
"Field" interlace format for Live streaming
Auto adjustment of Color matrix under LED lighting
Improved Remote zoom ease function
The update is applicable for the following camera and can be downloaded directly from JVC here.
The GY-HC500 is a handheld 4K production camcorder that offers uncompromised live and recorded image quality and connectivity you won't find in any competitor's product. Shoot 4K ultra-HD with HDR and record to SSD or SDHC/SDXC media in a wide variety of formats. Ultra-HD ProRes 422 10-bit at 50/60p is possible when recording to SDD media. The GY-HC500 CONNECTED CAM also features high performance 1080 60p/50p live streaming with low latency (<500 ms) and a full complement of IP remote control and viewing features. It's truly the most advanced and versatile camcorder in its price range.