The Sony PXW-FX9 exploded on the scene when deliveries began in January of this year and it has proven to be an extremely popular Pro camera choice as it ticks many of the requirement boxes for a wide range of production applications – perhaps most importantly it does so while also ticking the Affordability box as well.
So much more than just a simple upgrade from the venerable Sony FS7 & FS7MKII, the FX9 provided & delivered on features that set new benchmark in deliverables.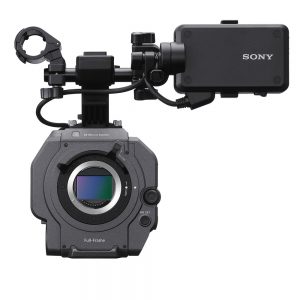 FX9 features included Full Frame & Super 35 oversampled 4K & HD shooting, 15+ Stops of Dynamic Range, Dual Base ISO, New colour Science including an new simple S Cinematone gamma setting that delivers Hyper gamma like extended range and improved colour to a 709 profile. The world's best ever AF capability in a video or cinema level camera. Improve build, ergonomics and weather proofing. World's first Full Frame Electronic variable Neutral Density Filter (EvND). Improved viewfinder and grip. Proven & reliable workflow. As well as Image Stabilization data capture and more.
Of course the PXW-FX9 is already Netflix certified so now more than ever you are ready to shoot just about anything your heart desires.
On top of these great features and benefits, the new Version 2.0 firmware provides 12 more reasons to love the Sony PXW-FX9!
Important: The just announced PXW-FX9 firmware update to ver. 2.0 will be available in October 2020
1) Full Frame 5K image sampling / crop mode
A new setting is added under the "Imager Scan Mode" menu so the camera can now select a slightly cropped 5K portion of the imager oversampled and recorded as UHD or C4K up to 50/60p. This may also allow for additional lenses to be used with less lens vignette.
2) Full C4K 4096 x 2160P Recording
The FX9 now supports Full Cinema 4K 4096 x2160P recording at various imager crop (FF 6K, FF 5K & S35) modes and at selected frame rates
3) Full HD 180fps shooting
The FX9 now supports recording up to a max of Full HD 180fps in S35 crop mode making for amazing high quality oversampled HD slow mo footage.
4) 16 Bit Raw output
Output of 16Bit Raw from the FX9 camera in combination with the XDCA-FX9 back is now possible. This will spawn a new era in image quality as the majority of portable RAW recorders today can only record 12 Bit. The additional Bits will provide greater Dynamic Range and Colour Depth capture allowing for greater, and more subtle manipulation of the image in post. We will likely see new portable recorders launched that support this 16 Bit RAW stream very soon.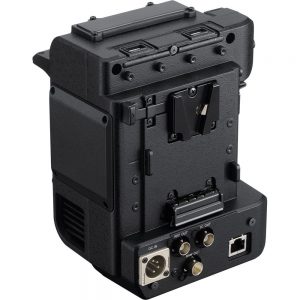 5) Sony DWX Wireless Audio Support
Support for Sony's Gen 3 DWX Digital Wireless Mic system drop in receiver is now added via the bucket in the XDCA-FX9. This allows direct digital connection and recording in the camera bypassing any D/A –A/D steps and provides a new level of superbly stable sound clarity to be recorded in camera with the added benefit of encrypted signal capability.
6) Support for Sony's XLR-K3M interface- adds 2 additional XLR inputs
The standard XLR Interface module that you can use for many cameras, from the A7III up, to add XLR inputs can now also be used on the FX9 connected via the Intelligent Hotshoe. It allows you to have a total of 4 XLR inputs the 2 standard on the camera and 2 additional via the XLR-K3M that can be either analogue or Digital, so no A/D degradation if you are connecting digital sources.
7) Eye Auto Focus Capability & AF enhancements
One of the FX9's biggest feature benefits was its, best in the world, Auto Focus capability, with face ID and detection. It actually could change the way you would shoot with a cinema level camera. Now Sony takes its game even higher with the additional accuracy of Eye AF capability. You can now also adjust AF transition speeds and use an assignable button for detailed AF settings. Enabling the VF to be a touch screen has also now enabled touch focus for easy assignment of focus subject priority.
8) HDR Shooting with Hybrid Log Gamma
Shooting in the HDR (High Dynamic Range) mode allows for quick and easy deliverables to either HDR or SDR paths. Even if you are not delivering HDR deliverables today you can archive for tomorrow and easily create your SDR deliverables today.
9) User 3D LUT Function
Now you can import and apply your own User Luts in camera!
Realize beautiful 4K imagery with the creative freedom made possible by oversampling a huge high resolution full-frame sensor. Capture every detail from the scene with shallow depth of field and stunning bokeh for a truly cinematic look. 15+ stops of dynamic range and Dual Base ISO enable you to capture every nuance, from subtle shadow detail to specular highlights, with an immaculate color palette.
10) Support for 6G-SDI
The FX9 already supported 12G over SDI which enabled up to 4k 60fps through a single SDI connection for live production, recording or monitoring. Now you can also use a legacy 6G setting which means you can connect to older 6G capable devices that support up to 30fps 4K. This is ideal for connecting older recorders and monitors.
11) Increased high gain settings
Of course you already know that the FX9 has two Base ISO settings allowing you to shoot at High Base in lower light conditions with no difference in noise from the low base – now with this update you also get extended range of ISO in Low base now up to 12800 and in High Base up to 102400 ISO. Which allows you to strike the perfect balance between proper exposure while limiting noise.
12) Touch screen quick menu operation
Activating the touch screen also enables new quick menu adjustments via a touch screen interface. Now you can easily and quickly change a myriad of menu settings like S&Q, Gain, Shutter, Frequency/Scan, Base ISO, Iris, Imager Scan, Codec, Picture Pixel Size, White Balance, Zebra, Gain settings, Gamma settings, Scene files & more, and quickly adjust RAW output settings, view media remaining, see & adjust audio levels & settings, all with a touch of your finger.