The RØDECaster Pro Firmware 2.1 is a major update that contains a ton of new and enhanced features "including the addition of multitrack recording options, optimisation of the sound pads, improvements to the audio processing engine, and handy updates to the Companion App."
We've listed some of the highlights below.
Ability to Fine-tune the On-Board Audio Processors
Effects Edit Mode: Allows for tweaking of all of the parameters of the compressor, noise gate, de-esser, APHEX Aural Exciter and Big Bottom, and high-pass filter.
Processing Toggle: Located on the Audio Processing homepage, this acts as a global bypass switch that toggles all of the processors on and off.
Master Bus Compressor
Applied to the combined output of the RØDECaster Pro, including each mic input, the smartphone, USB and Bluetooth channels, and the sound pads to ensuring the overall mix is balanced. Can be switched on/off.
Companion App Effects Editor
Allows for editing/tweaking of setting on your computer (when connected to the RØDECaster Pro via the RØDECaster Pro Companion App.
Broadcast-style Level Metering
Adds the option to include broadcast-style level meters with precise dBFS markers to each of the channels on the home screen, providing greater control over recording levels.
Sound Pad Overdubbing
Sound Pad Overdub Mode: Audio that has been loaded onto the sound pads can now be overdubbed, allowing you to create layered sounds, record Voice Overs on top of music, create custom ad rolls and more.
Post-Fader Multitrack Recording
New option to record post-fader. Once this feature is switched on, all processing, effects and fader positions will be recorded directly to your multitrack files.
Other New Features
Updated Interface
Swipe To Access Homepage from any menu
Infinite Sound Pad Looping
TRRS Output Pad a -6dB pad for the TRRS output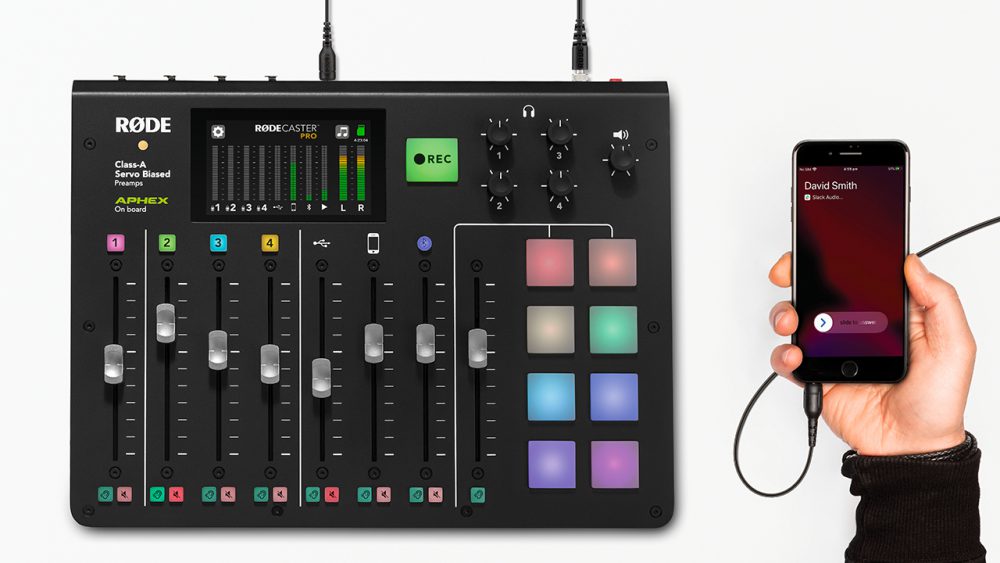 Enhancements to the Companion App
New Firmware Updater
Control All Audio Processors in Real-Time
Export For Your Preferred Podcast Platform
The official video below provides more details as to what's included in the update.
If you wish to download the update, you can do so via the RØDE website here
The 4 high-quality microphone channels are able to power studio condenser microphones as well as conventional dynamic microphones. You can quickly connect microphones for you and your guests with automatic level setting and one-touch recording to a microSD card. You can literally be recording your first podcast within minutes of taking the RØDECaster Pro out of the box.
---
Image Credits: RØDE Microphones