The latest firmware update for the Sony ZV-1 will easily allow content creators to directly live stream content by simply connecting the camera via a USB cable to a Windows or Mac computer.
Once you've updated to ver. 2.00, you'll be able to use the ZV-1 as a webcam to stream content via your favourite streaming platform or web-conferencing service.
The format of the streaming data is as follows.
Video format: MJPEG
Resolution: HD720 (1280 × 720)
Frame rate: 30 fps / 25 fps
Audio format: PCM, 48 kHz, 16 bit, 2 ch
---
---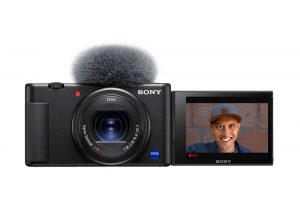 What's new and improved in Firmware ver. 2.00
Adds the USB Streaming function

Connecting over a USB cable to a PC or Xperia™ smartphone allows you to conduct livestreaming and online communication with the high video and audio quality
This applies to Xperia 1 II smartphones or Xperia 5 II smartphones that have been upgraded to Android™ 11. Update availability varies by region. (As of February 9, 2021)
Use a commercially available USB cable or terminal conversion adaptor

Improves the overall stability and performance of the camera
You can refer to the Sony ZV-1 Help Guide section on live streaming video and audio for more details on all updated functions.
You can download the firmware updates directly from Sony via the links below.
---
Express yourself without worrying about complex settings. With features and design dedicated to content creation, you can leave the complexity to the ZV-1 and simply focus on your creativity. Built to vlog Shoot like a pro Shoot then share easily Designed for creators to love The ZV-1 is designed to capture amazing videos of you and your world, without any tricky setup.