Built on the success of its popular 
Crane 3 LAB
handheld gimbal stabilizer, Zhiyun-Tech's versatile, next-generation Crane 3S is able to adapt to unpredictable shooting environments and is bound to delight a wide variety of pro filmmakers.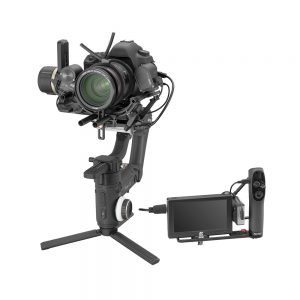 Designed for larger cine camera setups and featuring a stronger, re-engineered set of motors, the Crane 3S gimbal handles heavier payloads up to 6.5kg in total with ease.
It also provides a USB option that supports parameter adjustment for the Sony a7C,
Sony A9
and
Sony a7S III
cameras.
Finally, it fixes a few known issues, although Zhiyun-Tech isn't specific about which ones.
What's New in firmware ver. V1.84
Adapt to Nikon D780, Z7-2, D6, Sony A7C, Panasonic S5
Added Camera – USB option (support SONY A7C/A9/A7S-3 parameter adjustment)
Fixed known issues
Download the latest firmware for the Crane 3S directly from Zhiyun here.
---
Pushing the Limits: Crane 2S & 3S | Advanced Rigging & Supports
In this video tutorial, Dale uses the Zhiyun Crane 2S and 3S gimbals to demonstrate advanced gimbal rigging techniques, troubleshooting strategies and the additional gear you'll need to mount and run camera packages that border on the fringes of your gimbal's max load capacity.
---
From intense chasing shoots to studio filming, different types of shooting environments require both high capacity and flexibility of shooting equipment. Bearing filmmakers in mind, ZHIYUN felt the Crane series could be even better to adapt to strict and unpredictable filming environments. Now introducing the new CRANE 3S, the legendary gimbal built on a heritage of innovation with magnificent motors and a brand new modular design, which aims for wider application and intuitive control.