Blackmagic Design has dropped a bunch of new gear, including the Pocket Cinema Camera 6K Pro, two new ATEM's, the Mini Extreme and the Mini Extreme ISO, the Web Presenter HD and a couple of accessories for the Pocket Cinema Camera.
Let's drive right in…
Pocket Cinema Camera 6K Pro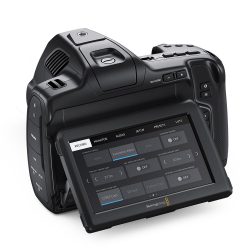 The new Blackmagic Pocket Cinema Camera 6K Pro, is a more powerful model that incorporates features designed for high end digital film making.
Rather than talk about the features the new 6K Pro shares with the previous Pocket Cinema Camera 6K, we'll focus on what's new.
New Features
The 6K Pro model features a brighter 1,500 nit adjustable, full tilt HDR touchscreen screen, built-in 2, 4 and 6-stop motorized IR ND filters, a larger NP-F570 style battery, two mini XLR audio inputs and support for the new optional electronic viewfinder.
The new IR ND filters have been designed to filter out both optical and IR wavelengths and can be activated using by pressing the buttons on the rear of the camera body.
In addition to the 4 built-in mics, the two new mini XLR inputs allow operators to record 2 separate audio tracks using 2 mics without the need of an external mixer.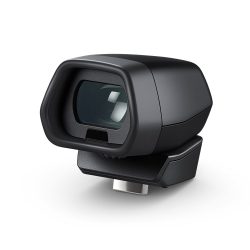 Also added is Blackmagic's latest "generation 5" colour science (the same as found on the URSA Mini Pro 12K camera), providing access to a new dynamic 12-bit gamma curve that captures more colour data in both highlights and shadows.
As mentioned above, Blackmagic has also introduced a new electronic viewfinder that attaches to the top of the 6K Pro via the hot shoe mount.
The viewfinder features a 1280×960 colour OLED display with a built-in proximity sensor, a 4 element glass diopter that supports a 70-degree swivel range and four different types of eyecups with options for both left and right eyes.
The new battery grip integrates with the new Pocket 6K Pro camera providing two additional Sony L series 570 batteries for over 3 hours of continuous shooting time with a single charge.
The grip also features a slide out battery tray, a lightweight but strong carbon fibre build, and a non-slip handgrip.
PCC 6K Pro Features
6144 x 3456 sensor with 13 stops and dual native ISO up to 25,600.
Compatible with a wide range of popular EF lenses.
Built in motorized 2, 4 and 6 stop ND filters.
Up to 25,600 ISO for incredible low light performance.
Standard open file formats compatible with popular software.
Adjustable, HDR 1500 nit LCD screen.
Includes Blackmagic Generation 5 Color Science.
Optional Blackmagic Pocket Cinema Camera Pro EVF.
Professional mini XLR inputs with 48 volt phantom power.
Larger NP-F570 battery, optional Blackmagic Pocket Camera Battery Pro Grip.
Includes full DaVinci Resolve Studio for post production.
---
Most advanced digital film camera features 6K sensor with EF lens mount, built in motorized ND filters at 0, 2, 4 and 6 stops, tilt adjustable 1500 nit LCD and a larger battery. Supports optional EVF. The Blackmagic Pocket Cinema Camera 6K Pro includes additional pro features such as built in 2, 4 and 6 stop ND filters, adjustable tilt HDR LCD with a bright 1500 nits that's ideal for use in bright sunlight. It also includes two mini XLR audio inputs and a larger NP-F570 style battery.
---
ATEM Mini Extreme & ATEM Mini Extreme ISO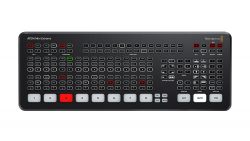 The ATEM Mini Extreme builds on the excellent performance of the ATEM Mini Pro making it a switcher for those looking for more inputs/outputs and more features to extend production quality.
With the ATEM Mini Extreme it's now possible to connect up to 8 HDMI sources for cameras, computers, etc. with scaling converters.
You can also take advantage of the 4 Chroma Keyers making it a 4 input switcher with virtual backgrounds that can be generated by separate computers and sent to each camera source creating a virtual set to use with up to 4 different cameras.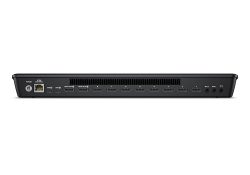 The 2 separate HDMI outputs, one with a selection button, allow you to use one output for source previews, master preview or program out or the new 16 channel multi-viewer output and the other to be used to feed Axillary screens or as a clean master output.
Two USB connections allow for more devices to be connected simultaneously.
You could use one to connect to a computer to control the ATEM with ATEM software or to a webcam feed allowing the switcher output to feed to a Zoom or Webex style meeting and the second connected to an SSD for master program record.
The Extreme also has a headphone out for program monitoring with level control capability.
---
True professional model adds total of 8 HDMI inputs, 16 way multiview, 4 ATEM Advanced Chroma keyers, SuperSource with 4 extra DVE's, 2 HDMI outputs, 2 USB ports and a more powerful control panel.
---
From a production quality point of view, the ATEM Mini Extreme is a very powerful tool.
There are 2 independent DVEs and a SuperSource multi layer processor with 4 extra DVE layers as well as a background layer, allowing for up to 4 multiple picture in picture displays on the screen simultaneously.
These two features are huge if you are doing a show with multiple call in feeds with guests streaming from other centres or locations, using the black magic streaming bridge, to receive the secure streams and convert them to HDMI for input to the ATEM Mini Extreme. It all means higher production value.
And just like the ATEM Mini Pro & ISO the extreme can stream directly to up to 3 destinations simultaneously over a LAN connection and now you can even stream live with a tethered iPhone.
More transitions, more source selection capability, more presets, more macro function triggers, camera control (paint) capability from the panel round out the powerful control capability of the ATEM Mini Extreme.
The ATEM Mini Extreme ISO does all of the above, but allows for ISO recording of up to 8 sources and programs to be recorded simultaneously to an optional attached USB SSD.
The files then can then be opened as a full editable project in Davinci Resolve to further edit and refine the content before distribution.
ATEM Mini Extreme and ATEM Mini Extreme ISO Features
Features miniaturized control panel based design.
Supports connecting up to 8 cameras or computers.
Supports streaming via Ethernet or tethered phones via USB.
Tethers to 5G or 4G phones for mobile remote streaming.
Records to USB flash disks in H.264.
Two stereo audio inputs for connecting desktop or lapel microphones.
Automatically standards converts and re-syncs all HDMI inputs.
Includes free ATEM Software Control for Mac and Windows.
Internal media for 20 RGBA graphics for titles, opening plates and logos.
4 upstream ATEM Advanced Chroma keyers for green/blue screen work.
2 independent DVEs plus SuperSource with 4 extra DVEs.
16 way multiview for monitoring all cameras, recording and streaming status.
---
Get the features of ATEM Mini Extreme plus 9 record streams for clean feeds of all inputs. A DaVinci project is saved for editing and relinking to Blackmagic RAW files for Ultra HD finishing.
---
Web Presenter HD
Blackmagic's original Web Presenter is a powerful desktop streaming tool allowing any HD source, HDMI or SDI, to be connected to a computer as a 720p webcam. It also provided mic or line audio inputs, and with the optional front control panel, it could be used as a cuts switcher between the two SDI/HDMI sources.
The new Blackmagic Web Presenter HD takes this capability to another level.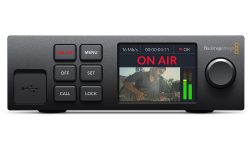 It now supports full 1080p HD output as a webcam device via a USB-C connector but drops the HDMI input capability, the switching capability and the audio in capability, in favour of two more powerful, more professional/broadcast level features.
The first big new feature is an enhancement of the SDI input capability to providing up to 4K 60P input over 12G capable SDI with auto down conversion to support the 1080p HD output with audio therefore having to be provided mixed over the SDI input.
The SDI can also be looped allowing for multiple Web Presenter HD's to stream simultaneously to multiple streaming service providers.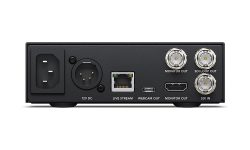 The second big new feature is built in streaming capability. The Web Presenter HD features a LAN port allowing for direct connection to the internet.
You can also tether your iPhone, allowing you to stream directly from your web presenter to popular streaming platforms like Youtube, Facebook, Twitter and Twitch.
The Web Presenter HD can also be used as a direct stream device to send a secure stream to a BMD Streaming Bridge to integrate those remote streams into a larger production.
Finally, the Web Presenter HD comes standard with a front panel control and monitor so you can easily control and monitor what is being received and streamed. This also adds a technical monitor interface output for detailed technical data monitoring via HDMI.
The rear panel also now has both AC and DC power connections for redundant or mobile powering.
Web Presenter HD Features
Complete streaming solution for YouTube, Facebook, Twitter and more.
Supports streaming via Ethernet or tethered phones via USB.
Built in broadcast quality hardware H.264 encoder.
Tethers to 5G or 4G phones for mobile remote streaming.
USB looks like a webcam allowing support for all video software.
Monitoring output includes meters, trend graphs and SDI technical data.
Includes Web Presenter Utility software for Mac and Windows.
12G-SDI input with down conversion for any HD or Ultra HD source.
Both AC and DC connections allows redundant power.
1/3rd rack width design allows 3 streams in a single rack unit.
---
Now you can live stream to the world. Blackmagic Web Presenter is a complete streaming solution that includes a professional hardware streaming engine for direct streaming via Ethernet to YouTube, Facebook, Twitter and more. It's just like a modern broadcast television transmitter for a new global streaming audience. Plus the built in USB connections work like a webcam, so you can connect a computer and use any streaming software, or even Skype or Zoom. For redundancy, you can stream to the internet via Ethernet or connect a 5G or 4G phone to use mobile data. Web Presenter also includes a technical monitoring output that includes video, audio meters, trend graphs and even SDI technical data.