The new Canon C200 isn't a replacement for the C100 Mark II, but as Canon is calling it, an upgrade path for C100 Mark II shooters who want a little bit more from what their camera can provide but can't quite justify the jump to the C300 Mark II.
Canon C200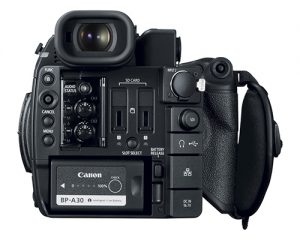 The C200 features a 8.85 MP Super 35mm CMOS Sensor that supports 4K (DCI) RAW recording at a maximum resolution of 4096 x 2160 pixels and can handle ISO speeds of up to 102,4000.
4K RAW internal recording is made possible with Canon's new recording format called "Cinema RAW Light", offering the same flexibility in colour grading as Cinema RAW, but utilizes variable bit rates to a achieve a smaller file size for storage on CFast 2.0 media.
On-board image processing is handled by two of Canon's newly developed 6th generation DiG!C DV 6 processors. This new processor allows you to shoot in 4K UHD/60p MP4 / 4K DCI RAW 60p and continuous 120 fps HFR in Full HD without sensor cropping.
Don't want to shoot in RAW? You can also record MP4 format, 4K UHD at 150 Mbps and 2K or Full HD at 35 Mbps to SD cards instead.
---
Watch Vistek Video Producer Dale Sood unbox the Canon C200
---
Dual Pixel CMOS AF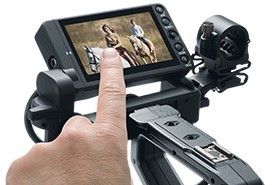 The C200 features both one-touch AF (via a push button) and continuous AF, that covers approx 80% of the overall image area as well a Face Detection AF mode that will track and maintain focus on a person's face within that area.
You can also set the AF tracking speed (up to 10 steps) and sensitivity (up to 7 steps) to suit your needs.
The LM-V1 touch screen monitor allows you to focus in on subjects by simply tapping on the area of the frame they happen to be in.
Other Dual Pixel AF features include:
Dual Pixel Focus Guide – Which presents the user with a rectangle in which to focus the subject. The rectangle turns green when the subject is in focus. If the subject is out of focus the box will turn gray and the arrows will indicate which way to adjust the lens to regain focus.
Focus Pre-set – Separate predetermined focus points can be selected and when the SET button is pushed, the lens will move focus from one mark to the other. This is especially useful when focusing in scenes with multiple subjects.
AF Tuning – A newly developed menu function has been added for Auto-Focus tuning, allowing easy access to camera and lens settings. The AF Speed Tuning function allows users to set the lens drive speed to any of 10 steps. AF subject tracking characteristics can also be varied and set to any of 7 steps, allowing the user to select the appropriate responsiveness when changes have occurred in the subject.
In-Camera ND Filter
The C200 utilizes an internal, motorized ND assembly made up of 2 rotating disks with glass ND filters placed between the rear of the lens and the front of the sensor allowing for 5 steps of neutral density.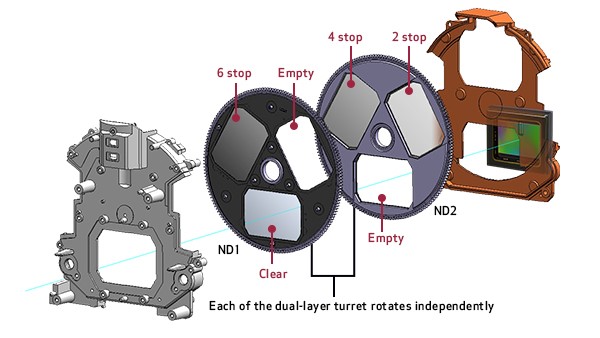 There are two modes of ND, normal, which allows for 2, 4 and 6 stops and extended which adds two additional stops of 8 and 10.
Lens Compatibility
As with all of the Cinema EOS series, the C200 is fully compatible with Canon's 4K CN-E Cinema Prime and zoom lenses as well as their EF & EF-S mount photographic lenses which means that right out of the gate, you've got more than 100 lenses options to choose from.
The C200 is available in two different models, the C200 "ready to go" which comes with a built-in EVF, Touchscreen monitor, hand-grip and handle and the C200B which is just the camera body without all the extra accessories.
---
For more details (including pricing & full specs) for both versions, click on the buttons below
[button link="https://www.vistek.ca/store/VideoCamcorders/416896/canon-canon-eos-c200-ef-cinema-camera.aspx" size="medium" target="new" text_color="#ffffff" color="#007ac3″]Canon EOS C200 Cinema Camera[/button]
[button link="https://www.vistek.ca/store/VideoCamcorders/416901/canon-canon-eos-c200b-ef-cinema-camera.aspx" size="medium" target="new" text_color="#ffffff" color="#007ac3″]Canon EOS C200B Cinema Camera[/button]
---
Canon C200 Key Features at a glance
Internal 4K recording with Cinema RAW Light and MP4 format
Continuous 120fps (maximum) High Frame Rate with no cropping at Full HD
Up to 15-stops dynamic range (Cinema RAW Light)
Super 35mm CMOS Sensor
Dual Pixel CMOS AF Technology
Dual DIG!C DV 6 Processors
4K DCI & UHD, 1920 x 1080 – 59.94p, 50p, 29.97p, 25p, 24p, 23.98p
Canon RAW Light, MP4, MP4 Proxy
Integrated EVF, 2 x XLR Audio Inputs
Rotating 4″ LCD Monitor, Camera Grip
1 x CFast Card, 2 x SD Card Slots
1 x SDI Output, 1 x Ethernet Connector