Canon released some new images and additional details about their upcoming EOS R3 camera including information about a new form of object tracking and the ability to record oversampled 4K video and RAW internally.
Canon has also released the final images showing the front and back of the camera.
Here is all the new information that Canon released on June 2, 2021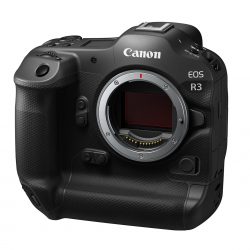 Following up on the announcement of the development of Canon's most powerful professional full-frame camera, the EOS R3, Canon has new details to share on the upcoming product.
The upcoming EOS R3 will offer enhanced AF performance and tracking capabilities using Deep Learning technology, with even better face, eye, head, and animal body detection. The EOS R3 will add vehicle subject recognition and tracking for cars and motorcycles, ideal for photographers capturing fast-action motorsports.
The EOS R3 will be able to autofocus in extreme low light conditions up to EV-7, along with up to eight stops of coordinated IS control when used with RF lenses that feature Optical Image Stabilization. Users of the upcoming EOS R3 will be able to shoot 4K video with Canon Log 3 support, oversampled 4K, and RAW movie internal recording.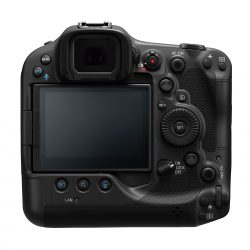 For added flexibility and the necessary support for high-speed image transfer, the EOS R3 will have Wired LAN and 5GHz Wi-Fi capability built-in. The new accessory shoe will provide further options for data communication and power while also supporting new accessories. In addition, the use of Canon Speedlite products will still be possible when the EOS R3's electronic shutter is active.
Features:
New Canon-developed back illuminated stacked CMOS sensor
30fps with AF/AE tracking
AF tracking of people, animals (including birds) and motorsports (racing motorbikes and racing cars)
Can record oversampled 4K, or RAW footage internally and Canon Log 3
Eye Control AF point selection
Capable of focus in light levels -7EV or lower.
Dual Pixel CMOS AF
EOS-1D series dust and water resistance
Original Post published on April 14th, 2021
Canon has officially announced the development of what they are referring to as the first in a "new category to the EOS R system", the full-frame EOS R3.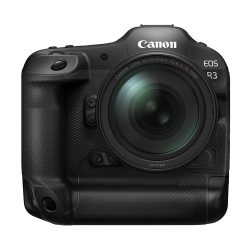 According to Canon, the EOS R3 will fit somewhere between the EOS R5 and the EOS 1D X Mark III in terms of performance and will also be their first camera to feature a Canon developed full-frame stacked CMOS sensor with a back-illuminated design.
The newly designed sensor is said to produce less rolling shutter distortion during Electronic Shutter operation and be capable of continuous Electronic Shutter still-image shooting at speeds up to 30 fps with both full Dual Pixel CMOS AF and auto exposure.
There is one thing to note however, Canon does stipulate that continuous shooting speeds may decrease depending on the lens in use and/or shooting conditions.
---
---
The R3 will also feature an improved version of the autofocus technologies found in both the EOS R5 and EOS R6 cameras, including body and eye-detection, that will work better during action-type shooting by utilizing Deep Learning technology.
The R3's Subject Detection AF will also offer new "recognizable subjects" helping to improve it's focusing capabilities in challenging situations.
---
---
The Electronic Viewfinder (EVF) will feature Eye Control AF allowing users to select the initial AF tracking area by simply looking directly at the viewfinder location where they want to begin AF.
If both Eye Control AF and Servo AF are activated, the R3 will focus on and track moving subjects at that location in the frame and when Face Detect + Tracking is active, it will continue to follow moving subjects around the entire active AF area.
The R3 will feature an entirely new (for the EOS R series), one-piece body design, that integrates the body with a vertical grip section and offers weather and dust-resistance equivalent to that of EOS-1D class cameras.
Canon also mentions a newly developed (and not yet available) Mobile File Transmitter application for iOS and Android devices designed to make it easier for users, such as photojournalists, to transfer images to their mobile devices, will also work with the camera when it's released.
Unfortunately, at this time, Canon makes no mention of a release date or price for the camera, but we eagerly await to share more information once it becomes available.