If you like add a little adventure to your portrait photography, you might want to take a close look at the powerful new ELB 500 TTL compact, battery-powered pack from Swiss lighting manufacturer Elinchrom.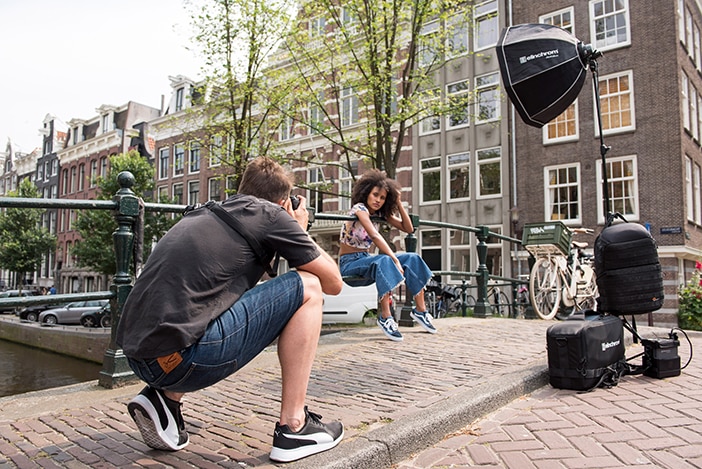 ---
Calling it "the most powerful portable TTL light ever", the new Elinchrom ELB 500 TTL provides photographers the opportunity to shoot with strobes in locations & situations that would normally be difficult if not impossible for more traditional lighting set-ups.
ELB 500 TTL Features
The ELB 500 TTL offers a pretty comprehensive feature seat including, TTL, High-Speed Sync, Active Charging, and built-in Skyport capabilities.
You'll get up to 400 full power flashes on a single charge with a fast recycle time of 2 seconds at full power and it's compatible with Elinchrom's Q-Mount system so your existing Quadra "Portalite" series softboxes and full-sized Elinchrom mount modifiers will work seamlessly.
---
The Elinchrom ELB 500 TTL is a unit designed to ease the photographer's life. It's effortless to use, compact and lightweight enough to be with you wherever you go. It gives you the power needed to access a world of creative freedom. With TTL, overcome any situation within seconds. Setting up your flash has never been easier and faster.
---
High-speed Sync offers up to 1/8000sec and as with the previous ELB 400 system is strong enough to freeze action and overpower the sun.
The system also offers full asymmetry across both lamp connections giving you more creative control over the light.
If you find yourself running low on power and are close to a power outlet, Active charging, (found on the more expensive ELB 1200 system), allows you to plug the unit into a power source to charge while you continuing shooting.
The built-in updated Skyport receiver will work with both the new Elinchrom Transmitter Pro with TTL (plus existing Skyport Plus HS transmitters with a firmware upgrade installed*) and is also compatible with the Phottix Odin II system.
*firmware upgrade currently only available for Skyport Plus HS for Canon and Nikon. Other brands to follow.
---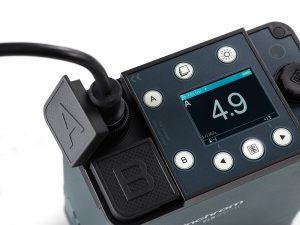 On the physical side of things, you'll notice that the 500 TTL has larger, more clearly defined covers for the lamp connections as well as a larger, brighter LCD screen.
Weight wise, the pack and battery combined, is slightly heavier than the previous ELB 400 weighing in at 2.48 kg (5.4 lbs) vs 2 kg (4.4 lbs). It's also slightly larger which would account for the slight increase in weight.
The new ELB 500 TTL flash heads will work with existing modifiers including the Rotalux and Litemotiv lines using the Elinchrom Quadra Refelctor Adapter which is sold separately.
---
[columns]
[column size="1/2″]ELB 500 TTL Technical Specifications
Flash Power: 500 Ws/J
Power Distribution: Full Asymmetry
Power Range: 7 F-stops
Best Flash Duration: Action: 1/20000s – Normal: 1/3400s
Recycling Time: 0.05 – 2 seconds
Dimensions (Unit + Battery) (LxWxH): 16.3 x 9.0 x 18.1 cm
Weight (Unit + Battery): 2.48 kg
Weight of Battery: 0.73 kg
Battery: Removable – Li-Ion 14,4 V – 72 W/h
Battery Capacity: 400 / 28000 flashes (full power/min. power)
Compatibility:

For Skyport: Elinchrom Transmitter Pro
For Phottix: Phottix Odin II Transmitter
[/column]
[column size="1/2″]Flash Head Specifications
Maximum Watt/Seconds: 500ws
Flash Duration:

Action Mode: 1/20000s
Normal Mode: 1/3400s

Color Temperature in K° at max. power: 5500K°
Color Stability: +/- 200K° over 7 f-stops
Power Stability: 0.05%
Modelling Lamp Power: 14W LED Equivalent to 50 Watt halogen in 40 adjustment levels
Modelling Lamp Color Temperature in K° at max. power: 5200 K°
Modelling Lamp CRI: 90
Modelling Lamp Modes: On/Off Free Adjustment, Proportional, Timer, and Visual Confirmation
[/column]
[/columns]
---
---