Fujifilm has just announced the GFX50S II, the next generation of their popular GFX 50S, as well as a new GF lens, the GF 35-70mm f/4.5-5.6 WR.
GFX50S II
The GFX 50S II adds a number of improvements and new features, including a totally resigned in-body image stabilization system (IBIS) and the addition of Fujifilm's X-Processor 4 imaging engine, the same as found on the GFX 100 & GFX 100S.
Fujifilm says that with the new processing engine, sensor readout speeds have been boosted from 130fps to 250fps compared to GFX50S.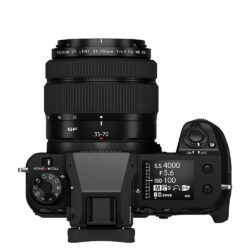 It features the same 51.4-megapixel large format sensor and specially designed CMOS Bayer array as found on the original, offering a very wide dynamic range helping to capture images with low noise in low light situations.
The redesigned in-body image stabilization (IBIS) system, which Fujifilm says is 20% smaller, and 10% lighter than the version found in GFX100.
It uses a high-performance gyro sensor and accelerometer with increased sensitivity that is capable of detecting motion at high accuracy.
The improved autofocusing algorithm, boosts focusing performance in all modes, including face and eye detection and works in tandem with in-body image stabilization (IBIS) providing up to 6.5 stops of handheld stability.
---
---
There are also 19 Film Simulation modes and a Pixel Shift multi-shot function which is capable of creating 200MP images free of false colour.
The Pixel Shift function works with the IBIS system to shift the image sensor by 0.5 pixels to incrementally record 16RAW files which are then combined into a single Digital Negative (DNG) RAW file using the Pixel Shift Combiner software.
---
---
The GFX50S II weighs just 900g (1.98lb), (similar in size to many to full-frame cameras), and features an ergonomically contoured handgrip and PASM dial used to access the camera's main exposure functions.
The weather-resistant body features a top-plate LCD to display key settings, as well a redesigned focus lever, and feather-touch shutter release.
The rear 3.2-inch main LCD monitor can tilt in three directions, enabling high and low angle shooting when the electronic viewfinder cannot be easily used.
---
---
GF 35-70mm Lens
The GF 35-70mm f/4.5-5.6 WR is a compact and lightweight, lens with a 35mm equivalent focal range of 28-55mm and close focusing distance of 35cm (13.78in).
When mounted on the GFX100 and GFX100S cameras, the GF 35-70mm can autofocus in as little as 0.17 seconds.
---
---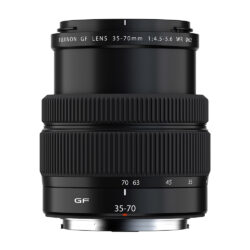 Compact and lightweight, the lens features a closed length of just 73.9mm (2.91in), and weighing just 1,300g it's small enough to fit for almost any camera bag.
It features a weather-resistant design that, when used with a weather-resistant GFX System camera, can tackle most conditions.
The lens is constructed of 11 elements in nine groups and includes one aspherical element and two extra-low dispersion (ED) elements.
The "whisper quiet", compact autofocus motor is powered by a stepping motor that Fujifilm says will achieve fast and accurate performance, attaining focus on a subject "nearly instantaneously."
It also supports the GFX system's face and eye detection autofocus modes allowing autofocus to be achieved as fast as 0.13 seconds.
---
Image Credits: Cover Image Ludvig Almås | Other Images: Fujifilm