Sony has unveiled what they are calling the "world's widest full-frame constant f/2.8 lens at 12-24mm" the G Master FE 12-24mm.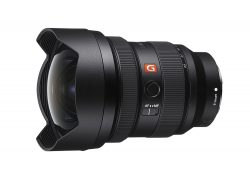 Ideal for landscape, astrophotography, architecture, street and sports photographers who are looking to capture ultra-wide perspectives, the FE 12-24mm features 17 glass elements in 14 groups, new Nano AR Coating II on the outer lens and is dust and moisture resistant.
The lens groupings include: 3 Extreme Aspherical (XA) elements, 1 regular aspherical element, 3 Extra-Low Dispersion (ED) elements and 2 Super ED elements that work together to minimize astigmatism, coma and field curvature to create incredibly sharp images from the center, right out to the image edges.
The autofocus system utilizes a floating focus mechanism to divide the lens's focus group into two independently controllable groups to help minimize aberrations across the entire zoom range.
The system itself is powered by 4 high-speed, high-thrust, Extreme Dynamic (XD) liner motors, 2 for each of the lens's focus groups.
On the outside of the lens there is a focus hold button that will lock focus when recomposing and focus mode switch (auto or manual) both of which are positioned in easy to find locations.
FE 12-24mm f2.8 GM Key Features
F2.8 max aperture
3x Extreme Aspheric elements, 1x Aspheric
3x ED (Extra-low dispersion) elements
4x Extreme Dynamic – XD Linear motors
Nano AR coating II
9-blade circular aperture
11" min. focus distance up to 0.14x magnification
Dust and moisture resistant
Compact, lightweight design: ideal for both full-frame and APS-C2
Programmable focus hold button for multiple functions
Linear Response MF for precise manual focus control
Instant auto/manual focus selection via AF/MF switch
Front fluorine coating prevents fingerprints, dust, water and oil
Rear filter holder expands versatility for sheet type ND filters
The ultra-wide 12-mm angle of view available with this versatile lens makes it possible to emphasize distance and create dynamic perspectives that are beyond the scope of the human eye. Expand your artistic palette with deep, engaging visual imagery.