If you're on your way to NAB Show next week, you might want to stop by the Canon booth to check out the new Compact-Servo CN-E 70-200mm T4.4 EF telephoto lens they'll have on display.
Designed for cinematographers who want to make the jump from using Canon's EF lenses and DSLRs to dedicated Cine cameras such as the EOS C100 Mark II or EOS C300 Mark II, the CN-E 70-200mm promises 4K optical performance in a compact body (same size and weight as the 18-80mm T4.4).
The CN-E 70-200mm also features full external servo control in addition to an integrated servo drive unit, that is compatible with broadcast industry-standard lens controllers.
It will also be compatible with Canon's EF 1.4x and 2x tele extenders which should please sports and wildlife shooters.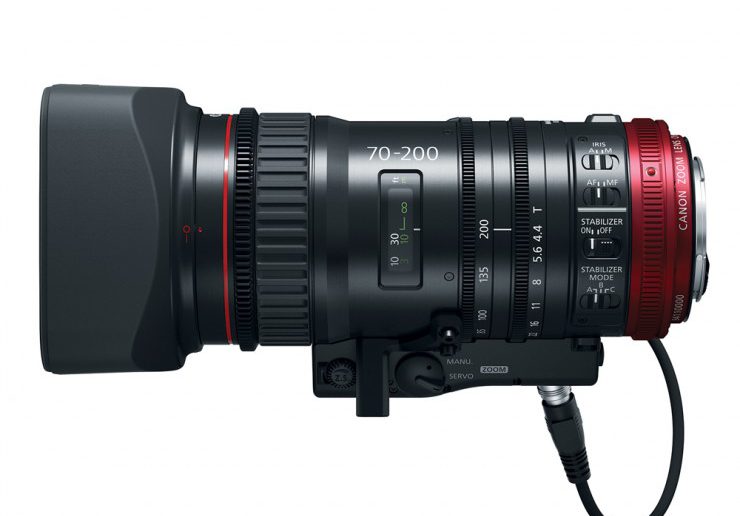 ---
Compact-Servo CN-E 70-200mm Feature Set via Canon
Parfocal Operation – Precise Focus Through the Entire Zoom Range

Parfocal in both manual and autofocus modes. The lens employs a special compensating lens group that moves to maintain precise focus while a separate lens group performs the zooming action.

Consistent Brightness Throughout the Entire Zoom Range

Maintains a wide aperture of T4.4 (F4.0) throughout their zoom range allow for zooming while at maximum aperture without any dimming of the image.

High Level 4K Optical Performance

The 4K optical performance of the 70–200mm T4.4 EF lens produces a significantly sharper image than 2K/HD. The various advanced design strategies used help to ensure over 4K resolution at picture center and a careful control of falloff of image sharpness at picture extremities.
The excellent contrast range associated with High Dynamic Range (HDR) imaging helps ensure both deep black reproduction and the excellent handling of scene specular highlights. HDR image capture significantly enhances both the contrast and the richness of colors in a scene, but it also poses a potential challenge in exacerbating the visibility of any lens chromatic aberrations. The 70–200mm T4.4 EF lens was designed to help minimize such aberrations.

Color Consistency with Canon Cinema Lenses

Can be used interchangeably with other Canon Cinema lenses during the same production since both have the same warm, cine-look color characteristics — making it easier to maintain consistent color when multiple lenses are used.
---
Iris Mechanism for Motion Picture

Smoothly adjust between open and closed for precise exposure control and live in-shot changes
9-blade iris creates a rounded aperture so out-of-focus highlights appear circular

Continuous Iris Control Capability with Iris Ring

A Cinema lens requires an iris that can be smoothly adjusted between wide open and closed. Continuous adjustment allows not only for precise exposure control, but also smooth adjustment live in shot while recording. This can be useful to help compensate for change in exposure due to spotty clouds or moving between indoor and outdoor light levels within a shot.

9-Blade Iris

More iris blades create a rounder aperture, resulting in out-of-focus highlights that appear more circular. An odd number of iris blades means that there will be a larger number of small radiating points on a flare, helping to prevent distracting artifact.

Iris Closing

The aperture on the CN-E 70-200mm T4.4 EF lens can close completely, allowing no light to pass through

Auto Iris Available

The auto exposure system in the CN-E 70-200mm T4.4 EF lens capitalizes on Canon's Electromagnetic Diaphragm (EMD) technology that has been highly refined over many years in the EF lens series. This technology integrates the lens iris assembly and a miniature stepping motor in a single unit. Electronic pulses from the camera controls the motor to map numerous steps across the full range of the iris mechanism. This AE control loop is fast and silent. An AE Shift mode allows a small manual override for fine adjustments to exposure.

Flange Back Adjustment

A flange back adjustment mechanism is built-in allowing you to adjust on site which helps to provide even greater optical performance among various cameras.
---
Servo Zoom Drive Unit

The CN-E 70-200mm T4.4 EF lens incorporates a servo drive unit directly in the body of the lens. The servo drive unit allows electronic control over zoom, and provides an option to be disengaged for direct manual control. The integrated design can power the servo drive through the lens mount on appropriate cameras, or power can be input through a separate port as in traditional lens servo systems. The servo control is compatible with Canon's ZSG-C10 Zoom Servo Grip which can be mounted directly onto the 70–200mm T4.4 EF lens, as well as standard broadcast style controllers (including Canon's FPD-400D and ZSD-300D) for remote operation.

Servo Control Capability for Zoom Function

The integrated servo drive allows for electronic control over the zoom. The control is electromechanical, rotating the actual geared rings on the lens housing via servo motors. These motors can also be disengaged, allowing for full manual control. The zoom servo can be remotely controlled or operated using a rocker switch on the side of the lens.
---
Power Provided via Camera Mount

On select Cinema EOS cameras, the EF lens mounts electrical contacts provide the necessary power to operate the servos on the 70–200mm T4.4 EF lens. This helps eliminates cabling and possible mounting issues. The lens can also be powered remotely through an accessory power port.

Compatible with Broadcast Style Servo Lens Controllers

The CN-E 70-200mm T4.4 EF lens's Servo Control can be operated remotely for tripod or other non-handheld use. Canon's FPD-400D Digital Focus Servo Demand for Canon Lens Control Kits can be used for remote focus control and the ZSD-300D Digital Zoom Servo Demand for digital ENG/EFP lenses used for remote zoom control. For use in studio configurations, an optional Zacuto® Z-CNYC Y-cable can be used to connect zoom and focus controllers to each lens. This configuration allows for simultaneous zoom and focus operation with Compact-Servo lenses.

Image Stabilization (IS)

The lens offers three levels of Image Stabilization, including the standard mode for handheld operation, a maximum mode for high-frequency movement and a smooth mode intended for tripod-based operating. The IS function can also be switched off entirely.
---
---