At a press event in Los Angeles, yesterday, Canon announced the new EOS C300 Digital Cinema Camera interchangeable-lens video camera & EOS Cinema System. With an EF mount system to support EF lenses and EF cinema lenses, it also sports a PL mount, a Super 35mm CMOS sensor and 8.3 Megapixels imaging processor which offers special low light performance capabilities.

More than just a camera, the C300 and C300 PL cameras mark the beginning of a whole new system for the motion picture industry. Form factor, ergonomics, image processing and lenses – re-imagined to tailor the experience of shooting to the needs of professional cinematography crews.
Key Features:
Super 35mm-equivalent 16:9 Large CMOS Sensor
Large imager unleashes full creative potential. Modeled on the Super 35mm 3-perf motion picture film standard, Canon's CMOS sensor has an active image size of 24.6 x 13.8mm. The image sensor utilizes an innovative readout technique that delivers full bandwidth individual RGB video components without the need for any debayering algorithms.
Modular design for mobility & expandability
Taking into account various shooting scenarios, the EOS C300  can accommodate situations where every last inch of maneuverability counts. With day-long shooting comfort and usability in mind, different components can be added or removed as needed. It's also compatible with industry standard, third-party accessories so it can be easily rigged for studio, Steadicam, jib or just about any other configuration imaginable.
Highly compatible with movie production workflows
Seamless integration with NLEs is just the beginning of effective post-processing. Clean image quality. Low S/N ratio. Canon Log Gamma for expanded dynamic range. File formats that hold up when multiple effects and color corrections are applied. Robust enough for the big screen, but convenient enough for on-set review and tweaking.
Available  late January 2012;  MSRP: $20,000.
>> Check out the full spec sheet
LENSES
Not only does the C300 work with the entire family of trusted EF and EF-S lenses, but an extensive series of lenses to go with the new powerhouse was also announced.
EF Cinema Lenses (PL Mount)
CN-E14.5-60mm T2.6 L SP
CN-E30-300mm T2.95-3.7 L SP
EF Cinema Lenses (EF Mount)
CN-E14.5-60mm T2.6 L S
CN-E30-300mm T2.95-3.7 LS
CN-E24mm T1.5 L F
CN-E50mm T1.3 L F
CN-E85mm T1.3 L F
EF Cinema Zoom Lenses
Canon's 4K compatible wide angle and tele zoom lenses offer stunning optical clarity and performance for demanding high-end productions. Available in both PL- and EF-mount versions. The wide-angle CN-E14.5-60mm T2.6 L provides industry-leading breadth of range; the telephoto CN-E30-300mm T2.95-3.7 L rivals best-in-class zoom magnification and telephoto focal length. Together these lenses cover the range most commonly used in cinema shooting.
Optical Performance: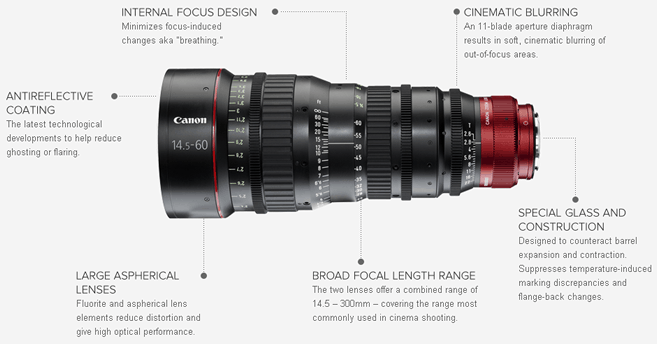 EF Cinema Prime Lenses
Optimized for motion picture, these lenses offer brilliant 4K image quality in a lightweight and compact design. Three models for EF-mount cameras – 24mm T1.5, 50mm T1.3 and 85mm T1.3 – offer consistent form factors and marking optimized for motion picture production. Whether you shoot with a Canon EOS C300* or EOS DSLR, you will appreciate the compact and consistent lens design; and your audience will love the results from the 11-blade aperture diaphragms, fast t-stops and proven Canon lens elements. EF-mount only.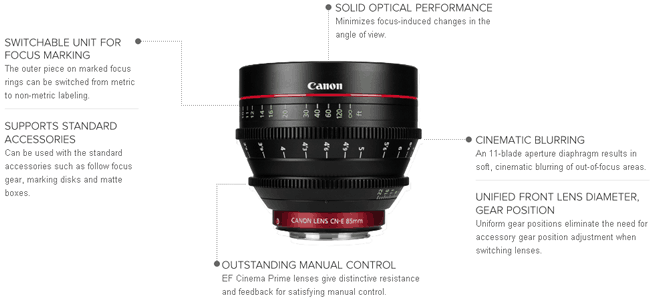 [flagallery gid=6 name="Canon EOS Cinema System"]