Designed for smartphone filmmakers, the DJI Osmo Mobile 3 is a light weight, compact, foldable  handheld gimbal that will provide you with ultra-smooth video no matter where your adventures take you.
Updated Design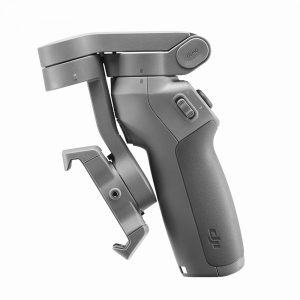 The biggest design change from the previous Osmo Mobile 2, is the ability to fold the gimbal (even with a smartphone attached) in half making it super easy to carry around with you in a backpack or other small bag.
The ergonomic body fits comfortably in your hand brings back the trigger that included was part of the design of the original Osmo Mobile, but omitted from the Mobile 2.
The trigger supports quick switching through the various gimbal modes as well as activating the Sport mode and ActiveTrack feature.
DJI has also made the Osmo Mobile 3 easier to balance than previous models, only requiring balancing of the roll access to get things started.
The other big design upgrade of note is that unlike Osmo Mobile 2, the charging port and headphone jack of a mounted smartphone are no longer blocked, making it easier to use the microphone or charge the phone while using Osmo Mobile 3.
---
Everything You Need To Know: The DJI Osmo Mobile 3
---
Intelligent Shooting Modes
DJI has also made some updates to the shooting modes with the Osmo Mobile 3, including,
Story mode – Provides various shooting templates that combine preset shooting patterns and camera motions
Gesture Control – Allows you to use hand gestures to take a photo/video with a timer and have the gimbal track your movement
ActiveTrack 3.0 – Improved algorithms allow Osmo Mobile 3 to recognize people (by recognizing their head and shoulders), and track them more accurately
---
With a 3-axis gimbal that effectively reduces shaky footage, Osmo Mobile 3 delivers a super-smooth, stabilized image and its lightweight, ultra-responsive design reacts to your movements in real time, letting you focus more on the moment at hand.
---
Other Updated Modes
Sport Mode – In this mode, the gimbal moves faster, following the users movements more quickly and provides greater stabilization when shooting fast-moving subjects.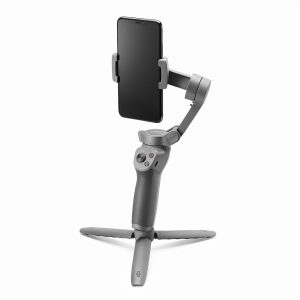 Key Features
Story Mode: More than 10 templates for even beginners to shoot epic videos and share to social media
Gesture Control: No need to press a button; just show a gesture to Osmo Mobile 3, and the gimbal will start tracking you and begin recording
ActiveTrack 3.0: Machine learning improves tracking accuracy when tracking a person
Foldable and portable: Improved folding design makes it easier to fold and unfold
Quick Menu: Enable most of the functions in Quick Menu with one hand; there's no need to tap on the screen of the mobile device with the other hand
Quick Rotate: No need to remove the phone to change from Portrait mode to Landscape mode. It also provides more shooting methods with roll axis movement
Gimbal design:

More comfortable to hold;
The charging port and headphone jack of the mobile phone are no longer blocked
Other Specs
-104.5° to  235.7° Tilt Angle Range
-85.1° to 252.2° Roll Angle Range
-162.5° to 170.3° Pan Angle Range
405 g (14.3 oz.) Weight
285 × 125 × 103 mm (11 x 5 x 4″) Dimensions
157 × 130 × 46 mm (6 x 5 x 1.8″) Folded
Up to 15hr Runtime
2450 mAh Built-In Battery