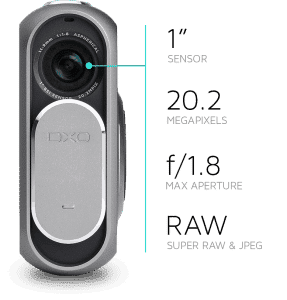 The pocket-sized DxO ONE Camera is a pretty amazing piece of technology.
It's small enough to fit in the palm of your hand, yet, has the imaging power of a much larger DSLR.
Designed as an accessory for your iPhone, it also works as a stand-alone camera capable of capturing a very respectable 20.2-megapixel image through it's 1″ BSI-CMOS sensor.
As mentioned above, the camera itself is tiny, standing just under 7cm (2.7in) tall and weighing 108 grams (3.8 ounces) and attaches to your iPhone via a retractable lighting connector located on the side of the camera.
Part of the reason that they were able to make it so small is that the six-element lens is placed in direct contact with the sensor thus eliminating the airspace between them.
Using the DxO ONE Camera
If you have the iPhone unlocked and open to the home screen, and the DxO ONE Camera app installed, connected the camera will automatically open the app and you are ready to shoot.
Once the connection is made, your phone becomes a touchscreen viewfinder allowing for complete control of the camera and all of its functions.
There are a lot of functions…
Just like your full sized DSLR, you can have as much or as little control over the camera as you wish including:
Program
Aperture Priority
Speed Priority
Manual
There are also several preset scene modes to choose from:
Images & Storage
Images can be saved in RAW (DNG), JPG or Super RAW formats either on the camera's Micro SD card or directly on your phone and any images stored on the Micro SD Card can be imported to your phone after the fact through the app.
---
Shots we took with the DxO ONE Camera
Click images to see full size/resolution
[the_grid name="DxO One Camera"]
---
 What is Super RAW?
If you choose Super RAW mode, the DxO ONE shoots four photos that are automatically captured in quick succession and then combined into a single RAW file.
When combined with the DxO ONE's advanced image-processing technology (spatial and temporal noise reduction), Super RAW mode will create "noise-free images that retain every subtle detail and preserve the colours."
Perfect for Instagrammers
Another cool thing about the DxO ONE Camera is its ability to share your photos to your platform of choice right from the app itself.
If a service is supported in iOS (Facebook, Twitter, Instagram, Pinterest etc.) all you need to do is choose which service you want to share to and you will be taken to its app for the finishing touches!
Also, you can control your DxO ONE remotely over an existing wireless connection, without losing access to any of its capture settings and then seamlessly transfer your photos and videos to your iPhone. In the near future, you will also be able to create a direct connection to your iPhone from the DxO ONE itself.
The DxO ONE Camera is great for what it was designed for, bringing DSLR quality images and functions to iPhone photographers who aren't interested in owning an actual DSLR.
---
The DxO ONE Camera is now available through
your local Vistek Store or online at www.vistek.ca
CLICK FOR MORE INFO ON THE DxO ONE CAMERA
---