These days just about everyone has a smartphone in their hands, in a pocket or tucked away in their bag, and just about everyone one of those devices has a built-in camera.
With more than 4 billion mobile devices in the world today, smartphone photography has taken over. A quick check of the most popular brand of camera used in the Flickr community shows us that out of the top 10 camera brands, six of them are camera phones, with the top two spots belonging to Apple & Samsung respectively.
---
Smartphone photography has arrived and is here to stay…
---
In fact, more and more, the quality of the built-in camera is becoming a feature selling point and you can now buy mobile devices with cameras with high megapixel sensors (the Nokia Lumia 1020 in particular, boasts a staggering 41MP sensor) that are capable of taking DSLR quality photos.
And the newly released dual lens (wide angle & zoom) iPhone 7 has features normally found on traditional cameras, such as optical image stabilzation, optical & digital zoom and greater depth of field to create the bokeh effect that photographers love.
But, let's face it, even with the advances in camera quality, there are still limitations as to how far you can go with just the native camera on your phone.
That's why we put together this list of products that we think can help you take your smartphone photography to the next level and beyond.
---
Camera Add-On
If you really want to kick things up a notch why not skip the native camera and add a totally new one to the mix?
---
DxO One Camera
All the power of a 20.2 MP professional camera in your pocket!
Read our DXO ONE Camera review here
Compact and lightweight, the DxO ONE can go everywhere with you. It's as simple! Download the app, plug the DxO ONE into your phone via the lighting port and voila!, you are ready to take DSLR quality photos with your phone!
BUY NOW
---
Tripods & Stands
You wouldn't think twice about buying a tripod to keep your DSLR stable, so why shouldn't it be the same for your phone? Especially in low light situations, when you need to keep things rock steady.
Here are our choices to help you keep your phone straight & level.
---

Joby
GorillaPod GripTight Micro Stand
The GripTight Micro Stand from JOBY is a portable tripod that supports almost any smartphone, with or without a protective case.
Designed with a durable steel inner frame and zinc alloy legs, the stand is sleek and durable enough to keep in your pocket or on your key-chain so it's always at hand.
---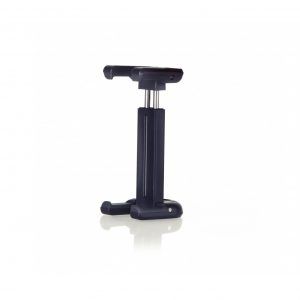 Joby
Smartphone GripTight Mount
The GripTight Mount from JOBY is the only tripod mount that supports almost any smartphone, with or without a protective case.
The GripTight Mount stabilizes and positions your smartphone to give you steady video and crisp photos from new perspectives.
BUY NOW
---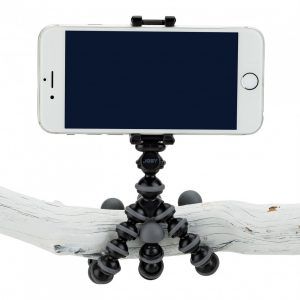 GorillaPod GripTight Stand
The GripTight GorillaPod Stand from JOBY is an adaptable, all-terrain tripod that supports almost any smartphone, with or without a protective case.
Designed with flexible, wrappable joints and grippy rubber feet, this stand allows you to secure your smartphone to objects, stabilize your camera on uneven surfaces and position the screen for the best perspective.
BUY NOW
---
Stabilization Tools
If you shoot a lot of video on your smartphone, you know that one of the most frustrating issues is not being able to capture smooth as glass video.
These handheld gimbals will allow you to capture the smoothest video possible even when walking or running.
---
DJI Osmo Mobile 3-Axis Gimbal
It turns your smartphone into a smart motion camera, making every moment you shoot look smooth, professional and ready to share.
Use it with the DJI GO app to automatically track your subject, capture stunning motion time-lapse or even stream a moment live around the globe.
BUY NOW
---
Ikan 3-Axis Smartphone Gimbal Stabilizer
The FLY-X3-PLUS Gimbal Stabilizer from Ikan turns your mobile phone or GoPro camera into a powerful image capture tool, shooting fluid professional video and eliminating shaky camera moves.
The unique 3-axis brushless motor gyro system uses sophisticated software to stabilize your smartphone or GoPro, and makes pans, tilts and even walking shots appear to "fly."
BUY NOW
---
Steadicam Smoothee Kit with Universal Smartphone Mount
Engineered by Tiffen for premier camera stabilization, the STEADICAM® SMOOTHEE® stabilizer offers the renowned Steadicam brand production quality in a handheld form. The compact size of the SMOOTHEE stabilizer makes for a Steadicam brand stabilizer that's lightweight and small enough to bring anywhere.
Designed to work with cameras ranging from the GoPro Hero® camera to the iPod Touch® devices, the versatility of the SMOOTHEE stabilizer is now enhanced with the release of the Universal Smartphone Mount bringing the smooth art of a genuine STEADICAM stabilizer to smartphone users worldwide.
BUY NOW
---
Light & Sound
The built-in flash on most smartphones is great for selfies or brightening objects that aren't too far away, but what happens when you need something more? 
These products will light-up even the darkest of areas and let you capture crystal clear sound.
---
Lume Cube
Smartphone Clip
Whether using an iPhone or Android, this clip is compatible with all mobile devices and gives you a fully adjustable 1,500 lumen light source right in your pocket!
As smartphones get thinner and thinner, the sensors in their cameras become smaller and smaller, which gives us poor results in low light situations. With the majority of spontaneous content in today's world being captured on mobile devices, Lume Cube created the Smartphone Mount to light up all of your life's special moments!
BUY NOW
---
Lume Cube
Providing professional quality lighting, the Lume Cube will allow you to revolutionize your photos and videos.
Made to fit your lifestyle, whether you're loyal to Apple or Android, the Lume Cube is ready to pair with your smartphone.
The free Lume Cube app lets you control flash, duration, and brightness of multiple cubes.
BUY NOW
---
Audio Technica ATR3350iS Omni-Lav Condenser Microphone for Smartphones
Audio-Technica's newscaster-style omnidirectional ATR3350iS lavalier microphone is engineered for intelligible, accurate voice reproduction.
Its low-profile design assures minimum visibility. Included smartphone adapter provides instant compatibility with newer smartphones (Android, iPhone, more).
BUY NOW
---