DJI is probably best known for its industry-leading pro-level camera stabilization equipment and groundbreaking consumer drones, but the company's extensive Osmo line of handheld gimbals and action cams continues to make waves too. Much of that user-friendly design and cutting-edge technology converge in the new OM5 smartphone gimbal, unlocking the full potential of your device and allowing even casual users to obtain super-smooth professional-looking video with effortless ease.
---
---
The long and the short of it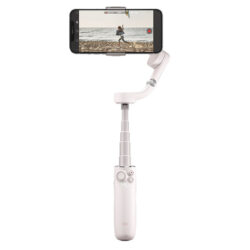 If you're acquainted with any of the previous versions in this lineup, the first thing you'll notice is just how much smaller, lighter and more portable the folding next-gen OM5 truly is. It collapses down to a pocketable 175x75x37mm, but looks can be deceiving: this model also features a built-in telescopic extension rod that functions as a selfie stick, expanding your reach by a considerable 215cm when fully extended and opening up dramatic new angles to capture your footage.
Smooth moves
Along with its crucial 3-axis gimbal to keep your smartphone videos jitter-free, the OM5's stabilization system rests on three powerful motors and some of the smartest algorithms DJI has ever devised, together combining to adapt seamlessly to your movements while filming and deliver ultra-smooth results. Vloggers and videographers, take note.
---
---
Feature packed
Multiple built-in features include the new ShotGuides with shooting tutorials and editing support, plus an updated ActiveTrack 4.0 autofocus system that supports tracking faster and more precisely. Pre-programmed shooting modes include start-and-stop Gesture Control and the dramatic background-shift DynamicZoom for a hypnotic Hitchcockian effect, as well as Timelapse, Motionlapse, Hyperlapse and other popular options.
---
---
Finishing touches
Available in subtle Athens grey and eye-catching sunset white finishes, the new OM5 comes with a magnetic clamp, tripod, power cable, wrist strap and storage pouch. Coming soon: the new DJI OM fill light phone clamp accessory featuring LED lights with adjustable colour temperature and brightness levels, so you can highlight your subject professionally using this handy portable ring light wherever your mobile shooting excursions take you.
Features:
Lightweight 290g, palm-sized when folded down
-101.46 to 229.54 degree tilt angle range
-127.05 to 208.95 degree roll angle range
-161.2 to 172.08 degree pan angle range
Built-in 1000 mAh battery
---
Image Credits: DJI