In addition to today's development announcement of the EOS R3, Canon has also announced three new RF lenses, the RF 100mm f/2.8 L Macro IS USM, RF 400mm f/2.8 L IS USM and RF 600mm f/4 l IS USM.
Canon RF 100mm f/2.8 L Macro IS USM
Designed for both advanced photo enthusiasts and professionals, the RF 100mm is not only Canon's first RF lens "designed specifically for macro photography", but is also the "world's first medium telephoto macro lens with a maximum magnification of 1.4x."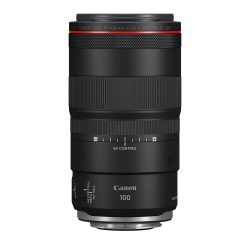 The lens features a new spherical aberration (SA) control ring which Canon says will "allow users to change the character and appearance of the bokeh and obtain a softer focus effect with a simple turning of the ring to the desired result."
It also features Optical Image Stabilization offering up to five stops of shake correction or up to eight stops of correction when paired with a camera featuring In-Body Image Stabilizer.
There is also a feature called Hybrid IS that is supposed to help compensate for angular and shift camera shake during macro shooting.
The Dual Nano USM autofocus motor provides high-speed, smooth and quiet operation.
Finally, the customizable control ring allows for easy adjustment of exposure compensation, shutter speed, aperture or ISO.
The RF 100mm f/2.8 L MACRO IS USM Lens is the world's first* medium telephoto AF Macro lens with a maximum magnification ratio of 1.4x. At its minimum focusing distance of 0.86 ft. / 0.26m, the RF 100mm f/2.8 L MACRO IS USM is capable of capturing detailed images while being remarkably versatile in operation. Whether capturing details of food, jewelry, or traditional macro shots, the RF 100mm f/2.8 L MACRO IS USM is a highly effective lens for macro photography.
---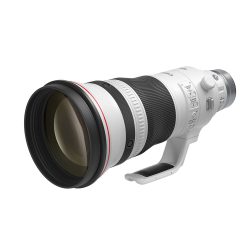 Canon RF 400mm f/2.8L IS USM and Canon RF 600mm f/4L IS USM
Canon states that both the RF 400mm f/2.8L IS USM and RF 600mm f/4L IS USM lenses were designed to be optically identical to their EF counterparts.
These lenses aren't cheap, but are ideal for sports, wildlife, birding and other types of photographers who have deep enough pockets to be able to afford them.
The RF400mm features a minimum focusing distance of 8.2 feet while it's bigger sibling's the RF 600mm, is 13.8 feet.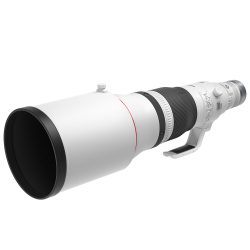 Both lenses share many of the same features listed below:
Optical Image Stabilization with up to 5.5 stops of shake correction. Including three IS Operation Modes — still subjects, panning, and irregular movement.
Proprietary Canon lens coatings, Super Spectra Coating (SSC), and Air Sphere Coating (ASC) that help to minimize ghosting and flaring.
Optimized lens placement and coatings providing clear, high-contrast images even when there is a bright light source.
Optimally arranged fluorite and super UD lens elements to help correct chromatic aberration and make the models more compact.
Reduced weight when compared to their EF counterparts.
Compatible with Canon RF 1.4x and 2x extenders
Customizable electronic focus ring, with manual focus capability during SERVO AF.
Nine-blade circular aperture.
Two focus presets .
L-series dust and water-resistant design with vibration and shock resistance as well as a fluorine coated front element.
Infrared reflective pigments with high reflectance and titanium oxide lens barrel coating with silica provide excellent UV weather resistance and heat reduction.
---
Inheriting the optics of the EF 400mm f/2.8L IS III USM, the same high image quality is maintained in the RF 400mm f/2.8 L IS USM with outstanding sharpness and contrast, center to corner, even at maximum aperture. A combination of Fluorite and Super UD (Ultra-low Dispersion) glass is at the heart of this lens's outstanding optical performance. At the widest aperture of f/2.8, chromatic aberration is significantly reduced, to achieve tack-sharp images with minimal color fringing. This means detailed results in any shooting condition, particularly in low light levels.
---
With the same optical design as the EF 600mm f/4L IS III USM lens, this RF version — dedicated to EOS R-series cameras — brings the same outstanding optical performance to the mirrorless EOS R line. The RF 600mm f/4 L IS USM distinguishes itself by maintaining incredibly high image quality expected from a Canon L-series lens, with outstanding overall image quality, even at maximum aperture. The Canon 600mm f/4 L-series lenses have historically combined great telephoto power with tremendous sharpness, contrast and clarity, and the RF 600mm f/4 L IS USM continues that tradition.