The Nikon 1 J5 has a name befitting a rocket. It sure handles like one. Speed-wise, this little pocket rocket from Nikon can blast away at 20 frames per second. There isn't a DSLR on the market that it can't lap twice over.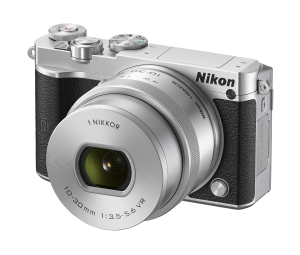 When operating at 20 fps, you need an autofocus system that can keep up. Nikon has come through with their cutting-edge 105 phase-detection system, which operates at a blistering rate that makes 'blink of an eye' sound slow.
Incredibly, speed is just one of the J5's many attributes. It shoots 20.8-megapixel photos, 1080/60p videos, time-lapse and slow-motion sequences, HDR (High Dynamic Range) images. Plus, you can pair it with any 1 NIKKOR lens, or add the optional FT-1 Mount Adapter and use NIKKOR DSLR lenses. Other features include a 180° tilting touch screen, full manual control, new onboard effects and even built-in WiFi and Near Field Communication (NFC).
And, finally, this. The Nikon 1 J5 just looks fast. Stunningly fast. And at a highly attractive price, no doubt they'll be going fast.